Jack, our 8 yr old Alaskan Malamute, died in my arms today at the vet.
We're all still numb.
Please keep him in your thoughts & hearts.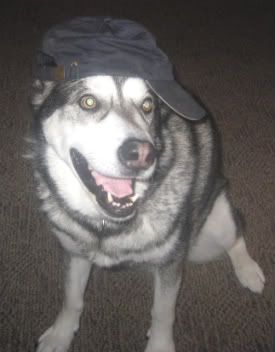 "Malamute Jack" / "Mr. Jack" / "Mr. Woo
a.k.a. "Jack"

Many folks knew of him from the various Woo Tales I've shared over time; some folks only learned about him from a recent diary when I shared the news that he was diagnosed with an aggressive form of bone cancer.
We want to thank you all for your well-wishes, and please keep Mr. Jack in your hearts and minds...we miss my big fuzzy buddy, but he's earned his rest. He was a great guardian & did his best to watch over us.
I'm sorry to share such sad news, but I thought you'd all like to know.
Namaste.
Update of Thanks: Many of you have left wonderful comments - thank you. I wrote the following below, and am sharing it up here too so that people see it early:
Many, many thanks everyone.



Your words, individually and collectively, are helping.

Ember, the "little dog," has now outlived 2 malamutes...she still bounces around like she's only 10-ish, tho she's closing in on 15 and her back hips aren't what they once were...jumps up or down higher than the floorboard of the jeep or the small couch in the living room are about as high as she can leap now. But she's otherwise only showing her age in terms of some white fur around the muzzle & eyes...and not lost a bit of spunk.

She may not yet realize what's happened, and may look around for the big guy from time to time like she did with Missy's passing...but she knows we're here for her.

And, fortunately, she - like all of you - is here for us.

Namaste, and thank you.
Thank you, all.