I have not been involved in a political campaign as I am involved in the Paul Butterfield campaign. I chose to do so because Paul is running against one of 6 blue dogs that prevented California from passing Single Payer legislation this year. Only 2 votes were needed back on January 31st to get SB 810 on Gov. Jerry Brown's desk. I figured that if Paul beats Rod Wright the other 5 blue dogs would get a message and in 2013 when SB 810 gets on the California Senate floor again they will think twice before abstaining or voting against it. I am a Single Payer activist so this made sense. Paul is a Single Payer supporter (and a wonderful man, one of us in all important issues) and he would vote for SB 810.
So now we are 3 weeks away from the June 5 primary. We are doing everything we can with zero money. The only money we have used so far is Paul's life savings and this is horrifying. I have met his family and they are beautiful. If Paul looses, they will take a big hit.
On the ballot there will be 3 candidates, Paul, Rod Wright (the blue dog at best, he looks like a RINO to me the more I look into his credentials) and Republican Charlotte Svolos. All that Paul needs to do now is to come in 2nd. The 35th CA-Senate District is solidly blue (60.4 percent Democratic, 15.8 percent Republican) so he should have a chance. Given Rod Wright's credential (a lot more below) he should come in 1st.
Or so we thought until last week.
Last week we found out that the Charlotte Svolos campaign received $50,000 from freaking Chevron Corp.
Chevron? What are they doing here? She does not have a chance, or does she?
Rod Wright has health insurance, pharma and NRA (he is big with the NRA) money. Charlotte Svolos has Chevron money, Paul has nothing. Paul Butterfield won't take money from insurance, pharma, alcohol, tobacco, oil or casinos.
What is going on?
Svolos has no chance, zero. She seems like a much nicer person than Rod Wright (more below) but until last week she had no campaign. So why is Chevron giving her money?
So why would the Chevron-funded PAC support a token Republican candidate in a Senate race? The only explanation is to help Wright by trying to make sure Svolos gets enough votes in the primary to finish a distant second, but ahead of the other Democrat. The expenditure on Svolos' behalf is cynically manipulative.
So if Svolos comes in 2nd, Paul is toast. Is Chevron in cahoots with the other Rod Wright donors including the insurance and pharma companies?
Let's take a look at Rod Wright.
The Good, the Bad & the Ugly: Rod Wright's Record from the LA Times
The Good:
1999: Rod Wright encourages high schoolers at an assembly to study hard.
2000: He authors and enacts AB 505 which helps small businesses.
The Bad:
1987: After being charged with 3 counts of felony election fraud, he pleads no contest to an election fraud misdemeanor, is fined $2500, and placed on probation for 3 years.
1998: He killed a bill banning assault guns in California.
1999: He blocked families and small businesses from buying less costly natural gas.
2002: The NRA awards Rod Wright "Defender of Freedom" awards.
2008-2012: He still "faces eight felony counts, including voter fraud and perjury, for allegedly lying when he said he lived in his Senate district while running for his seat. He has pleaded not guilty."
2009: He blocked California's ability to detect insurance fraud of "hundreds of millions of dollars" … while receiving $45,000 from Insurance Co.'s 2007-2009.
2009: He proposed a $170-million annual tax on California satellite TV users
2009: He wouldn't share the pain of a 9.2% compensation cut for most state workers with a 5% cut in his pay when 38 of 40 Senators cut their own pay 5%.
2010: He pushed for legalizing Internet poker and sports betting in California.
And the Ugly:
1998: Legislative staff member Goeff Long filed a complaint alleging Assemblyman Roderick Wright of pinning him against a wall and threatening to break his jaw in a dispute over a gun bill. This was witnessed by Betty Yee, also a committee staffer, who filed a statement with the Rules Committee in support of Long's complaint.
2011: The state Senate secretly paid $120,000 to settle a claim by a legislative aide claiming harassment by Senator Wright.
And let's not forget this and that he is the only one up for re-election;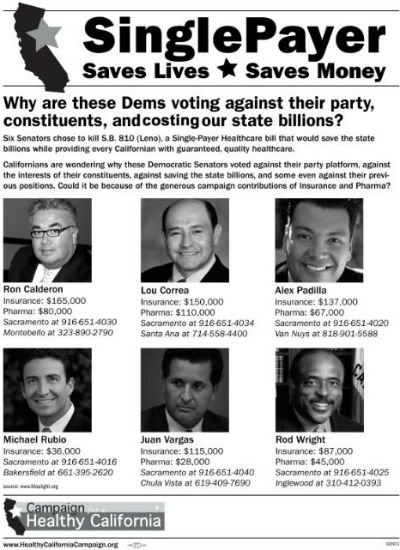 So Paul Butterfield is an infinitely better Democrat than Rod Wright.
In my justifiable paranoid mind, his evil donors figured that if Svolos comes 2nd they can coast on to November.
But you can make a difference! You can Recommend the diary, you can donate so we can send one mailer, you can volunteer to canvass, make phone calls, introduce Paul to people you may know in the district, endorse or anything else you can imagine.
If Paul is not on the ballot in November, we will all loose. We'll have a Democrat in Sacramento who as far as I am concerned is a Repug. We will not get Single Payer done in California.
All we need right now is for Paul to be Svolos.
But we need all the help we can get.
Some of my previous diaries on the campaign;
Calling all Single Payer supporters everywhere to help elect a better Democrat
Calling Single Payer supporters everywhere and Los Angeles Kossacks