Thanks to SJF and karmsy for bringing this to my attention.
California sisters suing state agencies for failing to stop years of their parents' sexual abuse
*Pastor tipped off parents before alerting CPS

Mark Wood...the pastor tipped off their parents days before calling police...afford[ing] them time to condition their daughters to lie to authorities.
*Parents abused kids for 16 days leading up to the CPS visit
For 16 days, until police sent CPS to the house Aug. 18, 1995, the sisters said they were beaten, starved, sleep-deprived and brainwashed on what to say to authorities.
*CPS never spoke to the children alone - always in the presence of the parents
The county social workers interviewed each of the girls as their mother held their hands so tight that her fingernails dug in their palms and their father was so close they could hear his breath, the sisters say.

They say they would have exposed their intimidating parents had they been given a chance to talk to someone away from them.
The father continued to abuse his daughters even after confessing to molestation
For the first six months of his probation, Bruce Dutro lived in an apartment near the family home. Glenda Lea Dutro moved in with him, leaving their daughters by themselves at the house with little food. Like many times in the course of their childhood, the Dutro girls were not enrolled in school.

At night, their mother would bring one of them to the apartment to have sex with their father. Had anyone from the county ever visited the house as they were supposed to, they would have at minimum learned that the girls were living without adult supervision, Runckel said.

How do children slip through the system like this? Where were school officials? Look at these little innocent children...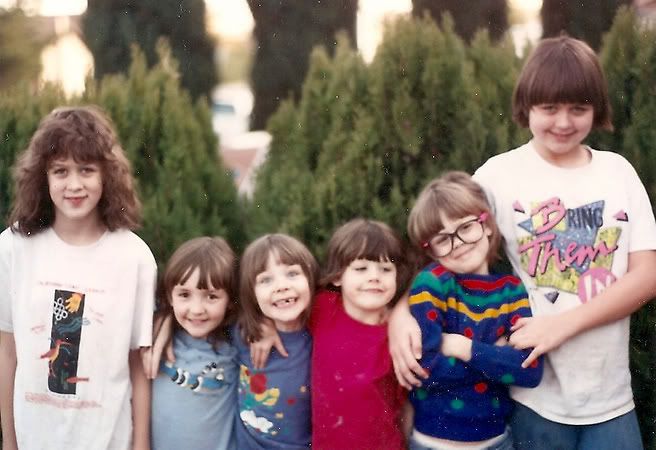 The girls often were not enrolled in school and had limited contact with the outside world beyond their family's church. For some of them, the sexual abuse lasted into their early 20s.

These are the victims of child sexual abuse Tree Climbers, Inc. wants to help. Through our scholarship program, we want to provide educational opportunities to victims to help further their education.
And, by educating survivors, we empower them to use their voices to help prevent other children from the heinousness of child sexual abuse.
"It's time for our voices to be heard because I'm done with being a victim," Sarah Dutro said. "Children need to be protected, and if not by their parents, then who?"
We also want to educate parents, administrators, teachers and students on preventative measures including appropriate touch, what grooming looks like, signs and symptoms child sexual abuse may be occuring, and how to talk to kids and prepare them from the danger within.
Help us help them and others like them. Any amount you can give can help victims and survivors of child sexual abuse. You can donate to Tree Climbers by clicking here:
Donate Now
Thank you for your time.
Link to Story
Tree Climbers at Daily Kos is a community composed of survivors of childhood sexual, physical, and emotional abuse and those who support them.

Tree Climbers tell our stories, recover, sustain each other, learn about childhood abuse, and discover and create ways to protect children.

Trigger Warning - The next paragraph holds brutal words. Feel free to scroll past it.
In a typical Tree Climbers diary, you might read of someone who survived the grooming (this does not mean hair brushing), the fondlings, the rapings, the beatings, the mutilations or the death threats perpetrated by a sadistic egocentric molester of an innocent. Criminals abuse their victims. For years. Families refuse to believe the victims. For years. Victims report being dead inside. For years. Families and society have stifled the voices of victims and magnified and perpetuated the abuse. For years. We weep. We rage. We heal. We inspire.
We invite you to climb or be lifted up in our safe tree with us. We have broad branches, sunshine, hammocks, cushions, and plenty of tissues. Comment on the diary, ask questions, and share your perspective or even your story. If you are too overwhelmed to speak, you can just witness. That's okay. A few of the Tree Climbers are as silent as a jury.
Tree Climbers Rule: Be kind.
No T r o l l s. When we were children, we had no power. But we are no longer children. Climbing trees is not healthy for trolls - everybody knows that. If you act like a troll in our tree, we will calmly watch while you become invisible.


Follow the Tree Climbers.† If you click the red heart (♥) or the word "Follow" next to "Tree Climbers at Daily Kos" at the top of our home page, our diaries will be delivered directly to your Stream.

Join Tree Climbers. You are welcome to join us. To do so, send a private message via kosmail to SallyCat for an invitation to join the group. If you want to Join, you must also Follow. (Not intuitive, but unfortunately true.)

Special diaries and a radio broadcast. If you missed the first few days of the Tree Climbers, we recommend that you read the following three diaries and also listen to a radio interview.
• F**k Joe Paterno by Rebecca, January 22, 2012.

• "No One Spoke Up for Us": For The Children Who Had No Voice and for Those Finally Finding Theirs by Rebecca, January 26, 2012.

• In Solidarity. There is No True Justice for a Crime That Lasts Forever by dear occupant, January 26, 2012.

• Tree Climbers - Roxine's Interview. On Dr. Laura's radio show on November 11, 2011, Roxine read her letter on air (8 minutes).
Technical questions? See the Daily Kos Frequently Asked Questions, found also at the bottom of every Daily Kos page.

† Following. Once you become a member of Daily Kos, you can Follow (subscribe to) any diarist or group. From your home page, when you click on the tab "My Stream," a page will open that looks like an email Inbox. A DK Stream looks like this: SallyCat's "My Stream" page.

National Sexual Assault Hotline 1.800.656.4673.


Donations. If a Tree Climbers diary inspires you to make a donation, please support the group founded by two of our members, Roxine and Rebecca, TREE Climbers: Tell, Recover, Educate, Empower. There you may donate by PayPal or credit card.