This Tuesday, May 22nd, Arkansas will hold its statewide and local primary for the November elections. Over the last week or so, I have been watching the Arkansas primary campaign.
The following is an overview of what to expect on Tuesday night.
President
Democrats
Barack Obama goes before Arkansas Democrats Tuesday night. His main primary challenger is John Wolfe, a Tennessee attorney.
Obama has been very unpopular in his first term in Arkansas. His problems range from an anti-rural economic policy, a liberal social policy, "perceived" socialism, cultural issues, and his defeat of Hillary Clinton in 2008. Obama is expected to drop to between 32 and 34% when he faces Mitt Romney in the November general election.
As for the primary, John Wolfe has actually done a little bit of phonebanking to get out the vote. Wolfe has criticized Obama for ignoring the South, and for representing bankers and not real people. He has criticized Obama for making commitments to protect "Big Pharma" and for propping up the corrupt government in Afghanistan.
While Obama is likely to win the state on Tuesday because of the state capital of Little Rock, the college town of Fayetteville, the Delta, and other African American small towns, Wolfe maybe able to pull a win in either the 3rd or 4th Congressional District.
A poll taken by Talk Business showed Barack Obama beating Wolfe 65-24 in the 1st Congressional District. But in the 4th Congressional District, Obama leads only 45-38. Democrats in the 1st usually live in the Delta, and tend to be more economically concerned than those in the 4th. The Delta is one of the poorest areas in the state, and most rural folk do some kind of farming for little wage.
Ultimately, though, Wolfe'€™s standing on Tuesday will only be symbolic because the national party is disqualifying any delegates he gets.
Republicans
Mitt Romney should have no problems winning Arkansas on Tuesday. The only question is the margin of vote. A recent poll had Romney winning 59% of the vote in the fourth congressional district.
Congressional Districts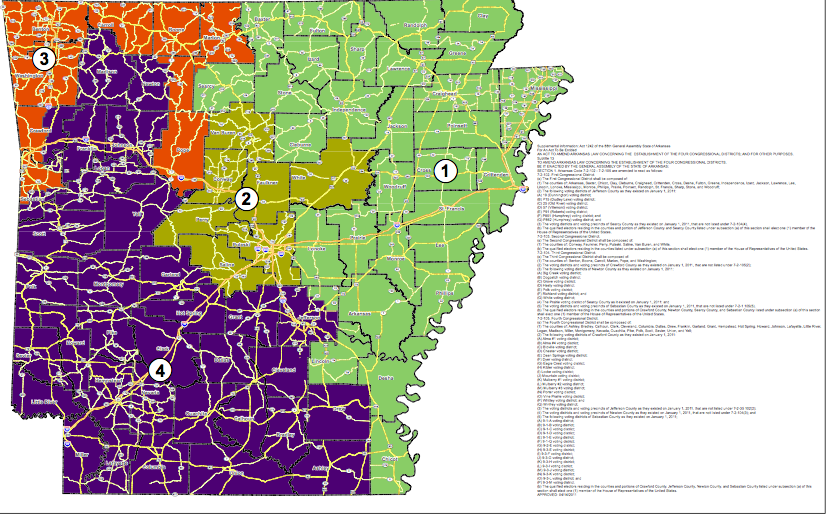 The 1st Congressional District
Obama 39.17%, McCain 57.96%
Beebe 67.68%, Keet 30.32%
Lincoln 42.29%, Boozman 52.34%
Democrats
Arkansas's 1st District is centered on the Mississippi Delta, a land of muddy industrial lowland. This area grows a lot of federally subsidized rice. After leaving the Delta and the district's big city, Jonesboro, the district goes west to the Ozarks. The congressman from this district is Republican Rick Crawford, a congressman who has secured a coveted spot on the Agricultural Committee.
This district is ancestrally Democratic; Crawford was the first Republican to win it since the 1870s. With white flight from the Democratic Party, precincts are slowly becoming more Republican. Only 2 state senators in this district are republican right now. In redistricting, this district expanded to take in the entirety of the Democratic Delta. 
Democrats have a primary. State Representative Clark Hall, Arkansas State University Professor Gary Latanich, and Prosecutor Scott Ellington are on the ballot.

Ellington is a prosecutor for the Second Judicial District of Arkansas, covering Clay, Craighead, Crittenden, Greene, Mississippi, and Pointsett counties. You may remember him as being the prosecutor who brokered a plea deal that freed the West Memphis Free from prison last year. Ellington is trying to bring $1.6 million back for fish hatcheries in Baxter and Cleburne Counties. He has called for an end to tax breaks for people making over 1 million dollars annually and for ending tax breaks for corporations who ship jobs overseas. He has accused conservatives of spending too much time worrying about the deficit, and not understanding the economic impact of investment.
Clark Hall is a folksy, rural Blue Dog, who was the former mayor of Marvell. He wants to balance the budget, and use his knowledge of farming to serve the Delta. He supports revising the tax code to make sure "everybody pays their fair share," supports an extension of the payroll tax, and wants to see tax loopholes closed. He is focused on ending partisan gridlock. Hall has raised the most money of any of the candidates.
Latanich is a veteran who served on Bill Clinton's Economic Advisory Board. He is favor of raising taxes on the wealthy, decreasing them on the middle class and poor, is for federal aid to states, a long term infrastructure program, and no cuts to social services.
Ellington should do well in Northeast Arkansas, where's he on the bench. It's also where most of the population is (Paragould and Jonesboro). Latanich is not likely to be a factor in the race. Hall will probably do well in the Mid-Delta and the Southern Delta. Hall's task will be to do so well in the rural areas to offset Ellington's advantage in the populated areas.
The 4th Congressional District
Obama 37.41%, McCain 59.95%
Beebe 65.54%, Keet 32.52%
Lincoln 36.49%, Boozman 58.07%
Democrats
Southern Arkansas is home to oil production, a black population, the spa resort of Hot Springs, and the Ouachita Mountains. After 2010, the only Democrat left standing, Mike Ross occupied the district.
In redistricting, the main debate was where to move AR-04. In the old days, elections were controlled here, in the extremely Democratic areas of the South. But as Arkansas's population center has moved elsewhere, AR-04 has had to expand. Democrats wanted to expand the district into Fayetteville to keep it safe for a Democrat after Ross, while Republicans wanted to keep it as a mainly southern seat where white flight has made many counties much more Republican than they used to be. The compromise (?) was a district that went into the Northwest, but rather than go through any urban center, took in rural Republican territory.
In July of 2010, Mike Ross announced his retirement. Ross has since announced he will not return to politics.
The Democratic candidates are ex-Senate candidate DC Morrison, State Senator Gene Jeffress, and Businessman Q. Byrum Hurst.
Morrison ran as a conservative alternate to Blanche Lincoln in the 2010 Democratic Senate Primary. Morrison grew up in Arkansas, working in various farming industries. He is for a fair tax, and wants to pay more attention to matters like reducing the deficit and fiscal conservatism. Fortunately for Democrats, Morrison has no chance in the primary, though he will likely make it so Gene Jeffress and Byrum Hurst move to a runoff.
Gene Jeffress is running a very interesting campaign. Jeffress is a former teacher and music minister (very religious) who is very popular from his years of service in the State Legislature. His brother is also very popular from serving Southeast Arkansas in the Legislature. Jeffress is running on a campaign of removing the federal government from education. What's interesting is that Jeffress is running a campaign with minimal to no fundraising. Instead, he is doing extensive traveling and holding various meetings in small towns all over the district to introduce himself to voters.
Q. Byrum Hurst is an attorney from Hot Springs. He wants to continue domestic manufacturing, infrastructure investment, and the current outline of Social Security and Medicare. There are questions over a foreclosure on his house, and income taxes that he supposedly has not paid. Hurst raised $100,000 in three weeks in March, so he obviously can fundraise well.
Jeffress will likely win the rural vote in the eastern part of this district. I expect his religious values, which he has held as his guiding principle in the State Legislature, will probably get him a lot of votes, even though he's not running a typical campaign. Hurst should get votes in the Hot Springs area, in Arkadelphia, and probably in the western part of the district. Both are considered very conservative, with Hurst probably a touch to the left.
Republicans
The three Republican candidates vying for the 4th Congressional District are Tom Cotton, John Cowart, Beth Ann Rankin. Rankin and Cotton would start out at an advantage over the Democrats for a fall matchup. Cowart would start the race in a Tossup.
Cotton is considered the frontrunner in this race. He resides in Dardanelle, Arkansas. He is more economically focused than Rankin. His biggest priority is to repeal Obamacare, change the nation's tax code, and cut federal spending. He has served in the Army in Afghanistan and Iraq and has raised a ton of money. Cotton also has won the backing of the Club for Growth, Citizens United and the Conservative Victory Fund.
Rankin ran against Mike Ross in 2010. She's generally considered to be smarter on social issues, though she is also emphasizing economic issues in her campaign. Rankin is focused on debt reduction, lowering federal spending, and taking a conservative approach to social issues like gun control, same sex marriage and abortion. Rankin has the support of the nonexistent establishment, led by Doyle Webb, the Chairman of the State Party. She is also supported by Mike Huckabee. Rankin's money has come from in state, while Cotton's money has been a combination of both instate and out of state.
Cowart is a Texarkana police officer. He is not raising that much money, and has won the endorsement of the Arkansas AFL-CIO. He opposes card check though. He is pro-second amendment and has served in the army. He opposes Obamacare.
Cotton is likely to do well in the Western part of the state. Rankin will probably do well in the area around Hot Springs, Magnolia, El Dorado, and Texarkana. One should watch Miller County in particular on election night if this race is going to be close.
One other thing on the congressional race - how many ballots are cost in the Democratic primary in the 4th? How many in the Republican primary?
State Senate Districts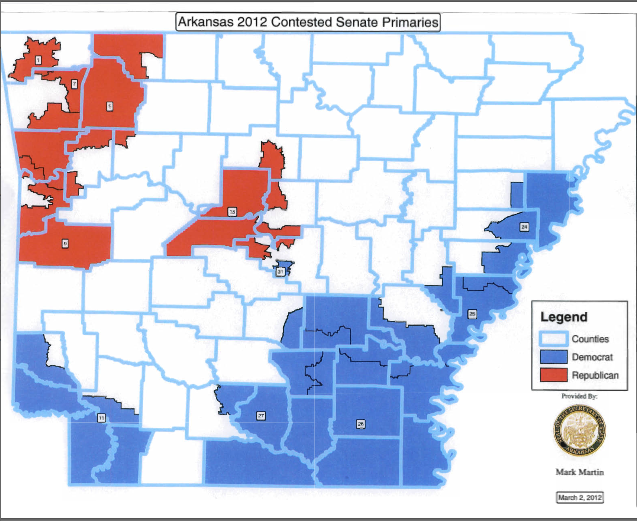 In Arkansas, legislative redistricting is handled by the Governor, the Attorney General, and the Secretary of State. That meant that Democrats had a 2-1 advantage on legislative redistricting. They produced maps that try to maintain their advantage over rural Blue Dogs. The open question is whether they will be effective.
There are several key State Senate primaries worth keeping an eye on.
District 1 (R+19)
*Thurston 74% (R), Bryant 26% (D)
*Martin 72% (R), O'Brien 28% (D)
*Darr 73% (R), Broadway 27% (D)
*Beebe 50% (D), Keet 49% (R)
*Boozman 77% (R), Lincoln 19% (D)
Republicans
The booming northwest of Arkansas needed a new district, and Senate redistricting centered it on Bentonville. This area is very white, conservative, and home to WalMart, and other retail stores. As industry continues to add jobs in this area, watch for population to continue rising. Beebe, meanwhile, realizing he wasn't going to be getting a Democrat here, designed this seat for Republican State Representative Tim Summers. However, Bart Hester, a real estate agent, also decided to run in the Republican primary.
What is Summers' record like? Well, he is a former Democrat on the Benton County Quorum Court, and is considered the establishment candidate. He has the support of former Congressman Asa Hutchinson, as well as business interests, particularly WalMart. In 2008, he switched parties to run against Vickey Boozman for the State House. At least for a Republican, he is considered quite close to the Democratic establishment. Summers has a 54% rating from Citizens First, a left-leaning organization that tracks voting habits in Arkansas. That voting record is the fourth most liberal of any Republican in the State House. In this campaign, Summers has run on a campaign of jobs, investment in small business and experience.
Bart Hester has the backing of more grassroots conservatives groups, as well as Major League Baseball Player Cliff Lee. Hester is running a campaign based on traditional family values, lower taxes and expansion of business. Hester has singled out Summers for refusing to sign a pledge opposing tax increases in the future.
It will be interesting to see who wins this race. Whoever wins is the new State Senator for District 1, as Democrats have no candidate here. My best guess is that business interests, particularly WalMart, will turnout the vote for Summers. If people are interested in the most conservative candidate though, Hester could deliver a blow to the establishment.
As of last week, Summers had raised $105,045 and spent $82,179. Hester has raised $106,800 and has spent $71,469.
District 5 (R+9)
*Thurston 60% (R), Bryant 40% (D)
*Martin 62% (R), O'Brien 38% (D)
*Darr 61% (R), Broadway 39% (D)
*Beebe 59% (D), Keet 38% (R)
*Boozman 68% (R), Lincoln 27% (D)
Republicans
This district goes from the Fort Smith suburbs through the rapidly growing areas of the Ozarks and the resort city (yes, even in Arkansas!) of Eurkea Springs. The Republican candidates here are Bryan King, a State Representative and Mountainburg Businessman Bill Coleman.
King is term limited in the State House. He has consistently been the most conservative representative in the House. He is the main author of the Voter ID bill, which is being stalled by Democrats in the State Legislature. King has run on experience (he is a former Minority Leader in the State House), solving the state budget crisis and Medicaid shortfall, as well as creating jobs. He is in favor of huge capital gain tax cuts and sales tax cuts.
Coleman has worked as a cattle farmer and small businessman for thirty seven years. He is emphasizing real world experience and his promotion of tourism in Northwest Arkansas. Coleman is running on less government intervention in the economy. He points to a new rural water system that he created as an example of his commitment to innovation and investment in business.
For the most part, this race has been fairly quiet. Coleman is known in the southern part of this district, while King's base is in the northern part of the district. I guess it will depend on whoever can get the base out. Whoever wins in the primary is the next State Senator. As of last week, King had raised $23,000 and spent $40,000. Coleman had raised $12,000, loaned himself some money, and spent $43,000.
District 7 (R+12)
*Thurston 66% (R), Bryant 34% (D)
*Martin 64% (R), O'Brien 36% (D)
*Darr 65% (R), Broadway 35% (D)
*Beebe 55% (D), Keet 43% (R)
*Boozman 69% (R), Lincoln 27% (D)
Republicans
Incumbent State Senator Bill Pritchard's old district exploded in population, so the new version of this district compacted to take in only Elkins and Springdale. Pritchard decided to run for reelection and is being challenged by State Representative Jon Woods. This has quickly became a fairly nasty race, at least by Arkansas primary standards.
Pritchard is the incumbent. He opposes a climate tax, is for legislation that reduces government regulations, for a ban on partial birth abortion, for student-initiated prayer, and for funding for drug courts. He is endorsed by the Springdale Morning News, The Arkansas Democratic Gazette, the NRA, and Republican icon John Paul Hammerschmidt. He has attacked his opponent, Jon Woods, for appearing in a rock music video. Apparently, rock music violates Christian values.
Woods is a State Representative. He is emphasizing his constituent service, Christian values, fiscal conservatism, and a need to phase out the personal income tax. He has attacked Pritchard for voting for 559 million dollars in tax increases, for not being for open carry of firearms, and for not supporting legislation that targets contractors who hire illegal immigrants.
I would assume that the power of incumbency will pull Pritchard across the line, but nobody can say for sure. Pritchard has raised $120,288 and spent $96,500. Woods has raised $32,000 and spent $13,600. Whoever wins advances to the general election to face Democrat and teacher Diana Gonzalez Worthen. Republicans will start the general election with a heavy advantage. However, I said this race has become somewhat nasty, and if the Republicans do not unify, Worthen could sneak through.
District 9 (R+8)
*Thurston 59% (R), Bryant 41% (D)
*Martin 61% (R), O'Brien 38% (D)
*Darr 61% (R), Broadway 39% (D)
*Beebe 62% (D), Keet 36% (R)
*Boozman 69% (R), Lincoln 26% (D)
Republicans
State Senator Bruce Holland is seeking reelection and is being challenged by former State Representative Rick Green. Whoever advances to the general election will face off against Fort Smith Representative Tracy Pennartz in November.
This is a very awkward race for Republicans. On one hand, Holland is the incumbent, and has a very conservative voting record. Holland wants to create a 2/3 vote to raise taxes. On another hand, Holland was found guilty of evading a Sheriff Deputy for twenty miles in a high speed chase in Perry County. He was sentenced to 400 hours of community service and had to pay $890 in fines.
Green, Holland's opponent, is regarded as a RINO. He famously courted Republicansto support tax increases under Robbie Willis's speakership. His campaign is running on his status as one of the Top 10 Legislators of 2009. expanded rail service, and support for defense in Fort Smith.
The problem is that Holland's conviction gives the Democrat, Tracy Pennartz, a chance at picking up this seat in November. If Green wins the nomination, Republicans are almost sure to win, but end up stuck with a fairly popular moderate who will likely cross the aisle frequently. Who do you go for?
Holland has raised $46,390 and has spent $37,866. Rick Green has raised $34,589 and spent $26,238.
District 11 (R+5)
*Thurston 56% (R), Bryant 44% (D)
*Martin 58% (R), O'Brien 41% (D)
*Darr 57% (R), Broadway 43% (D)
*Beebe 60% (D), Keet 38% (R)
*Boozman 64% (R), Lincoln 32% (D)
Democrats
Incumbent Steve Harrelson faces a primary challenge from State Representative Larry Cowling. This district is the most Republican district that a Democratic incumbent who is up for reelection holds.
Harrelson has great community relations in Ashdown, Texarkana, and DeQueen. He is fiscally moderate and socially conservative. There is not much to say about his campaign, except that he has gone door to door himself discussing jobs and the economy with voters. His primary opponent, Larry Cowling, has been almost nonexistent.
I predict Harrelson wins in a landslide on Tuesday.
If he's showing any signs of weakness, you can already move this fairly vulnerable seat to a likely Republican takeover.
Harrelson has raised $38,325, loaned his campaign money, and spent $87,328. Cowling has raised $10,000, loaned his campaign money, and spent $17,000.
District 15 (R+2)
*Thurston 54% (R), Bryant 46% (D)
*Martin 52% (R), O'Brien 48% (D)
*Darr 52% (R), Broadway 48% (D)
*Beebe 61% (D), Keet 37% (R)
*Boozman 60% (R), Lincoln 34% (D)
Republicans
State Senate District 15 takes in Morrilton, Maumelle, and Perryville, stretching from Van Buren County to Pulaski County. This district is very politically divided - the few precincts from Pulaski and Faulkner County are very conservative, Van Buren and Perry are swing, and Conway is a Democratic county that Democrats (besides Lincoln) won by double digits in 2010. This Senate district is a potential Democratic pickup in the fall.
The Republican primary is between two State Representatives, both of whom are very conservative: David Sanders and Ed Garner. Again, this primary has been relatively quiet, with very few differences in candidates policies. Garner has relentlessly pursued the capital gains tax reduction, while Sanders is known for a conservative statewide column he writes. Both Garner and Sanders are from the southern part of the district.
Really down in the weeds, but something to watch is who Republican voters in Faulkner County select for their Sheriff. The Democratic Sheriff Karl Byrd is stepping down, and Republicans have a good shot at picking this seat up (Republicans currently hold very few county sheriff offices in Arkansas).
Garner has raised $37,650 and spent $24,819. Sanders has raised $72,998 and spent $39,244.
District 24 (D+18)
*Thurston 35% (R), Bryant 65% (D)
*Martin 33% (R), O'Brien 67% (D)
*Darr 33% (R), Broadway 67% (D)
*Beebe 77% (D), Keet 21% (R)
*Boozman 35% (R), Lincoln 61% (D)
Democrats
Here's a race where I'm fairly invested in. State Senator Jack Crumbly, who is black, is seeking reelection versus State Representative Keith Ingram, who is white.
Crumbly announced his displeasure with the redistricting maps that came out last July. He loudly complained about how the process had been conducted, and Mike Beebe did some revisions just for him. Then, this year, he decided to sue the state for dropping his black percentage in his district from 55% to 53%. Never mind that the Delta is losing African American population, and drawing tendrils to different areas to keep the Black vote high would likely cost the Democrats 1-3 seats, and probably the Majority. Attorney General Dustin McDaniel said Crumbly made political threats about opposing McDaniel in 2014 if his district was not changed.
Crumbly's primary challenger, Keith Ingram, has a well known name, and is a rural folksy liberal from West Memphis. Both candidates are down the line Democrats, as they should be in a such a liberal district. Both are committed to job creation in the poor Delta (where this district is), investing in agriculture and rural education, and for reforming prisons. I am for Ingram.
Who will win? It depends on African American turnout. This district still has a majority African American voting population, but if they do not turnout, expect to see Ingram win.
Ingram is a monster fundraiser. He has raised $141,974 and spent $86,132. Jack Crumbly has raised $108,000 and spent $94,266. Ingram will likely win areas in the Memphis area, and Crumbly will likely win the rest of the district.
District 25 (D+23)
*Thurston 29% (R), Bryant 71% (D)
*Martin 26% (R), O'Brien 73% (D)
*Darr 28% (R), Broadway 72% (D)
*Beebe 81% (D), Keet 17% (R)
*Boozman 33% (R), Lincoln 64% (D)
Democrats
Stephanie Flowers, a liberal private attorney is seeking reelection in this poor black district that stretches from Pine Bluff through the Delta to Helena.
Flowers's primary opponent is Efrem Elliott. Elliott is also black, and was left without a district in redistricting. Both are of course, very liberal. Elliott is running this ad. Flowers is running this ad. I'd expect Flowers to win, being the incumbent. Both Elliott and Flowers are from Jefferson County. Flowers probably has the support of religious organizations in Pine Bluff, which are a powerful presence anywhere int he South.
Flowers has raised $39,334 and spent #31,261. Elliott has raised $23,895 and spent $23,093.
District 26 (D+8)
*Thurston 42% (R), Bryant 58% (D)
*Martin 42% (R), O'Brien 58% (D)
*Darr 45% (R), Broadway 55% (D)
*Beebe 72% (D), Keet 27% (R)
*Boozman 51% (R), Lincoln 46% (D)
Democrats
This district, in the southeastern corner of the state, which is very poor, has three Democrats running. The three Democrats are Gregg Reep, Eddie Cheatham, and Johnnie Bolin. The Republican nominee is Mike Akin.
Gregg Reep is a former State Representative from Warren, Arkansas in the far western part of this district. Eddie Cheatham, a current State Representative, is from Crossett, where the currently very popular State Senator Jimmy Jeffress is from. Johnnie Bolin is also from Crossett.
This race has been surprisingly quiet. Most people who I talked to are undecided in who they are going to vote for. All three Democrats would probably a bit more conservative than Jeffress, who has used his good will to vote as he pleases in the legislature.
My best bet is that Cheatham and Reep will advance to a runoff. Bolin seems like a potential party switcher at some point, so it's imperative we not have him as our candidate.
Bolin has raised $13,000 and spent $9,000. Cheatham has raised $25,839 and spent $9969. Gregg Reep has raised $57,480 and spent $55,396.
District 27 (D+2)
*Thurston 49% (R), Bryant 51% (D)
*Martin 49% (R), O'Brien 51% (D)
*Darr 51% (R), Broadway 49% (D)
*Beebe 65% (D), Keet 33% (R)
*Boozman 58% (R), Lincoln 37% (D)
Democrats
This district is represented by Gene Jeffress who is running for Congress. Democrats Bobby Pierce and Garry Smith are running in this race.
This race is another one that has been remarkably quiet. Smith's base is in Ouachita County. Pierce's home base is in the very small Grant County. Pierce is considered the more conservative candidate. Ironically, Democrats are probably better off with him. He is closer to the Arkansas Democratic Party establishment, understands rural values, and understands the need to separate himself from national Democratic interests. Smith had a widely publicized incident earlier this year when he told the Union County Democratic Club that he supports Obama and that if Jesus were alive he would be a Democrat. Smith may also not be sufficiently pro-life enough for this district.
Smith has raised $28,720 and spent $27,117. Pierce has raised $46,394 and spent $35,594. The ultimate nominee will go up against Republican Henry Frisby in November.
District 31 (D+31)
*Thurston 21% (R), Bryant 78% (D)
*Martin 18% (R), O'Brien 82% (D)
*Darr 18% (R), Broadway 82% (D)
*Beebe 85% (D), Keet 14% (R)
*Boozman 22% (R), Lincoln 75% (D)
Democrats
Joyce Elliott, who you may remember as the totally incompetent Democratic nominee for AR-02 last year, is seeking reelection. She is getting a primary challenge from State Representative Fred Allen.
Elliott is very progressive, as she should be in this Little Rock based seat. I support her for reelection. It appears that Fred Allen is only running because he is term limited out of the State House. Fred Allen is a bit of a corporate Democrat. His campaign treasurer has ties to Tech Park Authority, an organization trying to evict African Americans using eminent domain, as well as using 22 million dollars with no oversight. Allen also flip-flopped on whether he supported capital gains tax reductions. Elliott has been accused by Allen of not paying her taxes.
I expect Elliott to win as an incumbent and because she has more community support. She has raised a lot of her money from within Little Rock. Elliott has raised $144,266 and spent $139,569. Fred Allen has raised $85,013 and spent $51,709.
State House Districts
In Arkansas, legislative redistricting is handled by the Governor, the Attorney General, and the Secretary of State. That meant that Democrats had a 2-1 advantage on legislative redistricting. They produced maps that try to maintain their advantage over rural voters. The open question is whether they will be effective.
There are several key State House primaries worth keeping an eye on.
District 7 (D+2)
Democrats
The Democrats running for this seat include Justice of the Peace John Baine, Attorney James McMenis, and Albert Glenn Grover. Baine is considered the establishment candidate and the most likely to win. Republicans did not recruit a candidate here. This district is centered on El Dorado.
District 9 (D+5)
Democrats
State Representative Sheilla Lampkin is being challenged in the Democratic primary by Robert E. Cornelius. This district runs from Crossett to Monticello, trying to pickup Democratic votes in both small towns, while also minimizing the amount of rural Republicans. There are concerns that Lampkin is not sufficiently pro-life and not a good enough campaigner to stand up to Republican Gary Meggs in the general election. Nonetheless, Cornelius would be a disaster.
District 10 (D+1)
Democrats
There is a Democratic primary in this open seat. Three candidates are running. They are Jefferson County Judge Mike Holcomb, Star City Mayor Gene Yarbrough and former Associate Director of the University of Arkansas Dorothy A. Hall. The 10th is going to be very difficult to hold for the Democrats, as it basically includes rural territory that was solidly red in 2010. Holcomb and Hall have a fighting chance to hold this seat, as they are popular, and fairly conservative. Yarbrough is an unknown quantity, and unfortunately, Democrats need to be known to hold conservative districts. Republican Charles Roberts (not a great candidate in terms of fundraising & operations either) awaits in the general election.
District 12 (D+23)
Democrats
The choices here in a Safe Democratic seat are Reverend Jermone Turner and pastor Chris Richey. I am for Turner. Both are very liberal and are trying to direct more services to the Delta.
District 26 (D+3)
Democrats
Democrats are jumping at the urge to take down Loy Mauch, who has stirred up some controversywith his relation to confederate groups and for making a list of the fifty worst legislators in America.
The Democratic candidates are Attorney David Kizzia and educator Lowell Hightower. This district is centered on Hot Springs County, particularly the city of Malvern. Kizzia seems to have the lead in the primary, at least according to fundraising reports.
District 30 (D+32)
Democrats
This black district is centered on Little Rock. Democratic candidates include music producer Tommy Branch Jr., professional trainer Norith Ellison, and Little Rock school board member Charles Armstrong. The Republicans do not have a candidate here. No candidates have made a huge dent in fundraising.
District 33 (D+22)
Democrats
This district, also centered on Little Rock, featured the retirement of the most progressive member of the Arkansas House, Kathy Webb. Warwick Sabin, a very liberal magazine journalist is expected to replace her. Sabin has an unknown primary challenger, Mark Robertson. No Republicans filed for this seat.
District 37 (D+26)
Democrats
Program specialist Lisa McCollum Smith faces former Snyder staffer Phynaus Wilson in this black district. It could go either way. There is no Republican candidate here.
District 39 (R+2)
Republicans
City Clerk Joshua Clausen faces off against Mark Lowery for the Republican nomination here in northern Little Rock. Whoever wins will go onto face Kelly Halstead, a Democrat, in the general election. Clausen is maybe a bit more conservative - he is more associated with the Tea Party than Lowery.
District 47 (D+26)
Democrats
WM Burl Simmons faces Incumbent State Representative Jody Dickinson in the Democratic primary. Dickinson is a great Democrat in the legislature. See a video of her here.
This district takes in Jackson County, White County, Woodruff County and Independence County, Arkansas. There is no Republican candidate here.
District 52 (No partisan data)
Democrats
You may remember LJ Bryant, who was the unsuccessful Democratic candidate for Land Commissioner last year. He's now running for State House District 52 against contractor Todd Wilcox. Both are Democrats, though I think I'd prefer Bryant, because he seems less likely to switch parties later. Bryant is also young (25) and actively involved in recruiting economic investment to the Delta. He has tremendous statewide potential in the future, potentially as a gubernatorial candidate after Dustin McDaniel. This district is centered on the farming and rural Poinsett County, Arkansas.
District 55 (D+16)
Democrats
This primary has four Democrats. They are Blythville City Council Member Monte Hodges, bookstore owner Mary Gay Shipley, member of the Arkansas Department of Human Services Joe Guy, and Effie Collins. I'm for either Hodges or Shipley. This is an African American district hugging the edge of Eastern Arkansas.
District 57 (D+1)
Democrats
This district is centered on the business center of Paragould, which is trending Republican. Two Democrats are trying to hold the seat anyway. They are community activist and businesswomen Mary Broadaway and businessman Matt Buchman. Both are fairly moderate Democrats, with a strong business focus. I hope that extremely popular Senate Majority Leader Robert Thompson, who resides in Paragould will campaign for the Democrats in the general election. Republican Wes Eddington awaits.
District 66 (R+6)
Republicans
There is a Republican primary in this race between Justice of the Peace Phil Grace and Heber Springs City Councilman Josh Miller. Grace is in a countywide elected office so he should be considered the favorite. This is a heavily Republican district and the winner is a likely favorite over Democrat Jeff Pistole.
District 70 (R+2)
Republicans
This seat is focused on Conway, and features State Representative David Meeks facing off against Price Dooley, a black Republican.
Dooley has hit Meeks on his ineffectiveness in this ad.
I will be interested to see if Meeks can be knocked off as he's generally someone Democrats do not like. Unfortunately, Meeks will probably ride his incumbency to a primary win. Democrat Cody Bassham awaits in the general election, in a potential pickup.
District 76 (No partisan data)
Republicans
Incumbent Republican Denny Altes faces director of the intermodal Transportation Authority Matt Pitsch. This district located in the Fort Smith area. Pitsch is focusing on his real world business skills, and trying to get young people to come to West Arkansas.
Altes is a very conservative Republican. Democrats claim he is a racist for comments he said a few years ago. Altes has focused on conservative economics in the House, as well as less gun control.
District 80 (No partisan data)
Republicans
Charlene Fite, an education advisor and Terry Bibbs, Justice of the Peace, are running against each other in the Republican primary. I'd say Fite is a nominal favorite. Both candidates are very conservative.
District 81 (No partisan data)
Republicans
State Representative Justin Harris has a primary from Lisa Norris. Harris should win, but in a low turnout, it's anybody's guess.
District 85 (No partisan data)
Democrats
This district is centered on the reliably liberal college town of Fayetteville in Northwest Arkansas. David Whitaker, former Mayor, the more liberal candidate, and 2010 nominee against Steve Womack, faces off against businessman Maylon T. Rice. Edge to Whitaker because of name recognition.
District 92 (No partisan data)
Republicans
Representative Mary Lou Slinkard faces off in a primary against Jim Parsons. Both are very conservative Republicans and would probably vote the same way on most issues. This is the most Northwestern district in Arkansas.
District 93 (No partisan data)
Republicans
Councilman Jim Dotson faces off against Duane Neal in the Republican primary. Really the same thing as District 92. This area has a lot of growing businesses.
District 97 (No partisan data)
Republicans
This district stretches from the outer Fayetteville suburbs to the resort city of Eurkea Springs, and is one of the districts in Arkansas that is somewhat trending Democratic. Jeremy Miller will face off against Bob Ballinger in the Republican primary. Robert Berry awaits in the general.