In the comments to his diary about the Arizona legislative elections--where the Arizona Independent Redistricting Commission significantly altered the status quo--CF of Aus speculated that the commission may "have grabbed [the] swinging voters and put them all into the 14 most Democratic seats leaving 15 'solid' 42-45% Republican seats behind and one Competitive seat (the 18th)". The new 18th district, then, is a crucial battleground for control of the Arizona legislature--and it's a seat in Arizona that Obama nearly won. Let's learn more about it.
Notes: My last diary on Arizona legislative districts had some mistakes, so I think the best thing to do is to go into more detail. I also don't mean to step on CF of Aus' toes, but he's told me that DRA isn't his thing, and I've always wanted to write a DRA diary.
Now, as for justifying my headline: LD-18 is the 14th-friendliest seat for Democrats under the AIRC's "Index 2". Ahead of it is another crucial district, LD-06, which was discussed by CF of Aus. LD-06 might be, on paper, less friendly than LD-18, and Democrats might well need both to get to 15 seats. But that race, as CF of Aus said, has a Democratic legislator, Flagstaff's Tom Chabin, running, and I can't find a Republican running, either on the Secretary of State's site or on the Arizona Republican party's site, now that Republican Sylvia Allen has backed out. The filing deadline is in a week. Of course, the apparent LD-18 Democratic candidate isn't on the Secretary of State's site either, but she is on the Arizona Democratic party's site. So, the Arizona Senate might indeed come down to this race, although the Democrat here might fail to file, or it might come down to LD-06.
The District:
Arizona's new LD-18 consists almost entirely of Phoenix (which makes up 34.43% of the district), Chandler (26.04%), Tempe (25.56%), and Mesa (13.69%). You can see the AIRC's maps of it here.
Above is my attempt at drawing it in DRA. A few current precincts are split, unfortunately, but all the racial numbers are within one or two tenths of a percentage point of the AIRC's totals. Basically, it should add a mall and community college, have a little less than half of one more Tempe precinct, and remove half of one Mesa precinct.
Partisanship:
The district as I've drawn it gave 48.9% of its vote to Barack Obama, and 50.0% of its vote to John McCain. McCain won this district relatively narrowly, with only a little over a thousand votes separating the two candidates.
Outside of Arizona, that would suggest a fairly Republican R+4 district, but since LD-18 is in Arizona, my guess is that gives this district about an EVEN PVI.
Either way, it's a pretty remarkable opportunity for state Democrats--Arizona as a whole went 53.4% for McCain, and 44.9% for Obama.
I also attempted to calculate the results of the 2010 Governor and Attorney General elections using the awful Text file that the Maricopa County government supplied the Secretary of State.
As I've drawn it, and assuming I read that damn text file correctly, the district gave Terry Goddard 47.3% of the two-party vote, to Jan Brewer's 49.2%, and it gave Democrat Felecia Rotellini 52.3% of the vote to Republican Tom Horne's 47.5%. That compares to the 42.5% of the two-party vote that Goddard got statewide, to Brewer's 54.3%, and to the 48.1% that Rotellini got statewide.
That means that control of the Arizona Legislature might well rest on a district three to five points more Democratic than the state.
Geography: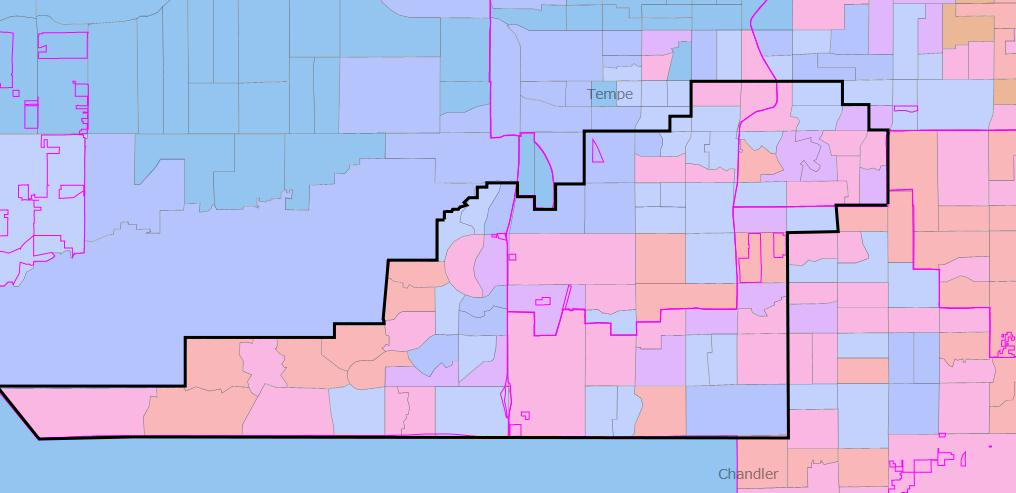 Above is DRA's "color by election" option, with the district's actual boundaries (which also lets you see the split precincts). I don't have too much to say here--Obama did well in the border areas, I guess, which also tend to be less white. They might actually be the most urban parts of this district, which is something of a pastiche of the outlying areas of several cities.
As it happens, every precinct lost by Felecia Rotellini was also lost by Terry Goddard, making those two elections very "one-dimensional". I've colored the precincts accordingly, with blue precincts being Rotellini/Goddard, green precincts being Rotellini/Brewer, and red precincts being Horne/Brewer.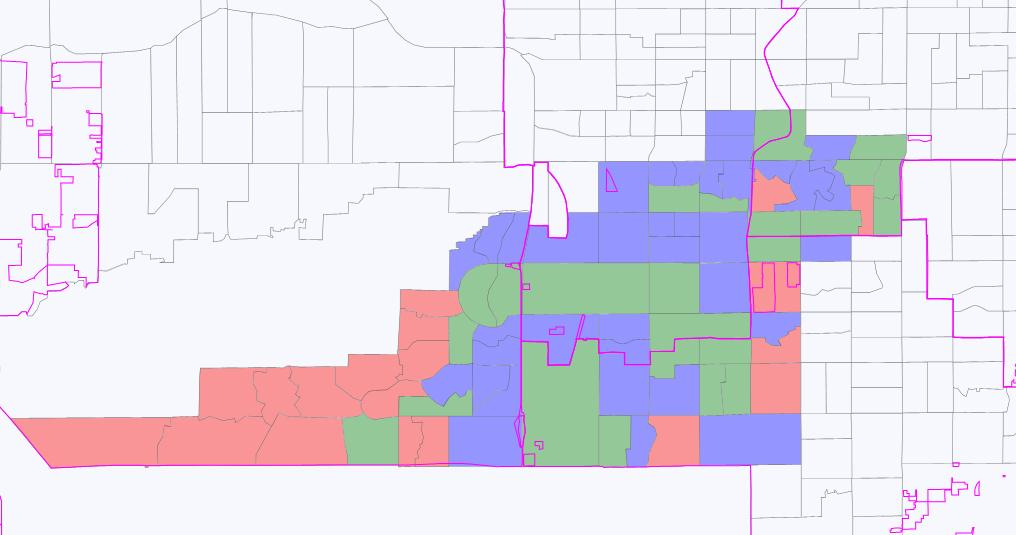 Candidates:
I don't know much about either candidate, but here are a few interesting notes.
The Republican Candidate:
The Republicans are running State Senator and quasi-incumbent John McComish. McComish is what passes for a moderate in the Arizona Legislative Republican caucus. For example, he voted against a bill that "Authorizes Schools to Opt-Out of the National School Lunch Program"--the only Republican Senator to do so! He also voted against bills that

-"Prohibits Partisan Instruction in Classrooms"
-"Authorizes parents to vote to close schools"
-"Requires Public School Teachers to Adhere to FCC Regulations"
-"Authorize[] Employers to Exempt Contraception from Healthcare Coverage"
-"Separate Birth Certificates for Non-Citizens"
-"Establishes State Sovereignty Over Certain Natural Resources"
-"Immigration Law Amendments"
-"Hospital Admissions and Restrictions "
-"Birthright Citizenship"
-"Competition for City Services"
-"Limits Number and Compensation of Municipal Employees"
-"Constitutional Convention on Federal Debt"
-"Official State Gun"
-"State Spending Cap"
-"Nullification of Federal Law"
-"Regulation of Firework Sales"
and a few more in the House. He was, as CF of Aus pointed out,
unopposed in 2010
, when he was first elected to the Senate. Without knowing the circumstances, I'm still incredulous that state Democrats let that happen. Still, the new LD-18 is a bit to his district's left--DRA has McComish's current district at 48.3% for Obama and 50.7% for McCain. Despite the AIRC's efforts to avoid building off past districts, the new LD-18 seems to basically be McComish's district, but extended further north into Tempe and Mesa to make up for population losses.
The Democratic Candidate:
The Democratic candidate is Janie Hydrick, who says that she has "spent her entire 45-year professional career as an educator", and seems to have been prominent on the organizational side as well:

In addition to her impeccable teaching credentials, Janie served as President of the National Council of Teachers of English (NCTE), the largest subject-matter organization in the world. She also served on the Board of Directors of the prestigious National Board for Professional Teaching Standards (NBPTS), National Education Association, and others, providing her with a wide range of Board and governance experience.
Interestingly, Hydrick herself repeatedly testified before the AIRC about LD-18 (and about AZ-09). For example, see
here
:
What your Commission is doing is not exactly rocket science. I know, because I am a rocket scientist.

However, you are all to be commended for the integrity and hard work you continue to put into this task that most rocket scientists would be loathe to undertake.
[...interesting comments about the nature of AZ-09...]

Thank you, thank you for making LD 18 a more competitive district.

Being a part of LD as well as the new CD 9 will help support our community's increased tendency to support candidates from both parties, whose ultimate commitment should be to the whole community.

Baseline Road was a wise choice as a northern boundary for the proposed LD 18.

Tempe has a strong identity, yet the south end tends to be more suburban and blends more with the communities of west Chandler and Ahwatukee.

So thank you for including this community as part of the draft LD 18 map.
She later
testified
denouncing the "legislative travesty" of Colleen Mathis' impeachment:
Your perseverance alone could shepherd Arizona into a politically active future that can be fair, equitable, and truly reflective of its population.

On Tuesday 20 of my friends and I wrote separate different letters to our LD senator. His answer to each of us was the same form letter.

McComish denied that Tuesday's legislative travesty was a political power play.

I have two Ph.D.s and I can tell you for certain that when the Republican congressional delegation, Republican governor, and every Republican member of the state legislature vote to deny the will of the people, that is a political power play.

My legislative and congressional districts have been evolving. We no longer overwhelmingly reflect the unbending, predictable ideology of a single party.

So thank you for making the new CD 9 and LD 18 more competitive so they can truly reflect the increasing moderate character of our community.
In that same testimony, she testified (seemingly contradicting her earlier testimony!) in favor of "tweaks" to make LD-18 and LD-26 "even more competitive":
Baseline Road is the proposed divider between LD 18 and LD 26.

By moving that divider north, to Route 60, and by pulling the eastern border back west to Dobson, both LD 18 and LD 26 would be virtually 50/50.
(She gave very similar testimony
here
, although without the stuff about the letters.)
Amazingly, this may have happened. If you compare the October draft maps to the final maps, LD 18 has indeed added a few precincts north of Baseline Road, and the eastern border has indeed been pulled west. (Although it also lost the heavily Democratic, and sparsely-populated, South Mountain Park precinct.)
For an electoral neophyte (she switched from a "Maricopa County Community College Board" candidacy to the Senate race) Hydrick might know this district pretty well.
Also interestingly, in all of her testimonies, Hydrick makes much of how glad she is that the "Kyrene School District" is contained in LD-18--and that's where McComish's wife is a teacher! (Which might account for some of his moderate votes on education.)
Control?:
Of course, when I say the Republicans might "lose control" of the legislature, I might be being a bit coy. If CF of Aus is right (and I agree) that the new LD-18 is near the 15th-friendliest district the Democrats have under the new map, especially if they basically cede LD-06, then winning the new LD-18 might yield a legislature tied 15-15--and remember, Arizona doesn't have a Lieutenant Governor to break ties.
According to the NCSL, the last time there was a tie in the Arizona Senate, the result was a "divided power contract":

These agreements divide the power between the parties. Under this form of power-sharing, one party selects the presiding officer, the other the chair(s) of the most powerful committee(s); lesser committee chairs alternate party affiliation. For example, in Minnesota, the speaker of the House was Republican, but the chairmen of the powerful rules, appropriations and tax committees were Democrats.
Given how extreme the Arizona legislative Republicans have become, that sounds entertaining, if nothing else. (One reason I included all the bills McComish voted against was to emphasize how extreme the Arizona legislative Republicans seem to have become!)
Thu May 24, 2012 at 9:49 AM PT: A few additional notes:
-I was entirely speculating about which areas in LD-18 are more or less urban, so don't take that part to heart.
-I was rather inspired by the topic and level/type of detail of bluedemocrat's classic diary on the special election in Iowa's (as it happens) 18th Senate district, so full disclosure.