In my last diary, I looked at the race in Arizona's new LD-18, which has a Republican quasi-incumbent but where statewide Democrats have performed pretty well. I said that Republican control of the state legislature could well come down to that race. LD-18 is the 14th-friendliest district for Democrats by one standard (the AIRC's "Index 2"). I've since learned that Republicans have a strong candidate in the 15th-friendliest, LD-06, and also that Democrats have performed pretty well in the 16th-friendliest, LD-28. Democrats probably need to win two of the three to tie the state Senate, and they probably need to win all three to control the state Senate. But all three are probably to the left of the state, giving Democrats an unusually-friendly map. For now, let's learn more about LD-28.
I'm starting with LD-28 because it splits many fewer precincts than the rural LD-06 and because it's entirely within Maricopa County--the precinct results of LD-06's counties, remarkably enough, seem to be in even worse Text files than Maricopa's. In other words, it's the only one I've really analyzed yet, but I think it's an interesting enough district to merit its own diary. And make sure you check out CF of Aus' recent diary for a comprehensive overview--I'll be using it and its resources throughout.
The District: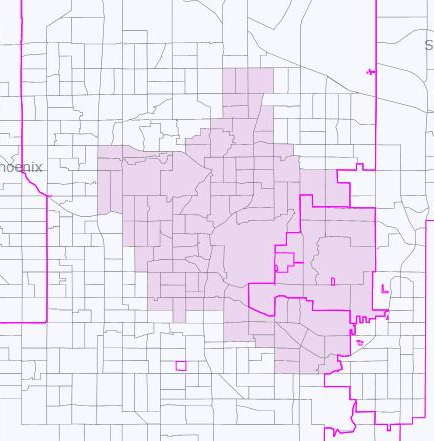 Above is LD-28 as I've drawn it. I did the best I could, but a few precincts are split, especially along the Southern border, which, unfortunately, is one of the better Democratic areas. If you like, you can compare the nice map Democratic candidate Eric Shelley has on his site, and of course compare the AIRC's own map.
The district consists almost entirely of Phoenix, with 15.4% of Phoenix comprising 93.96% of it. It also has nearly all of Paradise Valley, with 99.7% of Paradise Valley comprising 5.85% of the district. Still, turnout and partisanship help give Paradise Valley more power than that might imply, as we'll see later.
Partisanship:
As I've drawn it, LD-28 went 45.8% for Obama and 53% for McCain in 2008. Again, that compares to the 44.9% that Obama got statewide, and to the 53% that McCain got statewide. The AIRC's change report for the "tentative final maps" have LD-28 at 46% Obama, and I don't see much of any difference between the two districts, so the split precincts probably aren't making much of a difference. Even the Presidential results, then, suggest that LD-28 is to the left of Arizona as a whole.
The Presidential results, however, might actually understate Democratic strength in this district. By my calculation and by my drawing of the district, Democratic challenger Terry Goddard got 46.4% here to Republican incumbent Jan Brewer's 50.4% in the 2010 Governor's race. In the 2010 Attorney General's race, Democrat Felecia Rotellini got 52.1% of the vote to Republican Tom Horne's 47.8%.
Again, that compares to the 54.3% that Brewer got statewide, to Goddard's 42.5%, and to the 51.9% that Horne got statewide, to Rotellini's 48.1%. In other words, in a state with 30 districts, the 16th-friendliest district to Democrats was to the left of the state as a whole in the Presidential, Governor's, and Attorney General's elections.
Admittedly, there had to have been a drop-off in farther-down-ballot races to drag down the district's "Index 2" score. For example, the change report has the Democratic "Mine Inspector" candidate running worse here at 42% than his statewide 42.9%.
Still, since the change report has Kerry receiving 44.2% of the vote in this district, to 44.4% statewide, LD-28 might well be trending Democratic relative to Arizona.
Geography:
Once again, every precinct lost by Felecia Rotellini was also lost by Terry Goddard, making those two elections very "one-dimensional". I've colored the precincts as in my last diary, with blue precincts being Rotellini/Goddard, green precincts being Rotellini/Brewer, and red precincts being Horne/Brewer.
As you can see, there's an imperfect but strong regional divide: Every single precinct in Paradise Valley, and nearly every precinct in the surrounding area, voted for both Brewer and Horne. Nearly every precinct in the western part of the district voted for both Goddard and Rotellini, and many "green" precincts are in between.
The politics of this district might be jokingly summarized by the fact that the "Arizona Biltmore Golf Club" and "Biltmore Fashion Park" seem to anchor a "green" precinct, while the "Arizona Country Club" apparently anchors a "red" precinct in the district's southeast corner.
In fact, the regional divide seems to be stronger and more clearly-delineated than that. As Wikipedia puts it,

Since 1986, the city of Phoenix has been divided into urban villages, many of which are based upon historically significant neighborhoods and communities that have since been annexed into Phoenix.
LD-28 is largely divided between the town of Paradise Valley, the urban villages of Paradise Valley Village and Camelback East, and the neighborhood of Sunnyslope. Each seems to have a distinct partisan characteristic, at least visually: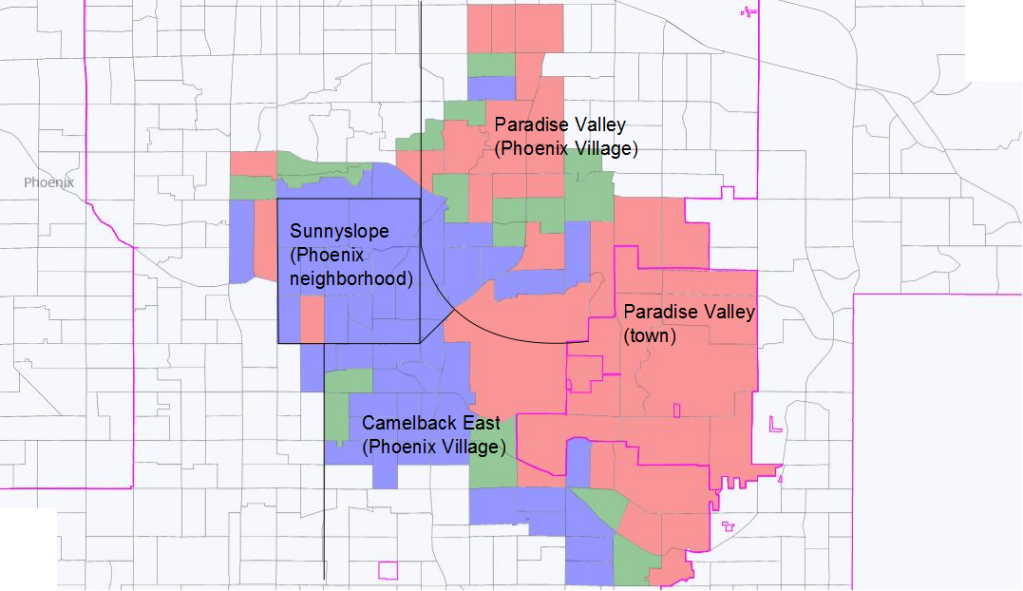 The town of Paradise Valley seems to be solidly Republican, the neighborhood of Sunnyslope seems to be solidly Democratic, the part of the district in the Paradise Valley Village seems to be Republican-leaning but relatively swingy, and the part of the district in the Camelback East Village seems to be Democratically-leaning but relatively swingy.
(By the way, I spliced both of the last two maps together from separate DRA views, to try to add a bit more detail, which might have been futile, but I hope it isn't noticeable.)
A District of Neighborhoods:
I find this division interesting, so I spent some time trying to figure out what was going on. I'd certainly appreciate input from local or knowledgeable readers, however.
Let's start with Paradise Valley. It's quite affluent--according to Wikipedia, the median household income was $150,228 as of the 2000 Census. As I said, turnout and partisanship give it a weight in this district beyond what the population might suggest.
If you draw Paradise Valley in DRA, there's a precinct split with the rest of the district. Still, in 2008, McCain got about 42.5% of his district-wide margin from the 6.31% of LD-28 in Paradise Valley drawn that way (i.e., with that split precinct). Turnout seems to be insanely high, with 9,067 Presidential votes cast to a 2010 VAP of 10,759! Paradise Valley might be an Arizona analogue to the wealthy, high-turnout and extremely conservative Milwaukee suburbs that make up Wisconsin's so-called "Circle of Ignorance".
The "red" area north of Paradise Valley (the town), meanwhile, is contained in Paradise Valley (the Phoenix "village"). Wikipedia might caution against confusing the two, but what the hell. Here's the Paradise Valley Village brochure:

Each [Phoenix] village has a core which serves as the focal point of the village by combining the most intense land uses with a great variety of uses. By providing a mix of employment, housing and retail opportunities, this village "downtown" creates a physical identity for the residents. It should also serve as a gathering place with pedestrian activity and a focus for the local transportation system. The core should reflect the character and land use intensity of the village it supports.
So what's the Paradise Valley "village core"? The "Paradise Valley Mall area":
The Village is noted for its open space character created by the surrounding mountains, Indian Bend Wash greenbelt, and trail systems.

The Village Core, Paradise Valley Mall and surrounding area, provides a successful blend of shopping, housing and employment. This regional mall attracts shoppers from throughout the Valley.
Despite the area's apparent affluence (consider the city's
circa-2000 maps
of "Low/Middle" or "Low/Middle/Moderate" income census tracts), the brochure gives a rather low share of the population as employed, suggesting a large retiree population, at least to me.
If Paradise Valley is the center of LD-28's Republican strength, what is the center of its Democratic strength? The sophisticated technique of "zooming-in on DRA" suggested an answer: Phoenix's Sunnyslope neighborhood.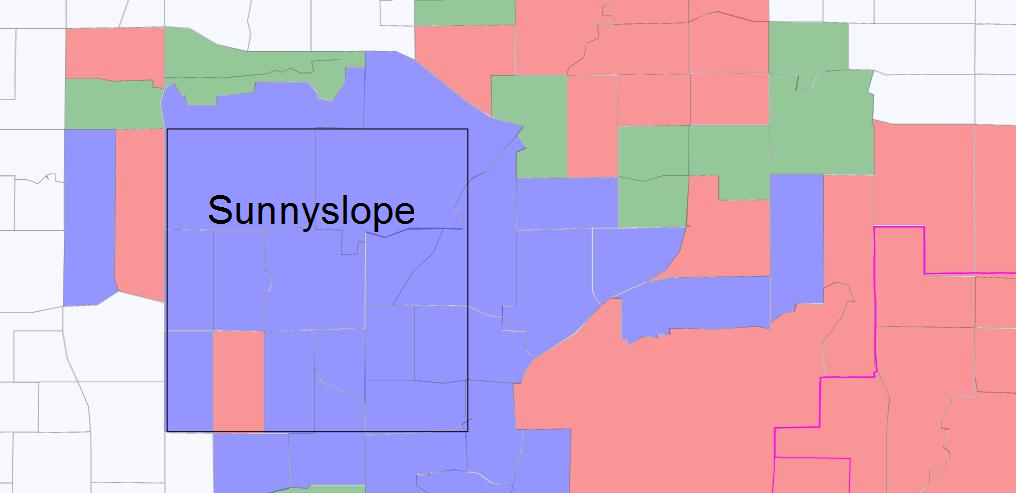 According to Wikipedia, "The Sunnyslope community is a long-established cohesive neighborhood within the borders of the city of Phoenix, Arizona. The geographic boundaries are 19th Avenue to the west, Cactus Road to the north, 16th Street to the east, and Northern Avenue to the south." That rectangle is entirely contained in LD-28, and every precinct but one is "blue", while nearly every precinct has either a significant Hispanic population or is majority-Hispanic.
The Modern Phoenix Neighborhood Network's entry on Sunnyslope (via Wiki) notes that Sunnyslope was first incorporated into Phoenix in 1959, and concludes:

100 years [after its founding] Sunnyslope is still a community that continues to develop its own unique flavor. It is currently home to of some of the best Mexican cuisine from Oaxacan region, and sustains a sizable number of creatives that include architects, artist, fabric designers, interior designers and musicians. A new generation of individuals seeking the freedom of expression and tolerance for difference has settled in the area, making Sunnyslope Arizona one of the most intriguing midcentury neighborhoods of all time.
Its Democratic strength, then, is perhaps not a surprise. I drew a version of Sunnyslope in DRA: Its VAP is 57.8/32.8 White/Black/Hispanic, and it gave 51.1% for Obama. Turnout, however, wasn't that great, with only 12,594 votes cast to a VAP of 30,877. Perhaps OFA's registration and turnout efforts might pay off in this area, as CF of Aus suggested.
As for Camelback East? Its brochure gives several "cores":

The 24th Street and Camelback Road core, when completed, will have 5.6 million square feet of office and retail activity. This includes movie theaters, major department stores, nationally known office employers, restaurants including Planet Hollywood and the Hard Rock Cafe, and over 1,000 hotel rooms in new and historic hotels, such as the Arizona Biltmore. The 44th Street and Van Buren Avenue core is situated at the "Gateway into the City" from the east valley. Accessible from two freeways, it is becoming an area
of airport and regional offices uses and a Chinese cultural center.
[...]
This village offers a range of housing diversity and neighborhood types. [...] The housing stock is evenly split in the number of single family and multi-family residences, and the price ranges accommodate all levels of income. Areas such as the Arcadia neighborhood consist of large acre lots while higher density residential developments surround the more concentrated centers like the Camelback East primary core.
While 44th and Van Buren is south of LD-28, the district does contain areas around the "24th Street and Camelback Road core", as well as around the "44th St. & Thomas Rd. area", which is listed as a "secondary core".
The part of the district in Camelback East, then, might be more "urban" than the part of the district in the Paradise Valley village--compare their linked zoning maps. I've tried looking on Google Streetview, but frankly, none of it looks all that urbanized to a Northeasterner like myself. Still, the brochure for Paradise Valley Village touts its mall and "open space", while the brochure for Camelback East touts its "housing diversity" and "higher density" areas, so it's probably not a huge surprise that the former is more Republican and the latter is more Democratic.
What's interesting, and what complicates my thesis, is that the "Paradise Valley Village" part of the district seems to be less white, more Hispanic, and lower-turnout than the "Camelback East" part. Again, I'd certainly appreciate some feedback from local readers.
The Candidates:
As usual, I don't know too much about the candidates, but here are a few quick notes--relying, again, on CF of Aus' diary.
The Republican Candidate: Republicans are running Adam Driggs, the incumbent Senator from the current 11th district. Driggs, according to the AIRC's change report, represents 59.3% of the new LD-28 (or at least the "tentative final version").
Unfortunately for Arizona Democrats, Driggs' current district might be, if anything, to the left of the new LD-28: DRA has the current 11th district at 46.2% Obama. Driggs was first elected to the Senate seat in 2010 with about 58.2% of the vote, and previously represented the same district in the House.
Still, it is a change. Driggs has little of Sunnyslope, and his current district is rather whiter. The current 11th district has a VAP that's 80.7/11.2 White/Hispanic, while the new LD-28 has a VAP that's 74.7/17.8 White/Hispanic. The 2008 Presidential turnout (relative to the 2010 VAP) was significantly higher in Driggs' current district than in the new LD-28.
As CF of Aus said, Driggs is a moderate in the context of the Arizona Republican Senate caucus. As a Senator, he voted against the following bills highlighted by Project Votesmart (excepting a Democratic bill):

-Establishes State Sovereignty Over Certain Natural Resources
-Authorizes Employers to Exempt Contraception from Healthcare Coverage
-Exempts Ranch Dogs from Animal Cruelty Laws
-Requires Public School Teachers to Adhere to FCC Regulations
-Prohibits Partisan Instruction in Classrooms
-Authorizes parents to vote to close schools
-Hospital Admissions and Restrictions
-Immigration Law Amendments
-Separate Birth Certificates for Non-Citizens
-Birthright Citizenship
-Limits Number and Compensation of Municipal Employees
-Constitutional Convention on Federal Debt
-Official State Gun
-Nullification of Federal Law
-Regulation of Firework Sales
and he opposed a few more in the House, notably including "Verification of Presidential Candidate's Birth Certificate".
(Given where the Arizona Legislature is these days, I tend to assume that nearly every "nay" vote is a sign of moderation!)
The Democratic Candidate: Democrats are running Eric Shelley, the 2010 candidate for Arizona's current 7th district, and the cousin, incidentally, of Kossack Erin in Flagstaff. Shelley describes himself as a "community activist". His website, honestly, could use an upgrade.
Shelley got only 32.8% of the vote in 2010. Only 17.8% of the current 7th district is in the new LD-28. However, this might be a blessing, as the current 7th district is also significantly to the right of the new LD-28. DRA has the current 7th district at only 39.8% for Obama.
Conclusion:
From my admittedly cursory research, Arizona's new 28th Legislative District appears to be an affluent urban/suburban district, with the wealthy and staunchly conservative Paradise Valley, the artsy and relatively Hispanic neighborhood of Sunnyslope, some of the burgeoning (or at least planned to burgeon) commercialization and urbanization of Camelback East, and some of the far-flung Paradise Valley village.
This isn't the most hospitable territory for Democrats, but it's not impossible for a Democrat to win here even in the absence of a statewide landslide. Just ask Felecia Rotellini, assuming my spreadsheeting didn't deceive me. If Obama does decently nationally, I imagine that he'll do decently here--especially if, as CF and sapelcovits suggested to me, OFA really does target the state, and if it really does register a significant number of new Hispanic voters. And, as sapelcovits also suggested, it might be an even better target later in the decade.
I don't want to overstate anything. Like many followers of electoral politics, I've come to assume that Democrats will under-perform the apparent odds against relatively moderate Republicans in wealthy districts. Think of Mark Kirk, Dave Reichert, Jim Gerlach, jncca's diary on Bachmann's district, or of Nate Silver's Partisan Propensity Index, for example. McComish and Driggs might well both fit this profile, and if I had to bet right now, I'd say they both win, giving Democrats perhaps 13 or 14 seats.
Still, I think the Arizona Democratic party would be wise to aggressively target both races--especially, as CF keeps suggesting, as part of broader campaigns in AZ-01, AZ-09, and in the statewide Senate and Presidential races. After all, Arizona Democrats might have 15 or 16 districts--out of 30--to the left of the state as a whole! That doesn't happen very easily, anywhere.
Next up, hopefully? LD-06.