Stories abound. Many times they do not rise to the level pf people's attention. So I often gather some of them together and try to blend them into something coherent.
I hope I have done that with these stories, from the worlds of music, sports, foreign politics, and education. what they have in common is that they involve transgender people.
The point of it all is to encourage the thought that we are people, too, deserving as just as much respect as the next person.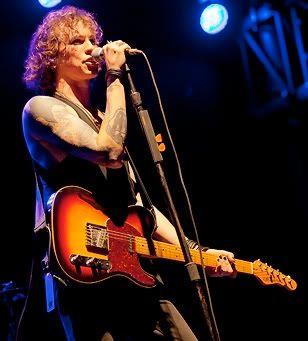 Against Me!'s lead singer, formerly named Tom Gabel, made her debut appearance as Laura Jane Grace Friday night in San Diego.

The band devoted most of the set to new songs, including one called "Transgender Dysphoria Blues," which will be the title track of their next album. They also played a song they originally recorded in 2007, which includes the lyrics "If I could have chosen / I would have been born a woman." Fans erupted in applause.
I was worried that some people expected me to come out looking like Little Bo Peep or something.

--Grace
Sports Illustrated has ventured where wise men fear to tread
, taking up the issue of transgender athletes in its latest issue. The story focuses on transgender Olympic hopeful Keelin Godsey, who will compete in mid-June for a spot on the US track and field team in the women's hammer.
At 5'9" and 186 pounds, Godsey is tautly muscular. He wears glasses and is dressed in black from his sneakers to his knit cap, which sheathes his blond, spiky hair. Over and over, from in front of a chain-link backstop, he grips the hammer's handle and whirls in accelerating circles until it's no longer clear whether he is spinning the ball or the ball is spinning him. His target distance, 226'4½", is out on a gravel path beyond the frost-covered craters. That's the qualifying standard for the London Games—a mark Godsey finally surpassed last month (with a throw of 227'8") at a meet in Walnut, Calif. With a top three finish at the trials in Eugene, Ore., in June, he will realize his lifelong dream: to make the U.S. women's Olympic team.
Godsey is the first American Olympic contender in any sport to openly identify as transgender.
I take a lot of pride in the fact that I have a good amount of muscle mass, and I've done it naturally. But in some ways, this is the last body I would ever want.

--Godsey
When not throwing the hammer, Keelin lives as a man with his fiancée, Melanie Herbert in their North Adams, MA, home.
I'm a female when I compete. Every day I have to sweat, stress and freak out. How do I look? What is someone going to think of me? Is someone going to say something at a track meet?
NPR also did a story about Godsey
The former Bates College athlete
finished fifth in the 2011 Pan American Games
women's hammer throw last October. He was second among US athletes behind Amber Campbell.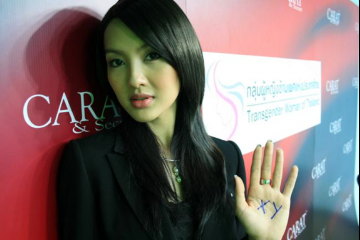 Yollada "Nok" Suanyot was already one of Thailand's more famous "lady boys". There will be no shutting her up now: Nok has gathered enough votes to defeat a ruling party candidate in provincial elections in Nan, which is near the Thai/Laos border. Competing as an independent, she did not have the financial backing as her Pheu Thai (ruling party) opponent did for "a top position commanding provincial finances".
Nok had to make do with notoriety. She is a former member of a transgender entertainment group called Venus Flytrap (she was called Posh Venus) and once upon a time used a fake ID to enter and win women's beauty pageants. She also formed the TransFemale Association of Thailand (they have a website...in Thai), which openly called for state-funded sex changes and the right of transpeople to raise children.

Yollada's campaign platform is standard political fare: promises of a tourism drive, improved educational services for youth, support service for the elderly and a 24-hour emergency help line.
There is
a pre-election interview with Nok here
.
Jennifer Braly was distressed when word got out on campus that she was transgender (possibly because she was lecturing about being transgender to psychology classes until the school put an end to that). Previously, since the State of Arkansas legally recognized her as a woman, she had safely used women's restrooms. But when it became known she was transgender, people started to express discomfort sharing the restroom with her.
So the University of Arkansas-Fort Smith instituted a policy designating gender neutral/unisex bathrooms for transgender students to use.
[Note: As a transwoman faculty member at the University of Central Arkansas in the 1990s, the only unisex bathroom on the whole campus was in the President's office.]
Not wanting to spend uncomfortable amounts of time walking across campus to find a unisex bathroom when the need arose, Braly contacted the Department of Justice, inquiring whether this treatment might not amount to sex discrimination.
Consistent with their policy in such matters, the DOJ notified UAFS that there had been a complaint and that it would be investigated. In response, after consultation with attorneys, the school changed its policy:

Previously UA Fort Smith designated gender neutral or unisex bathrooms for transgendered individuals. This change was made in consultation with the UA system's Office of General Counsel. The new policy allows Jennifer to use the women's restroom on campus.
Here is a link to a video
, which I am not embedding because it starts automatically. I find that extremely annoying.
The university says that it will not tolerate discrimination of any kind.