What a wonderful and interesting Memorial Day event this morning at Citizens Cemetery in Prescott, Arizona!
In addition to being surrounded by a crowd full of honored veterans and their relatives, and being entertained by wonderful bands playing traditional patriotic music...

(my son playing baritone horn next to the drummer)
...both the political dignitaries and historical societies present also provided their own brand of "entertainment":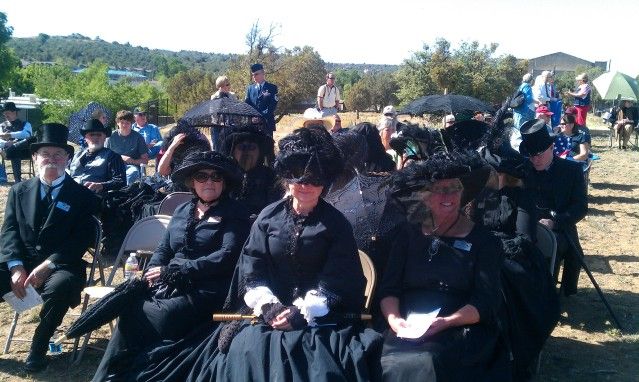 The day included the presentation of the colors by the Rough Riders Ceremonial Cavalry Unit to commemorate the honorable soldiers of Prescott who were led by Teddy Roosevelt up San Juan Hill in 1898:
Mayor Marlin Kuykendall (R-Prescott, and an all-around nice guy) addresses the gathering flanked by dignitaries in period costumes from 1912 -- the year of Arizona's statehood:
U.S. Rep. Paul Gosar (Tea Party, AZ-01, but soon to be AZ-04) and Mrs. Gosar seated one row in front of me, enjoying the day:
Even Secretary of State Ken Bennett (Birther (sort of), R-AZ) started out the day speaking in perfectly fine traditional western fashion: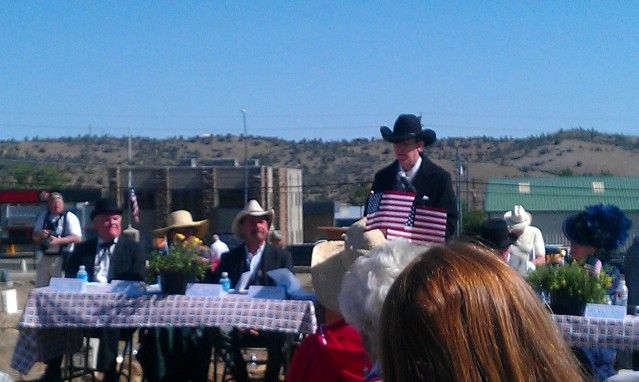 And THEN the event got interesting:
Rep. and Mrs. Gosar were on hand to witness the parade of Confederate flags:
And finally, things got downright weird, as Sec. Bennett serenaded the crowd himself -- pretty well to be honest -- with a Memorial Day tune written by U.S. Sen. Orrin Hatch (R-UT) called Morning Breaks on Arlington while the Stars and Bars of the Confederacy were flapping in the breeze in the background:
All weirdness about the "photo op faux pas" aside... a fine time was, in fact, had by all, and the day did otherwise include a substantial amount of serious respect and dignity shown to our fallen veterans and their families.