"I am sorry for your loss. If we had full cost accounting for the energy we use, he probably would have lived at least another ten years."
Even though this is undeniably true, thousands of times per year, we'll never hear it. Death by accounting error hides behind other proximate causes such as stroke, heart attack, and lung cancer.
A fully informed market really can bring the miracle of the invisible hand, organizing itself to help people find the best buyer, seller, product, or market.
A market that is designed to hide the most grevious of costs can, and does, kill. Every day.
The main thing that stands in the way of full cost accounting, especially for energy, is the fact that it's difficult or impossible to identify the victims.
Ha! I know what you're thinking. The real obstacle is those powerful corporations finding ways to skive out of their responsibilities. Right?
That's definitely a huge part of the picture, but it's important to see what circumstances allow that evasion. A look at historical examples shows that, when it is possible to identify named victims, the chance of corporations having to pay for health impacts that they create are much greater. And with that "risk" comes a hugely increased chance that corporations then change their practices so that they injure less.
When the victims are anonymous, even if the effect is known with certainty and is known to be considerable, it is open season.
This underscores the incredible importance of rigorous science in understanding how pollution harms health, and also in the ability of that science to be used when setting policies. The war on science is not just about building stupid ark replicas at tax payer expense - most of all, it is an effort to keep the victims as anonymous as possible.
So let's do the lemma: Named victims get all the attention, anonymous victims just die quietly.
Let's be clear that there are to a many exceptions, especially where the named victims are poor or belong to a group that is far from the levers of power. We're talking about a trend. And we can illustrate that by two polar opposite examples:
Tylenol: 7 people dead, all named victims. Result: Hundreds of millions of dollars spent by J&J in compensation and in changes to assure that it never happens again. Excellent info here from Kossak dsteffen.
This is the perfect storm of conditions forcing a corporation to take full responsibility. It's ironic because the poisonings were not even J&J's direct fault (a criminal opened the containers, put cyanide poison in, and replaced them on store shelves).
The conditions that created this result, defining one end of the spectrum:
- The (known) victims were all identified by name
- The effect was more or less immediate
- Direct consumption of the product caused the deaths
The perfect alignment of these conditions caused a vigorous response, not just to compensate the victims (as settlement of high dollar lawsuits, of course), but also to make sure that it did not happen again.
At the opposite end of the spectrum we have: Air Pollution from Fuel Combustion.

Over-regulated? I beg to differ.
The disconnect is stunning. We have, with clear certainty,
tens of thousands of deaths per year
from this pollution. Yet, there is basically no voluntary action to reduce pollution emissions from combustion, and each regulatory step is bitterly contested politically and in court. Get this:
The legally mandated regulations from a law passed over twenty years ago have still not gone into complete effect.
It would be easy to chalk this one up to powerful fossil fuel lobbyists. But let's look at the underlying factors that allow decision makers to ignore the connections between the activity and the consequences.
- The victims cannot be identified by name
- The effect is delayed, in many cases by years*
- The deaths occurred whether or not the person was consuming the product
* This may be less true than once thought. Acute pollution conditions may cause stresses that represent the final straw for someone already vulnerable.
The bottom line is that science is the link between the pollution and the deaths. While you might think that it's self-evident that breathing in noxious crap is bad for you, it's not quite directly, viscerally observable, so science must fill that gap. Yep - we need the statistically significant, peer reviewed documents that prove that breathing in noxious crap is bad for you, and by exactly how much.
The next layer of cost is of course climate costs and ocean impacts of Carbon Dioxide emissions. These costs can be quantified, and should be. There is just no excuse for excluding them from any large capital decision made anywhere in the world from now forward.
Now we get to use the fun word of the day: "Externality". In business terms, Externality means

"Something external to what I care about, which thus is your problem, so stop yammering on about it."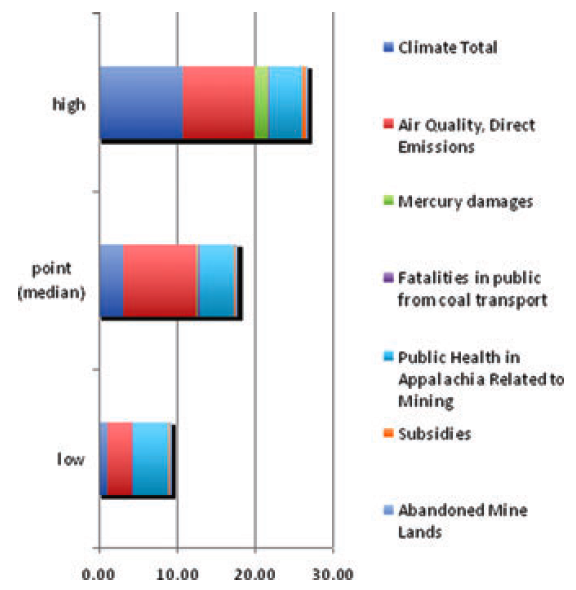 Coal Externalized Costs (c/kWh)
When an activity is known to cause serious health and/or environmental effects, and considering our shrinking world compared to the impacts upon her, we can't dismiss "externalities" any more.
Why do shadowy think-tanks spend millions of dollars each year funding various versions of the war on science? It's because of this: Science is a direct threat to the ability of the powerful to evade responsibility for the harm they cause.
With strong science, and with a strong understanding of the value delivered by science, we can create the first fully cost loaded market economy. That's an economy where the real costs of a product, especially energy, are taken into account when financial decisions are made.
What's amazing is that with full cost loading, we instantly get to see the market work help people make decisions that work well for themselves without injuring others. Want to build and operate a new coal-fired power plant? That's fine, as long as you are prepared to pay for all of the costs, including all of the public health costs.
Is that kind of study expensive? Well, you need to define "expensive". Such study costs are nothing compared to the scale of big carbon capital projects, and even smaller compared to the actual health and environmental effects that are the concerns. In many cases the research already exists, and it's just a matter of gathering it.
The concept of fully loaded cost accounting is of course not limited, at all, to carbon fuels. It's just the most striking example of where we need it, right now.
I can just hear it. Cost! Doom! Financial Reality won't allow this to occur!
Here's the thing. Those costs really occur - someone is paying, often with their health or life. When we change how we account for costs to reflect that reality, we are not creating costs, just recognizing them. Let's not forget this incredibly basic concept:

The entire purpose of financial reality is to advise and educate actual reality.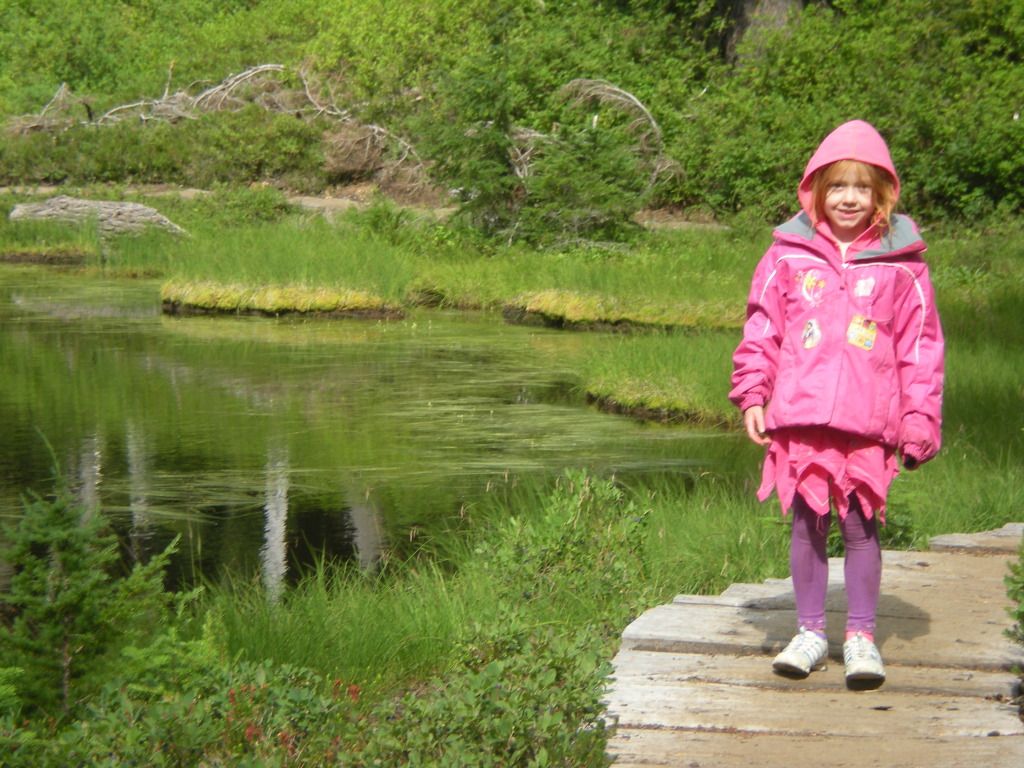 Our Future - Worth Saving
A great going-forward answer for America is a real market economy that, for the first time ever, takes into account the entire value that we get from our existing environmental and health resources, and accounts fairly for the same type of costs where they occur.
Let's make our decisions based on actual reality.
References:
Kossack A Siegel specializes in this topic. Check out this link among many, describing how pollution control will help reduce losses in mental function due to Mercury poisoning. Somehow, he manages to avoid the potentially irresitable topic of how that lowered mental function might improve the electoral prospects of certain people.
Here's a recent example of abject failure to consider the reality of public health: EPRI reports about the billions (billions, I say!) needed to comply with new air regulations. [Energy Wire, subscription required] Then we see this:

The report did not estimate economic benefits of the public's health improvements due to tighter pollution controls ...
Classic, eh? So, why not consider all the costs? Because it might, say, lead to the
exact opposite
conclusion that you wanted to get? You might find out, for instance, that full cost accounting shows that the cost of coal is
double
the cost that gets recognized on the books right now.
See this good article on the paper Full Cost Accounting for the Life Cycle of Coal by Epstein at al, 2011.
And in our own back yard, we have the Cherry Point coal export terminal proposal being railroaded forward, with a big question brewing about to what extent the process will even consider the very significant health impacts of the terminal, as have been meticulously documented here.
This is a rewrite of a previous diary.