By now it's well known how much money was raised by Scott Walker to defeat Tom Barrett and hold onto his position as Governor of Wisconsin. Walker got 2/3 of his contributions from out of state while Barrett got 3/4 from Wisconsin donors.
What is less well known is that there is a strange quirk in Wisconsin law that limited the challenger's donations to $10,000 while the incumbent had no limits on the size of individual donations.

Wisconsin law says candidates for governor normally may not take donations of more than $10,000 each. That was the limit under which Milwaukee Mayor Tom Barrett, the Democrat, operated in the recall election being decided Tuesday at the polls.

But as governor, Walker had a different set of rules. A somewhat obscure state law passed in 1987 says that when a governor is facing a recall challenge, the normal donation limits are suspended for "the payment of legal fees and other expenses."
How many donations of $10,000 do you think Barrett was able to obtain?
"Tom Barrett does have to abide by this $10,000 limit on individual contributions [and] he has gotten, as of today, 26 contributions of $10,000," Lueders says.
That's right. A total of 26 individuals were willing (or able) to contribute $10,000 to Barrett's campaign. Ironically, Walker tried to make the case that unions were buying the election against him.
"I think they're trying to buy it, but not for me but against me," Walker said. "The money that's come in since last February is overwhelmingly from special interests, particularly big government unions in Washington who have tried to take me out."
And Walker?
But Walker had more than four times the number of $10,000 contributions as Barrett, he says, and because Walker didn't have to abide by that limit at all, he raised 111 contributions of more than $10,000 each — largely from outside of Wisconsin.
Who were some of Walker's big donors? Foster Friess of Wyoming, Rick Santorum's benefactor, and Bob Perry of Texas, of Swift Boat fame. He contributed $490,000 to Walker, and has already contributed $4M to Romney's SuperPAC.
Some other Walker donors include:

• $510,000 to Walker from Diane Hendricks, Wisconsin's richest businesswoman and a member of Charles and David Koch's million-dollar donor club

• $260,000 to Walker from David Humphreys, a member of the Kochs' million-dollar donor club

• $250,000 to Walker from Amway founder Dick DeVos of Michigan, a member of the Kochs' million-dollar donor club

• $250,000 to Walker from Las Vegas casino magnate Sheldon Adelson, who with his wife has spent more than $25 million on the 2012 elections

• $100,000 to Walker from Wyoming investor Foster Friess, a member of the Kochs' million-dollar donor club

• $100,000 to Walker from New York billionaire Louis Bacon, a media-shy hedge-fund trader

• $100,000 to Walker from Dallas oil and gas billionaire Trevor Rees-Jones
And here's a
breakdown
from the NY Times and what was spent on this, the most expensive election ever in Wisconsin. Walker spent $45.6M to Barrett's $17.9M.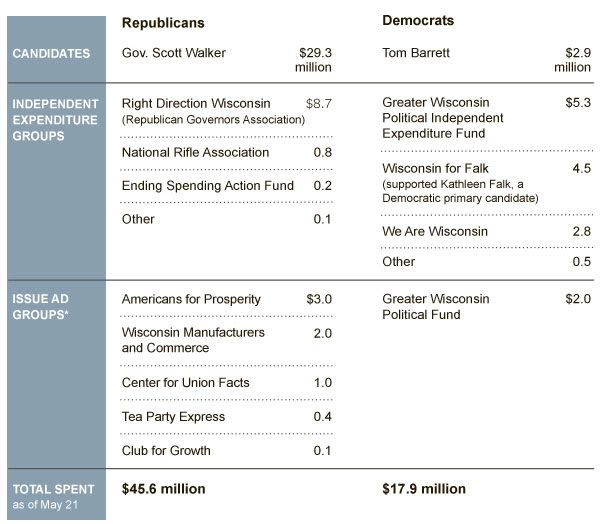 This was not an experiment in democracy. As others have said, this was, and will continue to be, all about the money.