This past Tuesday, June 5th, every single senate Republican voted against the Paycheck Fairness Act, legislation that is trying to give women tools they need to narrow the gap in their pay, killing it.
Every single Democrat voted in favor of it, but 60 votes were needed to move forward.
52-47.

The President's statement:
This afternoon, Senate Republicans refused to allow an up-or-down vote on the Paycheck Fairness Act, a commonsense piece of legislation that would strengthen the Equal Pay Act and give women more tools to fight pay discrimination. It is incredibly disappointing that in this make-or-break moment for the middle class, Senate Republicans put partisan politics ahead of American women and their families. Despite the progress that has been made over the years, women continue to earn substantially less than men for performing the same work. My Administration will continue to fight for a woman's right for equal pay for equal work, as we rebuild our economy so that hard work pays off, responsibility is rewarded, and every American gets a fair shot to succeed.
So let me see if I have this right. We have the longest serving woman in Congress, Sen. Barbara A. Mikulski passionately sponsoring legislation that would
require employers to prove that differences in pay are based on qualifications, education and other 'bona fides' not related to gender. It also would prohibit employers from retaliating against employees who ask about, discuss or disclose wages in response to a complaint or investigation. And it would make employers who violate sex discrimination laws liable for compensatory or punitive damages. Under the bill, the federal government would be exempt from punitive damages.
On the other side we have senate republican Leader Mitch McConnell changing the subject to student loans. He also
said
We don't think America suffers from a lack of litigation. We have a jobless problem. We have a debt problem. We have a deficit problem. We got a lot of problems. Not enough lawsuits is not one of them.
Uh, thanks Mitch, but I suppose that is easy for someone like you to say. Not to mention that you are
wrong
.
Even after President Obama signed the Lilly Ledbetter Act into law, which gives women more time to file lawsuits against employers they suspect of discrimination, the wage gap has actually widened slightly. In 2007, before Ledbetter was law, it stood at 77.8 percent. Come 2010 women made just 77.4 cents to a man's dollar.
Also,
the number of pay discrimination complaints filed with the Equal Employment Opportunity Commission actually fell after the Lilly Ledbetter Act was signed, dropping from 2,268 to 2,191 last year. Even under current laws, women have found themselves with decreasing legal support when they file a complaint
We also have the always lovely Marco Rubio with
this winning analysis
:
It's pure election-year politics. This bill reads more to me like some sort of a welfare plan for trial lawyers."
Got that everyone? WELFARE PLAN!! No dog whistle there, no siree Bob!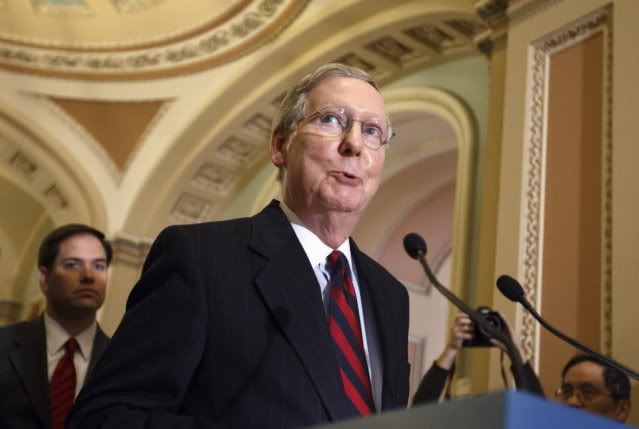 Just another example of the 1% thinking they can speak for the the rest of us. Thanks, but no no thanks. I will be voting for Democrats this fall.

Jump on our bandwagon and follow I Vote For Democrats by clicking the orange ♥ at the top of this diary. Or better yet, write a diary about why YOU vote for Democrats and help us remind people of what is at stake.
More reasons...