Not only are the conspirators hiding behind the Tea Party label out to block legislation that would promote much needed America Jobs,
Frank Luntz - GOP Minister of Propaganda
Rep. Paul Ryan (R-WI)
Rep. Eric Cantor (R-VA)
Rep. Kevin McCarthy (R-CA),
Rep. Pete Sessions (R-TX),
Rep. Jeb Hensarling (R-TX),
Rep. Pete Hoekstra (R-MI)
Rep. Dan Lungren (R-CA),
Sen. Jim DeMint (SC-R),
Sen. Jon Kyl (AZ-R),
Sen. Tom Coburn (OK-R),
Sen. John Ensign (NV-R) and
Sen. Bob Corker (TN-R).
Eric Cantor, Paul Ryan & Kevin McCarthy: Plot To Sabotage US Economy with Frank Luntz
-- by keepemhonest -- Jun 08, 2012

NOW those anti-American co-conspirators, have their destructive sights set on the Oceans too.
Where does their hatred for 'smart government' end? (in a word -- nowhere.)

New Report Shows Obstructionist Politics Harming Ocean Management
Sarah Chasis's Blog, nrdc.org -- June 6, 2012
[...]
The latest report from the Joint Ocean Commission Initiative (JOCI) shows how far we've come in just two years under the National Ocean Policy. After decades of uncoordinated ocean management, federal agencies are now communicating more efficiently and effectively under the National Ocean Council. By coordinating more closely with states, tribes, and local governments, federal agencies are working to cut waste while preserving resources important to local economies that depend on fishing, tourism, and clean energy development.

And at the regional level, under the National Ocean Policy, multi-state partnerships are facilitating greater engagement among stakeholders, fostering ocean science and research, and using improved tools like regional ocean planning to map out a sustainable future for our oceans.
[...]

In the most recent round of partisan attacks on this common-sense policy, Republican leaders in Congress are trying to gut the National Ocean Policy all together.

Just last month, House Republicans passed through an amendment to a critical government spending bill, prohibiting any federal funding for National Ocean Policy efforts. With this misguided vote, leaders of the House aimed to stop agencies from working together to address critical problems, like contaminated beachwater, marine debris, loss of valuable coastal habitat, and future oil spills like the 2010 disaster in the Gulf of Mexico. [...]
The dynamic is simple (for them) --
the more effective Government is
,
the less the angry, uninformed voter will believe
the 1-dimension message of the Tea Party just-say-no obstructionists:
Taxed Enough Already!
Therefore they
have plotted
to keep Government from ever being effective, under Democratic leadership.
Not in theory, but in actual practice. Decimating actual jobs.

They are "damning America" to their Tea Party brand of hell ...


It's not just starry-eyed liberals saying this either -- sober professionals are noticing the unprecedented GOP plot, which is holding the President's Agenda, and by proxy the American People -- hostage too.

Congressional experts Norman Ornstein and Thomas Mann, known for nonpartisan analysis, offer a damning indictment of the GOP's "All-Out War" On President Obama, while appearing on MSNBC's 'Up With Chris Hayes'. [...]

Link to video
[Chris Hayes interview, posted by Media Matters]

Congressional Experts call out the GOP for their obstructionist 'All out War on Obama'
by Anomaly – June 3, 2012

And the proof is not only in the future havoc they are condemning the Oceans to, but in the ever-rising Obstructionist toll:
Record-Breaking Republican Obstructionism -- Chart
ourfuture.org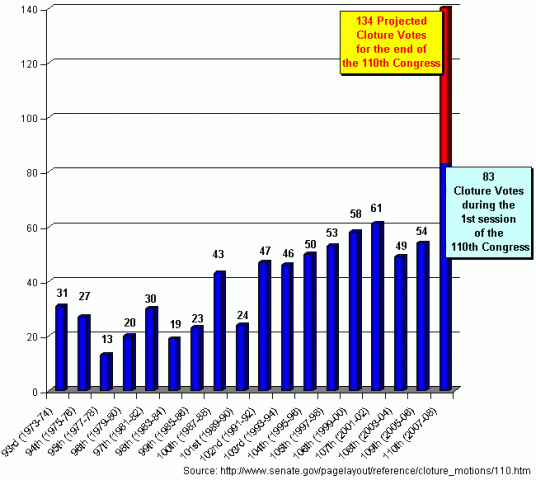 Throughout history, this is how countries rise and fall: a small group of head-strong ideologues rise to power, and refuse to let other reasonable views into the discussion room ...

Come hell, or high water -- these Tea Party plotters will let America sink like rock, rather than lift a Tea Party finger, to lend a hand:

Transportation bill: Do Republicans want to sabotage the economy?
The Baltimore Sun -- June 10, 2012
Senate Majority Leader Harry Reid recently said aloud what many Americans must be thinking these days -- that at least some Republicans in Congress would like to see the U.S. economy worsen in order to boost their chances of success in the November election.

The evidence? The GOP's continued resistance to approving a multiyear transportation authorization bill. Senator Reid told The Hill that he's heard House Majority Leader Eric Cantor is leading the charge to delay the Senate bill -- and the tens of thousands of jobs it would create.
[...]

What's frustrating is that the bill -- which has been whittled down to a mere 15-month extension (and might even be trimmed to six months, according to Mr. Boehner) -- should be a fairly routine matter. That has been the case in years past, when preserving and expanding U.S. transportation infrastructure, including roads, bridges, mass transit, ports and airports was seen as too important to the national interest to be derailed by partisan bickering.

But that was then. [...]
That was before the anti-Government renegades, took over the helm of the Congressional ship.
The ship that they continue to steer toward whatever rocky economic reef they can find. Intentionally. By design.
They swore a blood oath. America be damned ... Long as they get their selfish short-sighted austerity way.
In the Tea Party world view view, it's "Sink or Swim -- every man for himself!'
They are working for higher powers, and a Rollback Agenda which does not include the American Government and the many public services, we used to just routinely provide. To those in need. To the general public at large.

It's a Tea Party Nation now! As long as the anti-government renegades can continue to throw every good thing -- overboard.
Into the deep blue sea.