I've written about this before and been shut down.
But over the weekend at Netroots, after hearing Sherrod Brown speak about the effects of Citizens' United in Ohio, I'm going to bring it up again.
Sherrod, in May you said you were being outspent by SuperPACs $6.5 million to $1.1 million.
You have nothing to lose. Why not renounce all SuperPAC money and call on your opponent to do the same?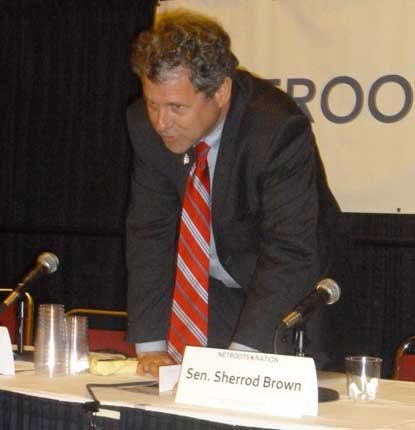 10 bullet point reasoning below the squiggle.
Here goes ...
Getting the clearest and best message to 51% of the people wins elections.

Money does not win elections. Money is just one way to get your message out to more people.

You are not going to win the money game.

You can either acknowledge this upfront or remain in denial.

On the positive side, let me repeat: Money does not win elections. It is only the easiest way to get your message out to more people.
This means you have to find a way to change the game.

The way to do this is to disavow SuperPAC money.

Then challenge your opponent to do the same. At every opportunity.

If he refuses, you brand your opponent as the candidate of Big Money. If he agrees, you equalize the playing field.
Either way, you stand for something. You stand for the people having a voice over money. Your opponent stands for money.

The Democratic party is in trouble right now because they don't stand for much. They try to walk a thin line between a populist message and accepting corporate donations.
If I were a brand manager I would tell you that this destroys your brand.
In this scenario, Sherrod, I think you have nothing to lose and everything to gain. A variation on this play is The People's Pledge signed by Elizabeth Warren and Scott Brown.
But even if you can't get your opponent to sign a pledge, you should renounce SuperPAC money and call on your opponent to do the same.
What conservatives don't understand is that by placing all of their money with Republican SuperPACs, they actually improve the negotiation position of Democrats.
Why? Because Democrats now have nothing to lose.
They've lost the money race. Why not reject SuperPAC help, stand against anonymous corporate donations post-Citizens United, and try to change the game?
If your message targets the 99%, this is your strength: numbers. The conservative message targets the .01% and eventually people will realize this no matter how much money they spend.
I hope somehow this makes it to you, Sherrod, or any other Democrats for that matter. I'm a big fan and have been for a long time and I hate to see you in this situation.
If you think about it, and I know it sounds counterintuitive, Republicans have placed all their eggs in one basket: the money basket.
Why not give it to them and claim the populist brand for your own?