...in which I present the latest updates in the ongoing struggle of Michigan State Representative Lisa Brown (and of all women state-wide) against the Michigan Republican Party.
First, I just wanted to note that my original diary on "V-Day", which hit the Rec list at around 12:40pm on Thursday, is still on the top 12 list as of this writing. I'm not sure what the record is for "longest on the Rec list" but I'm guessing that this is a contender for it.
(Whoops...looks like this diary just bumped the other one off the list...a bit of irony there...)
That brings me to the latest developments:
--First up, the big one, first announced by Michigan Democratic Senate Minority Leader Gretchen Whitmer on Facebook last night:

I'm excited to announce that Tony Award winner Eve Ensler will be coming to Lansing on Monday for a special performance of her play The Vagina Monologues that I, Senator Rebekah Warren, Representative Lisa Brown, Representative Barb Byrum and other female legislators will take part in. PLEASE check out the event page below and share it with your friends as well. We want to have a HUGE turnout to send a strong message that our voices will not silenced!
This is awesome. Here's a story about it in today's Detroit Free Press:
'Vagina Monologues' coming to Capitol to protest muzzle on legislators

When state House Republicans -- a largely male group -- indefinitely banned two Democratic women in the House from speaking in the chamber, it set the stage for an unlikely theatrical performance on the Capitol steps in Lansing.

At least nine female legislators will join actresses from around Michigan on Monday evening to read the 1996 play "The Vagina Monologues." Considered a manifesto of feminist rights by fans, it's the perfect way to vent outrage against muzzling women and otherwise trying to oppress them, said protest organizer Carla Milarch, 42, who is associate artistic director of the Performance Network Theatre in Ann Arbor.

The playwright Eve Ensler is flying in for the event from California, "and we have more and more actresses calling to fill out the cast," Milarch said Friday night. Staging the play seemed like the perfect response to conservative men silencing women for speaking in direct terms about body parts -- specifically for saying the word vagina, she said.
In addition,
Rep. Brown
has posted an Op-Ed piece in this morning's Detroit News:
Rep. Lisa Brown: Silenced on the House floor for using correct body terms

I used that word because we were debating a women's health issue. Vagina, by the way, is the correct medical name of a part of women's anatomy lawmakers want to regulate. My statements were within the rules of the House and were clearly appropriate in relation to the bill we were discussing.

One of my counterparts, Rep. Mike Callton, R-Nashville, said "vagina" is such a disturbing word that he would never deign to use it in the presence of women or "mixed company." This, from a man who earned a bachelor's degree in biology.

Isn't that something?
In the meantime, the "VAGINA!" Battle Cry seems to have gone utterly viral (and yes, I'm aware that it's rather disturbing to have "viral" and "vagina" in the same sentence, but so be it):
I'm very proud to say that one of my own quickie creations (along with a lot of help from Warner Bros. marketing dept.) is spreading like wildfire on Facebook thanks to Progress Michigan picking up the ball and running with it: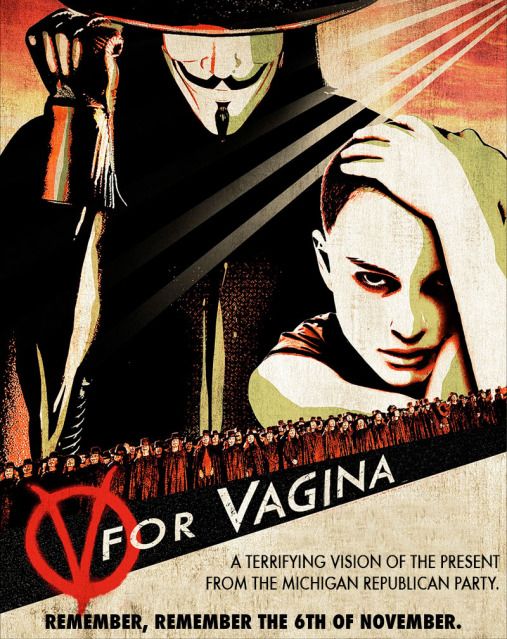 (ThinkProgress actually screwed up the quote in the original version of this, which is unfortunately being reposted all over Facebook; they have it as "you want to get into my vagina" instead of "you're all so interested in my vagina", which is a rather important distinction, so I've corrected it here).
The ACLU's version is much simpler and to the point:
Finally, make sure to CONTRIBUTE TO THE LISA BROWN "V FOR VICTORY" FUND!
And, as an admittedly childish bonus, we have this completely (?) unrelated story:
UPDATE: WAS HIS NAME JASE BOLGER??

MAN SHOOTS HIMSELF IN PENIS

A Southfield man is recovering after accidentally shooting himself in the penis as he adjusted his gun, according to police.

The 45-year-old heating and air-conditioning company employee was on a job in Birmingham on Tuesday when the incident took place, Birmingham Police Deputy Chief Mark Clemence said today. He was getting ready to work and was moving the .40-caliber Glock pistol in his pants when it discharged at 11:15 a.m.

"Through and through, if you can believe it," Clemence said. "The situation could have been a lot worse. You think about it -- your femoral artery runs down there. He could have shot it off. It could have been a lot worse. It's a big bullet; you're not talking a small bullet."

A coworker on the job on the 300 block of Wimbleton saw the accident and drove the man to Beaumont Hospital in Royal Oak. Clemence said today he did not know if the man has been released.

Although he had a permit to carry the gun, he may face charges of reckless discharge of a firearm, Clemence said. The city's prosecutor is expected to review the case, he added.
UPDATE: Updated title at the request of several people. I originally used "Vajayjay" ironically, which seemed appropriately tongue-in-cheek (um...not the best turn of phrase there, I suppose) to me given the point of the article and of Brown's speech, but I can also see it being inappropriate even in that context. Carry on...
Update x2: A few more video clips, thanks to Scarce and Cardinal for the links:
Here's Lisa Brown's interviews on a couple of local stations:
Annnnnnnd here's a hilarious clip from King of the Hill:

UPDATES x3: THE VAGINA SONG!

Also, the New York Times has chimed in, although, interestingly, they actually focus on the horrific LEGISLATION ITSELF, which is fine since that was the whole point of Lisa Brown's comments in the first place:

The legislation, which cleared the State House of Representatives on Wednesday, contains several constitutionally questionable restrictions that add up to an egregious assault on safe abortion care and on the clinics that provide it. One portion of the extreme legislation seeks to shrink access to abortion care by imposing costly and unnecessary space and other requirements on all clinics that provide six or more abortions a month. Under the bill's terms, clinics would need to be licensed as surgical centers even if they offer only medicine-based abortions that entail handing out pills and do not perform surgery.
Update x4: The Lisa Brown for Oakland County Clerk Facebook page

IMPORTANT: Please note that Rep. Brown is NOT running for re-election to the Michigan House of Representatives. She is, however, running against the incumbent Republican for Oakland County Clerk. Her official County Clerk website is not operational yet, but she is allowed to transfer funds from her House campaign fund (ie, the ActBlue link above) over to her County race, so that's where I'm encouraging people to donate for the time being.