In an opinion piece in the Christian Science Monitor Robert Reich unloads on Mitch McConnell's mealy mouthed attempt to justify blocking reforms introducing transparency for corporate political giving.
Just like us: Why Republicans worry about corporate feelings

By Robert Reich, Guest blogger / June 19, 2012

He describes the current push to disclose the sources behind campaign contributions as a "political weapon," used by the Democrats, "to expose its critics to harassment and intimidation."

Harassment and intimidation? It used to be called accountability to shareholders and consumers.
And now the minority leader of the Senate – the highest-ranking Republican official in America – takes this logic to its absurd conclusion: If corporations are people, they must be capable of feeling harassed and intimidated if their shareholders or consumers don't approve of their political expenditures.
Clearly, McConnell doesn't want corporations to be forced to disclose their political contributions because he and other Republicans worry that some shareholders and consumers would react badly if they knew – and thereby constrain such giving.

And the reason McConnell and other Republicans don't want any constraint on corporate political giving is most CEOs are Republicans who want to use their firms – and the money their shareholders legally own – as secret slush funds for the Republican Party, funneled through front groups like the U.S. Chamber of Commerce and Crossroads GPS.
Reich goes on to point to the pattern from the most recent years where its these non-profits that have been the real heavy hitters, and not the Super PACs (who must disclose their doners).
Claiming that a right exists protecting the anonymity of corporate political speech to keep its shareholders and customers in the dark, is an absurd attempt to use the First Amendment to expand corporations' political influence beyond their already dis-proportionality loud voice in our political decision making process.
Then as if to drive the point about buying political influence home I see where Mitt Romney and Eric Cantor have scheduled a joint fundraising swing through a favorite enclave for the 1%, the Hamptons, where one of the fundraising events will be held at the mansion of David Koch.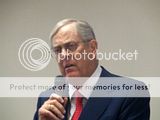 Americans are painfully aware that the relationship between big money and our political leaders has grown far too cozy. This is one of the biggest reasons many Americans say that this country is on the wrong track.
Its time to take the first step toward restoring some fairness to how our elections are conducted. The Disclose Act should be that first step. Call your congresscritters and tell them why McConnell is wrong.