Say good-bye to Galapagos George -- scientists knew him well (sort of.)

Galapagos giant tortoise Lonesome George dies after not so lonely life
by Sara Miller Llana, Staff writer, csmonitor.com -- June 25, 2012

The only remaining Pinta Island giant tortoise – believed to be the last of his species – Lonesome George passed away on Sunday. No one knew his exact age but he is believed to be about 100 years old.
[...]

Lonesome George was an icon of the Galapagos and a symbol of the urgent need to conserve nature, and scientists had tried everything -- I mean everything -- to get Lonesome George to mate and keep the subspecies alive. Our tour guide, a local woman, had a side job for a while trying to get Lonesome George "interested" in mating. Two females were brought into his enclosure too, and Melanie had the rare opportunity to see them mating (though those eggs never hatched).
[...]

And while George may have been lonesome for being the last of his kind, with his potential mates, and scientists, journalists, and the public endeared to him, he lived a full life.
Galapagos George
--
In Pictures
:
Lonesome George, the last remaining tortoise of his kind and a conservation icon, died Sunday of unknown causes. He lived at the Charles Darwin Research Station on Santa Cruz Island in the Galapagos Islands in Ecuador. He is estimated to be about 100 years old.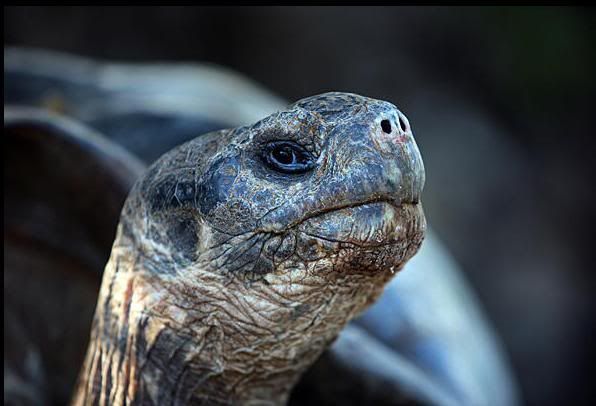 It's just the inevitable dust, being kicked up by the far-reaching footprints of our so-called intelligence ... Galapagos George just another icon of a once hopeful time, who's now destined to live on, only in the dusty books of history ...
For being the pinnacle of intelligence on Earth -- it sure takes us a long, long time to catch on, sometimes. Catch on to our untallied Impact.

Loss of top predators can multiply extinction risks as planet warms
ANI, newstrackindia.com -- 22 Jun 2012

[...]
According to Phoebe Zarnetske, the [Yale] study's primary author and a postdoctoral fellow at the Yale School of Forestry and Environmental Studies, most [Global warming] models predicting the effects of climate change treat species separately and focus only on climatic and environmental drivers.

"But we know that species don't exist in a vacuum. They interact with each other in ways that deeply affect their viability," Zarnetske explained.
[...]

Using the single-species, or "climate envelope," approach, researchers have predicted that 15 percent to 37 percent of species will be faced with extinction by 2050.

But research has shown that top consumers -- predators and herbivores -- have an especially strong effect on many other species. In a warming world, these species are "biotic multipliers," increasing the extinction risk and altering the ranges of many other species in the food web.
[...]
Welcome to the Future, "top consumers." It's looking to be a lonelier place -- biodiversity speaking.
But hey who needs biodiversity, especially when our species is 'king of every hill' ... that our feet can reach.






Considering our closest competition ... it's really no contest, is it?