Back in the day…back when I finished transitioning from male to female…I set myself a task of ensuring that someday nobody would be treated as I had been. In some ways, that's an impossible task to perform. In other ways I discovered that I really hadn't had it so bad.
After all I didn't grow up living on the street, did I?
So I have added the work of educating people to the point that they might actually care about homeless youth…especially homeless LGBT youth. I do what I can do.
Some people have more resources, so when they choose to do what they can do, a lot more gets accomplished. I am extremely thankful for that.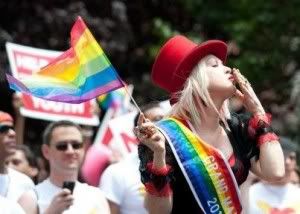 Today marks the launch of Cyndi Lauper's Forty to None project, as part of her True Colors Fund. Lauper was Grand Marshall of this year's New York City Pride Parade. Last August she opened the True Colors Residence for LGBT youth.
Studies estimate that there are approximately 1.6 million homeless youth between the ages of 12 and 17…and as much as 40% of those kids identify as LGBT.
Most of these children were rejected by their families or were abused for being LGBT to the point that they left.
I was doing a photo shoot for Interview magazine and thought it was important to include some gay and transgender youth to reflect my work with the lesbian, gay, bisexual and transgender community. My goal was to send a message of inclusion and acceptance, but what I realized after talking to these kids was just how different my vision was from what they had experienced in their own lives.

The youth on the pier that day told me story after story of exclusion, of rejection and of pain. As a mother, I can't ever imagine throwing my child away. I can't imagine kicking a kid out of my house. I can't imagine rejecting a person who is, literally, a part of me.

But for the kids of the pier, that rejection wasn't something unimaginable. It was their reality.

The project has a Facebook Page.


To kick-start this effort, Forty to None has produced a public service announcement (PSA) featuring Cyndi Lauper and young people from various New York City based service providers, including the True Colors Residence, The Door, Green Chimneys, and Safe Space, that presents the realities of LGBT youth homelessness through tangible statistics, and encourages the audience to get informed and get involved in the Forty to None Project. Additionally, the Project launched a website at www.fortytonone.org on June 24th to educate and engage the public, as well as provide resources and information for homeless LGBT youth and the organizations that serve them.