Yesterday, in Congress, pictures of various celebrities, including Justin Bieber, Selena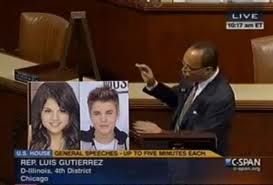 Gomez, Geraldo Rivera, and Jeremy Lin were used to demonstrat the absurdity of Arizona's Show My Your Papers immigration law.
The demostration was done by Luis Gutierrez (D-IL). He played a game called he called "Pick Out the Immigrant". He used various pictures of random people, including the above celebrities and asked members of Congress to pick out the immigrant. He stated that he did this to prove to Congress that Arizona law enforcement cannot possibly enforce this law without racially profiling people.
Obviously Justin Bieber doesn't "look" like an immigrant (i.e. he's not Mexican) and without knowing some basic Beiber stats, you wouldn't know that he's a Canadian citizen.
There was no word on how many Congress people participated or if any other them chose correctly.
All I can say is bravo Mr. Gutierrez. Bravo.