Republicans were at first dazed by today's surprise decision by the Supreme Court to uphold all of the Affordable Care Act. So sure that it would be overturned that John Boehner warned his caucus not to 'spike the football' in jubilation. But, they have regrouped and are solidifying their talking point on repealing it and 'replacing' it.
Mitt Romney promised to overturn it on Day One of teh Romney Presidency.
Eric Cantor has already sheduled yet another vote to repeal the Act, on July 11th.
Sen. John Cornyn and others are claiming they will enact measures that bring down the cost of healthcare for Americans, which President Obama failed to do. "It elevates healthcare to the top priority" (gee, just now finally Senator Cornyn?)
And Sen. Mike Pence called it 9/11. (What, no Holocaust?)
Note to Republicans: the Supreme Court ruled, and the Affordable Care Act is constitutional. You know what it means when the Supreme Court says this? (Despite what idiot Rand Paul says).

[In] an interview with Supreme Court Justice Antonin Scalia, ... reporter Leslie Stahl asks [Justice Antonin Scalia] about the infamous Bush v. Gore decision, Scalia lashes out, "Get over it. It's so old by now.":

Scalia has said in the past, "I and my court owe no apology whatever for Bush versus Gore. We did the right thing. So there."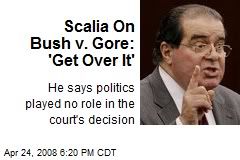 Got that? Let's move on.