Foreign Policy's story on Sudan's stunning, two-week-old protest movement comes with the following subtitle: The best way to help the protesters in Sudan? Cover the story.
See, despite the remarkable circumstances and jaw-dropping bravery suddenly being exhibited in Africa's third-largest country -- ruled for 23 years by a genocidal President -- little mainstream media attention (or attention in the progressive blogosphere, for that matter) is being paid to the events transpiring there.
And this is significant.
Why? I'll explain soon. First, though, a bit of background on the protests themselves. Here's FP's Christian Caryl:

The current wave of unrest was started by women. On June 15, a group of female students at the University of Khartoum launched a public protest against drastic hikes in the prices of food and public transportation. Their male classmates joined them, and together they marched into the center of the city, where they were met by the combined forces of the police and the infamous National Intelligence and Security Service, who attacked the demonstrators with tear gas and iron rods. Courts have sentenced some of the detainees to lashes -- in some cases as many as 60.

But this failed to stop the revolt, which soon spread to other universities in Khartoum and then outside of the capital. Since then there have been demonstrations around the country, including places as far afield as Omdurman and Kasala. And the protests are no longer only about the high cost of living -- contrary to some of those headlines about "austerity protests." In the eastern town of Gedaref, members of the crowd chanted, "the people want to overthrow the regime" -- the mantra of the Tunisian and Egyptian protesters. Observers say that political demands have come to the forefront as the demonstrations have progressed.
The political protests are scheduled to intensify tomorrow, as activists across the country have planned
mass demonstrations on Friday ahead of potential strikes
:
Street protests have entered their second week in Sudan, and activists have called for mass demonstrations on Friday, June 29. The demonstrations have been dubbed "licking your elbow" protests, referring to a Sudanese metaphor for achieving the impossible.

They have also called for a general strike day on June 30, the 23rd anniversary of Sudanese President Omar al-Bashir's National Congress Party coming to power.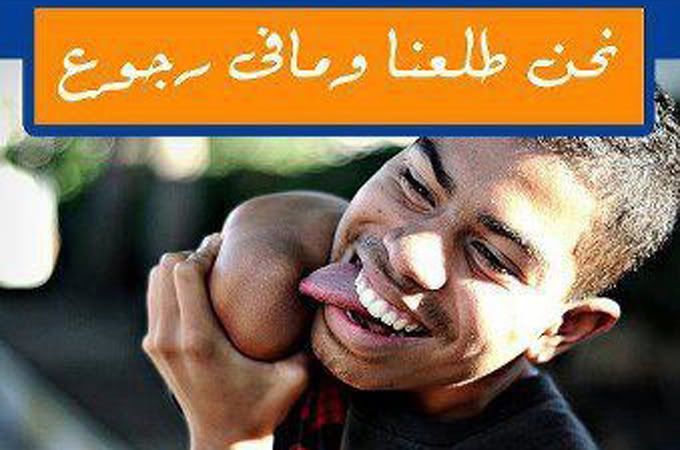 A Sudanese metaphor for achieving the impossible is to lick one's elbow
.
These protests, which are gaining momentum, and which are naturally being considered by many as the next iteration of the Arab Spring, are truly amazing when one considers the unspeakably brutal and genocidal leadership protesters are risking their lives and the lives of their families to resist.
Again, FP's Caryl:

What's happening in Sudan is nothing short of amazing. This is the country that has been ruled since 1989 by President Omar al-Bashir -- the man who faces a global arrest warrant after being charged with war crimes by the International Criminal Court for his country's exterminationist policies in Darfur. This is a guy who was willing to kill millions of his compatriots -- and not only Darfuris -- in order to keep himself in power. Now, thousands of Sudanese are taking to the streets to defy him and his regime. Many have already disappeared into torture chambers for their efforts.
Protesters are well aware of the dangers, and yet they are showing incredible determination, just as protesters in Syria and Bahrain have done. Though Caryl notes that in this case, it's critical for outside media attention be placed upon this story for several reasons:
1. Most Sudanese get their news from foreign media sources, and such news can not only connect Sudanese activists with one another, but steel their morale, for...
2. Bashir's regime has shown a sensitivity to foreign media portrayals in the past and an ability to be, at times, pressured by criticism.
Which is why one of the most important things that can be done to help the Sudanese right now is to actively cover and promote this story, demonstrating that it is an important one. For doing so may compel large media outlets to invest more in covering it, which will in turn show the Sudanese exactly what their government is doing to them.
Again, Caryl, who hits it out of the park:

Quite simply, there's a huge story in the making here. Omar al-Bashir is now Africa's longest-serving autocrat. Like Qaddafi, he's been the instigator of countless conflicts -- not only against his own citizens in places like Darfur or South Kordofan, but also among his neighbors. (He even lent his support to Joseph Kony, the leader of Uganda's Lord's Resistance Army.) His fall would offer the opportunity of a fresh start not only to Sudan but to an entire region. Surely that's a story worth covering.
Let's do our part.
Follow me on Twitter @David_EHG