I'm a woozle person. I love my woozles, but right now two are in the woozle house and they are clueless about why I'm upset with them. Really, they were woozles being woozles. I have one hunter, one herder and a Japanese Chin/Chihuahua that has the primary job of being cute - he's very good at it. The only one in good graces right now is the Australian Shepard. She realized that it was her job to herd, not kill.
Here's what happened. For some unknown reason a mama pootie thought my back yard (home to 3 woozles) was the "best" place to have her baby pooties. The pootie had created a shelter of sorts out of our stacked firewood. She had rearranged the logs a little bit to make a hole. I woke up about an hour ago to an ungodly ruckus going on outside my window. My daughter had let the dogs out in the fenced in back yard for their morning sun bath. It seems my hunter found the nest of kittens. There was no sleeping through the woozles whooping and my daughter yelling.
By the time I got shoes, glasses, robe....I will NOT go into my subtropical backyard without shoes. When I got there my daughter had the hunter firmly in hand, but the Chin/Chihuahua was in full Rin Tin Tin mode, and small enough to get into the hole. The upshot is one pootie survived their experience with my woozles.
The mama pootie had her baby pooties unbeknownst to us about 7-10 days ago - probably, we're not sure. The Eyes open sometimes, no teeth yet She weighs a solid 8 ounzes. She's a calico. She's not too happy and I'm horribly allergic to her. (Thankfully, my cat allergy simply makes me miserable, they won't stop my breathing.)
I'll spare you the details, but the animal control guy was very up front and honest. He took the pooties that didn't survive, but said that Broward animal control would not be able to keep the survivor alive and it would be put down by noon. We kept the pootie. He was kind enough to leave a handful of gloves, so I can minimize my allergy contact with the little thing.
I now have a pootie that needs a lot of care. I need to leave town tomorrow. My MIL has a growth in her lung and needs me. MIL lives in a no animal zone. (We might have to smuggle the cutsey pootie in.) None of my local friends can help. Most are taking off for the week. I'm headed out to PetSupermarket to get a bottle and formula.
I guess I need some tips for how to keep this little thing alive until it weighs about a pound and has teeth, so it can eat.
If you know anyone in the Hollywood area who would take this little thing, please let me know. Hopefully I'll be back in an hour and will be able to read up on what to do.
UPDATE: Success! I went to the pet store to get the bottle and formula. The store employees were helping me pick up a couple things and telling me about keeping her warm. While there an employee said she'd make a few calls to find a foster home. I was able to check the comments on this diary. Thanks for the ideas of who to call and what to do.
We found a foster home for the little pootie. I got assurances that this kittie will get a good home after she's old enough. I just dropped her off to her new home. I should've thought about pictures. Sorry, did I mention I'm going out of town tomorrow? Anyway, I'm trying to get the lady to phone mail me a pic....then I have to figure out how to get it into this diary.
Unbelievable! It's only been 2 hours since I've asked for your help.
Thank you for your help.
Update 2:
Clearly, I need to think through an animal rescue diary...
Anyway, I think I have a pic
[IMG]http://i52.photobucket.com/...[/IMG]
If someone would be so kind as to tell me how to insert the pic so it shows here, I'd appreciate it. Meanwhile, I'll see if I can get some idea from web monkey.....
Aha! More Success!!!!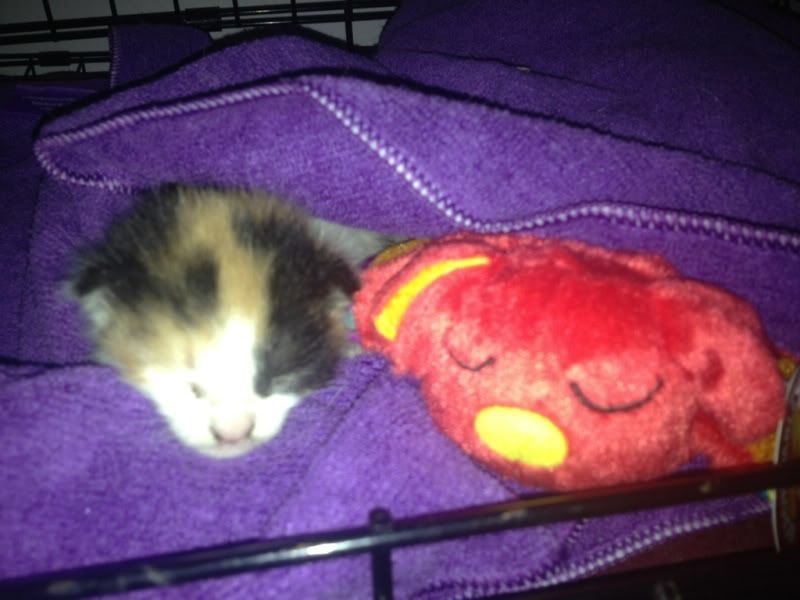 Snug as a bug and fed twice already. New foster mom is Jess who phone mailed me the pic.