Debtor' Prison are on the rise in America. Several states are actively outsourcing this new "growth industry." [LA, MI, OH, GA, WA, among others.]
Can't pay your fines? No problem -- have they got a room for you!

Debtors' prison 2.0: More people getting thrown in jail for being too poor to pay fines
by Ned Resnikoff, msnbc.msn.com -- Jul 3, 2012

[...]
According to a Tuesday New York Times article, an increasing number of cash-strapped American cities are punishing minor legal infractions with fees as a way of adding a little extra money to their coffers. And because they don't have the resources to adequately fund their courts and prisons, these same cities wind up recruiting for-profit corporations to mete out punishment.
[...]

This policy of charging punitive fees, then jailing people for being too poor to pay them, is part of a larger trend that sociologist Barbara Ehrenreich calls "the criminalization of poverty." She writes: "In defiance of all reason and compassion, the criminalization of poverty has actually intensified as the weakened economy generates ever more poverty." As joblessness and poverty spike, and the state institutions charged with assisting the needy whither away, the government instead reacts to poverty with authoritarian, punitive measures.

[...] the analogy would be what the Brennan Center calls "poverty penalties:"

"additional late fees, payment plan fees, and interest when individuals are unable to pay their debts all at once, often enriching private debt collectors in the process."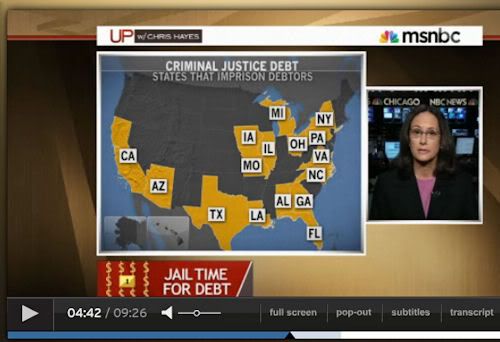 As explained on Up with Chris Hayes [updated with link to segment] this morning, often the "court dates" for routine tickets end up being missed for a variety of reasons -- such as a change of address -- and then a "bench warrant" is issued. The next time a cop pulls you over for driving that old beater, you end up before a judge with bail set equal to all your accumulated fines.
What, you still can pay the fines!? Well it's Debtor's Prison for you -- you underpaid burdens on Society.



Here's a typical example of what can happen, if you are "without means" in modern-day America ...

Poor Land in Jail as Companies Add Huge Fees for Probation
by Ethan Bronner, NYTimes.com -- July 2, 2012

Three years ago, Gina Ray, who is now 31 and unemployed, was fined $179 for speeding. She failed to show up at court (she says the ticket bore the wrong date), so her license was revoked.

When she was next pulled over, she was, of course, driving without a license. By then her fees added up to more than $1,500. Unable to pay, she was handed over to a private probation company and jailed -- charged an additional fee for each day behind bars.

For that driving offense, Ms. Ray has been locked up three times for a total of 40 days and owes $3,170, much of it to the probation company.
[...]

"With so many towns economically strapped, there is growing pressure on the courts to bring in money rather than mete out justice," said Lisa W. Borden, a partner in Baker, Donelson, Bearman, Caldwell & Berkowitz, a large law firm in Birmingham, Ala., who has spent a great deal of time on the issue. "The companies they hire are aggressive. Those arrested are not told about the right to counsel or asked whether they are indigent or offered an alternative to fines and jail. There are real constitutional issues at stake."

Half a century ago in a landmark case, the Supreme Court ruled that those accused of crimes had to be provided a lawyer if they could not afford one. But in misdemeanors, the right to counsel is rarely brought up, even though defendants can run the risk of jail. The probation companies promise revenue to the towns, while saying they also help offenders, and the defendants often end up lost in a legal Twilight Zone.
There are real legal and constitutional issues hanging in the balance:
The right to an attorney.
Equal Justice, under the Law.
Punishment, that fits the Crime.

Courts Should Stop Jailing People for Being Poor
by Carl Takei, ACLU National Prison Project
[...]
As the ACLU emphasized in its October 2010 report, In for a Penny: The Rise of America's New Debtors' Prisons, jailing people for unpaid court debts imposes devastating human costs on men and women whose only remaining crime is that they are poor. Upon release, they face the daunting prospect of having to rebuild their lives yet again, while their substantial legal debts pose a significant, and at times insurmountable, barrier as they attempt to re-enter society. They see their incomes fall, their credit ratings worsen, their prospects for housing and employment dim, and their chances of ending up back in jail or prison increase. Many must make hard choices each month as they attempt to balance their needs and those of their families with their legal financial obligations. They also remain tethered to the criminal justice system -- sometimes decades after they complete their sentences -- and live under constant threat of being sent back to jail or prison, solely because they cannot pay what has become an unmanageable legal debt.

Aggressive collection of legal financial obligations creates a two-tiered system of justice in which the poorest defendants are punished more harshly than those with means. [...]

Those unable to pay [...] they also often end up paying much more in fines and fees than defendants who can pay their legal financial obligations. Additionally, the imposition of legal financial obligations disproportionately affects racial and ethnic minorities, who are disproportionately represented among the prisoner population.
Being Poor is becoming a criminal offense in America. Debtor' Prison are on the rise in America -- a return iconic symbol of a much more oppressive economic era.

[Image Source: Eyes to see -- The borrower is the slave…]

If anything illustrates the extent of war being waged against an entire class of unlucky citizens, it's the way a Society treats the Least among us. The poor -- the usually working poor. The excessively underpaid poor.

Whatever happened to Community Service? Whatever happened to Job Training programs?
Whatever happened to giving someone a helping hand? A break. A chance.

Whatever ever happened to America -- the Land of Opportunities?

Answer: the uber-rich scooped them all up -- Opportunities and second chances are only for bankers and wall streeters -- not for average Americans.
"They own the place" as one Senator recently said in an unusually unguarded moment.

That is the reality that must be changed ... Exactly who owns OUR Congress. And who's interests are they actually serving ... and who's are they constantly diss'ing?