"Whadaya mean they don't work!? They work perfectly! Those that can afford it gets it, and those that can't . . . well, meh . . . they must not need it, 'cuz they sure don't seem to want to pay for it! Don't know for sure, 'cuz I can't see 'em from my house, but I'm just sayin'."
Sound like anyone you know?
I read an interesting paper written during the lead up to the passage of the Social Security Amendments of 1965, the legislation that gave us Medicare and Medicaid. You can find it here from the World Health Organization (be careful, it's a powerful sedative as well).
The paper, entitled (rather unfortunately) "Uncertainty and the Welfare Economics of Medical Care", was first published in the December 1963 edition of The American Economic Review, a publication of the American Economic Association. I say unfortunately because the word Welfare in the title has acquired such negative connotation that many people have forgotten the original, more benign meaning of the word.
My reservations with the title aside (and unimportant), the paper, written by Kenneth J. Arrow, then a Professor of Economics at Stanford University, provides "an exploratory and tentative study of the specific differentia of medical care as the object of normative economics". That's quite a mouth full!
The paper contends that applying free market principles to medical care is problematic because we know neither when we will need medical care, nor whether the medical care we receive will work. This built-in risk in the medical care market is one of the reasons for health care insurance, and is also one of the reasons why I believe that the medical care market will never behave like a classical free market, regardless of how long we hold our collective breath and stamp our collective feet.
So settle down, let out your breath, and follow me south of the curlicue.
As I've said before, I'm no economist, and I've never played one on TV. So let's not make this a discussion about arcane and esoteric economic minutiae. This is a hack opinion piece, and I extend my most sincere apologies to Mr. Arrow if I have mischaracterized anything from his paper. But I wasn't sleeping during those college Econ classes either! I do remember that 'normative' economics is about what we think ought to be and that 'positive' economics is about what is. And I also remember that the classic supply and demand models tend to break down under anything short of ideal circumstances.
One of the 'ideal' conditions of classic supply and demand models is that for any supply there is a price at which supply and demand are both satisfied. That satisfactory price goes up when demand is high or supply is low, and comes down when supply increases or demand decreases. The classic models suggest that all supply and demand levels are always satisfied. Otherwise, no market. Econ 101.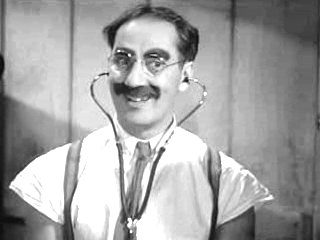 So, for every supply, there's a demand, and for every demand there's a supply. But when we try to apply this to medical care it gets a little more complicated. First, and quite rightly so,
we have placed a high price of entry into the medical care supplier field.
It's
spendy
to be the doctor! And for good reason, since we don't want every whack-job quack who can afford a white lab coat and a stethoscope dispensing medical care, like Dr. Hackenbush here. So right off the bat, supply is artificially limited.
Additionally, demand for medical care is not steady, and the supply of medical care can't respond to sudden and dramatic changes. Since I don't know
when
I'll need medical care, and in fact, I might need medical care at
exactly the same time
as many other people, say in a disaster or an epidemic, there may be
no price where demand can be satisfied
because supply simply
can't be found at any price
. We just can't make doctors magically appear! It was probably really hard to find a good physician in Rome right after the Nero concert.
Another one of the 'ideal' conditions of the classic supply and demand models is certainty (read knowledge) about the commodity. If I'm selling corn, and you're buying corn, and we both possess exactly the same knowledge about the corn in question, then we reach a price at which both the supply of and demand for corn are satisfied, and the model works. But if you know that there was a bumper crop of corn across the country, and I'm only aware of corn production on my farm, then other forces have acted on our market and supply and demand may not be properly satisfied. You get it cheaper somewhere else and I get screwed!
So, if buyer and seller both have complete knowledge of the item in question, markets work for all. But when we try to apply the cerainty principles of classic supply and demand models to medical care things start to break down. For one, I don't know the first freakin' thing about medicine! And I know I don't know! I'm just sick, and I want to be better. You, as the medical care supplier, know everything about medicine! If we did our job right in the first example, you're a medical god! So you are in control of what I am buying! And you know that I don't know the first freakin' thing about medicine! So right off the bat I'm at a disadvantage, and we both know about my disadvantage. And so does the next guy! Even if I could shop around, I still wouldn't know anything about medicine! What's the point? HCA wins!
My conservative buddy tries to tell me, "Doctors are just like mechanics, only better paid, you just keep tryin' around till you find one you like". Keep tryin' around? Till I find one I like? How many chances do I get? This is medical care, not an oil change! If Biff at the QuickieLube forgets to tighten my oil filter, I figure it out from the puddle of oil on the garage floor, or at the very worst, my engine (the heart of my car) siezes and I get a new one, and life goes on. If Dr. Hugo Z. Hackenbush forgets to tighten the zipper on my open heart surgery, I'm DEAD! How is that the same? Please pardon the hyperbole, but geez, come on! If you think you can compare medical care providers, then, geez, you must be a medical care provider!
OK. Medical care is a market with built-in risks. And what happens when we encounter risks? We try to insure against them! It's the American Way! And we've been trying to insure against this risk in United States since the mid-19th century! And we still haven't gotten it right! So here comes a completely new set of economic forces, just when we thought we had a handle on this whole doctor-patient economic model thing! The torture never stops!



So, if you'll remember, the built-in risks in the medical care market are, a) that we don't know when we'll be sick and, b) we don't know if (or when) we'll get better. And if you think about it, medical care costs are only a portion of the risk. Another risk, let's call it c), is the loss of production, temporary, prolonged or even permanent, as a result of being sick. Not only do you owe HCA
oceans
of money,
that little trickle you call a living has just dried up!
So where does that fit in? Queue the Aflac duck!
Now, let's pretend I'm the insurance guy. Just like the economics of health care, there's some theoretically perfect kind of insurance for society, too. It's all about who's the biggest risk and putting people with similar risks in the same policy. That way, I can charge the least risky people the lowest premiums, the most risky people the highest premiums, and all's good in my little theoretical insurance world, and I skate off to my secret bank account in the Caymans with all of your money. Hey, I wonder if Mitt's here this weekend?



Except, it doesn't really work like that (well, the skatin' part does). I don't want you risky people, because, after all, you're, well,
risky
. I can never know when someone in my low risk group will suddenly get some disease that would have put them in my high risk group, had I known they had the disease when they signed up! And to beat that, if I take high risk and low risk people and pool them together and charge them all the same premium it works just like
wealth redistribution!
The low risk people subsidize the high risk people.
And we all know what that is, right? Communism! Yikes!
And then there's that whole incentive thing. People with fire insurance on their house lose the incentive to not smoke in bed or play with incendiaries. People with collision insurance on their car lose the incentive to not drive like their favorite Nascar driver or recreate scenes from the Fast and the Furious. And as we all know,
people with health insurance lose the incentive to not get sick!
Just ask Mitch and John, they'll tell ya!
Health insurance increases demand for medical care!
What kind of cost containment is that?
Now I don't mean to pick on health care people or insurance guys here, because we're all in this together. You need us, we need you, so let's all see if we can pitch in and get this thing solved. I'll bet that if you asked them, and as long as everything else remained the same, people wouldn't care whether their health care comes from the Government or from the Man in the Moon. They just want it! So let's stop trying to scare each other and get to work!
So, if you've made it this far, you can kinda see we got ourselves a sticky wicket here. If you still think that our health care problem will go away if we just let the Invisible Hand of the Market© sprinkle faerie dust on it, then put down the Adam Smith and cut back on the World of Warcraft a bit. And if you think health insurance in its current incarnation is just fine thank you very much, then you haven't been paying attention and you've obviously never used it! (But can I interest you in my new low premium policy?) And if you think our medical care is such a good deal, then you should take a look at your pay stub (if you're even gettin' one these days) and double that number that you see there for insurance (if there's even one there these days), 'cuz you're only seein' part of the picture there!
And once you see the whole picture, you're gonna say "Hey, WTF, I'm gettin' screwed here! Who's gettin' all this money?"
"Uh, dat would be . . . uh . . . me . . . down here in da Caymans . . . wit' da HCA guy. Hey Mitt! How ya doin'? Nice ta see ya, buddy! Come down ta visit yer retirement, huh?"
Top Comments Submission Made Easy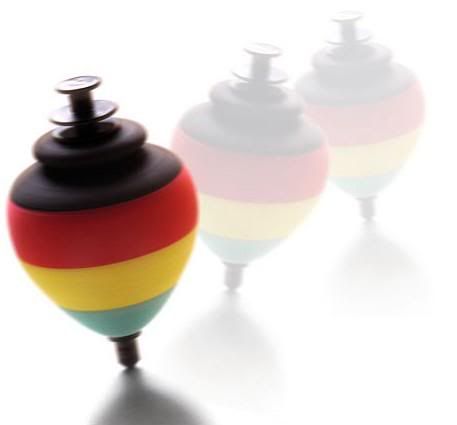 Just click on the Spinning Top photo to submit a comment from this diary to Top Comments. Copy the entire comment (including the commenter's user name and the date/time) and paste it into the message. Add your reason for nominating and send.
Top Comments posts nightly at 10pm EST.