Today the rich and the super-rich, the people George W. Bush referred to as "His base" are gathering at David Koch's waterfront mansion in East Hampton on Long Island's Gold Coast for a pair of fundraisers with Mitt Romney and Eric Cantor.

The Republicans' $3 Million Weekend in the Hamptons

By JIM RUTENBERG

Mr. Romney is expected to pull in $3 million from an event at the Creeks, the estate of Ronald O. Perelman, the billionaire financier and Revlon chairman, where tickets range from $5,000 for lunch to $25,000 for a V.I.P. photo reception. Another will be held at the home of Clifford M. Sobel, an ambassador to Brazil under President George W. Bush, and a final dinner will take place at the Southampton estate of the billionaire industrialist David H. Koch, where the going rate for entry is $75,000 a couple and $50,000 a person.
At Mr. Koch's estate, the guests will be treated to one-of-a-kind scenery as they wait for face time with a possible president. Tucked into the Southampton dunes, Mr. Koch's home is valued at about $18 million by the real estate Web site Zillow, which reports that it has seven bedrooms and nine bathrooms. Its backyard is the sea.

But the jewel of the day is Mr. Perelman's. With 9 fireplaces, 40 rooms and an expansive wine cellar, his estate makes the Koch spread look modest by comparison. Sitting on 57 acres, it was built for the painter Albert Herter in 1899, and when it last went up for sale in 1991 (for $25 million), The New York Times described it as "the largest and most spectacular estate in the Village of East Hampton, with more than a mile of frontage on Georgica Pond and a view of the Atlantic Ocean beyond." That article also said that an American Conifer Society Bulletin — for tree enthusiasts — had called its grounds "the eighth wonder of the horticultural world" and "the most outstanding private conifer collection in the United States, a living work of art."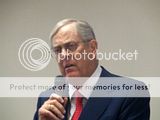 Move On has organized a protest of the fundraiser for these pampered elites to buy influence from the craven Republicans leaders in attendance.

Liberal group to protest Romney-Koch fundraiser

By Lucy Madison

In addition to organizing what it's calling a "Koch Party" outside Koch's Southampton, N.Y., estate during the Sunday fundraiser, MoveOn will be flying an airline banner in the area reading "Romney has a Koch problem" and driving what it calls a "Romneymobile Cadillac, with corporate decals on the side and Seamus the dog on top," outside the dinner, according to a press release from MoveOn.

The group is touting the participation of a number of liberal activist groups, including Occupy Wall Street, The Long Island Progressive Coalition, Greenpeace, Strong For All, United New York, and says activists will stake out Koch's property with signs, "peacefully demonstrating against the unprecedented flood of money the Koch brothers and their wealthy friends are using to try to buy the election for the 1%."

"Mitt Romney has a Koch problem: He'd lay off teachers and firefighters to fund even more tax privileges for billionaires like the Koch brothers," said Justin Ruben, Executive Director of MoveOn.org Political Action, in a statement. "Romney may not want voters to know about his Koch problem, but MoveOn members will make sure all the Super PAC money in the world isn't enough to keep them from finding out."
My June 19th post:
Eric Cantor to join Mitt Romney for 2 fundraisers at David Koch's mansion in the Hamptons

This would be a good opportunity to stage a protest against that too cozy relationship between politicians and the ultra-wealthy IMHO.
Lets hope Mitt Romney's swanky fundraiser at the 800 pound gorilla of spending on political propaganda, David Koch's estate gets lots of news coverage. After all this elite event is emblematic of Mitt Romney's whole campaign.