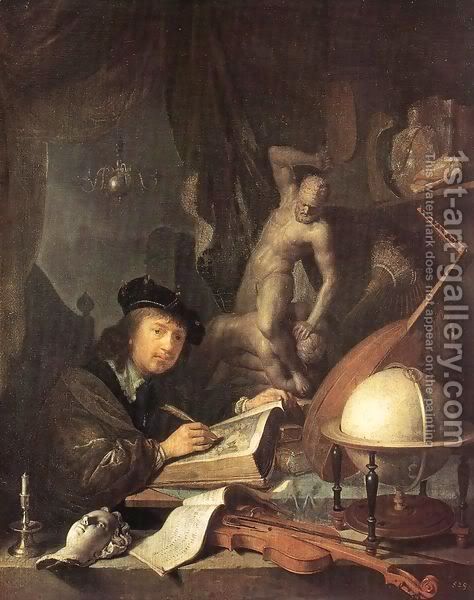 Here death may deal not again for ever;
Here change may come not till all change end.
From the graves they have made they shall rise up never,
Who have left nought living to ravage and rend.
Earth, stones, and thorns of the wild ground growing,
While the sun and the rain live, these shall be ;
Till a last wind's breath upon all these blowing
Roll the sea.
Till the slow sea rise and the sheer cliff crumble,
Till terrace and meadow the deep gulfs drink,
Till the strength of the waves of the high tides humble
The fields that lessen, the rocks that shrink,
Here now in his triumph where all things falter,
Stretched out on the spoils that his own hand spread,
As a god self-slain on his own strange altar,
Death lies dead.
Algernon Swinburne "A Forsaken Garden"
Herodotus in his Histories briefly tells of Atossa, the Queen of Persia.
She lived in the fifth century BCE and was the daughter of Cyrus and the wife of Darius, sucessive Achaemenid emperors who ruled over vast swathes of territory in what is now called the 'Middle East'; it stretched from the Turkish coast on the Mediterranean to modern day Iran. In the middle of her reign, she noticed a bleeding lump on her breast.
Now, being the wife and daughter of breathtakingly brutal and effective emperors, she could have had retinues of the finest physicians from the civilized world, from Greece to India, flocking to her bedside and fighting to treat her. But instead she does something very uncharacteristic of someone in her position: She descends into a fierce and impenetrable loneliness, wraps herself in a sheet and eventually allows her devoted slave, a Greek named Democedes to excise the tumor.
We don't know how long she lives after that episode, but short term she recovers, and filled with gratitude toward Democedes, persuades her husband the emperor, who had been thinking of launching a campaign against the Scythians on the Eastern border of the empire, to turn westward and invade Greece. The following series of Greco-Persian epics would constitute one of the founding events of Western history, still resonant with us today (see the movie '300'). Thus, far from Helen of Troy's lovely face, it may be said that what launched a thousand ships was the breast tumor on one very powerful and very frightened woman, whose lofty position did not immunize her from the dreaded disease of karkinos as the greeks called it.
So let us explore this disease, Onkos, (from the Greek for 'burden', from which derives the modern 'oncology'); the cancer, with Siddartha Mukerjee, a practicing oncologist from Boston, in his pulitzer prizewinning and magisterial work "The Emperor of All Maladies: A biography of Cancer. Come with me past the orange curtain and learn about this empire, and my epigram from Swinburne
I. Treatment there is none

As the introduction makes plain, cancer has been with us for a long time, and probably from the time we became human. Evidence of cancer has been found in some of the fossils exhumed by Louis Leakey. Still, to a great extent it is a disease of the modern world. The reasons for this are not simple; We have most of the worldwide historical killers pretty much licked, at least in the developed world. Relatively few of us die from tuberculosis, typhoid, bubonic plague or smallpox. In fact, the tragedy of the developing world is that most of the diseases there are relatively easily treated. But Cancer, the most, if you like, 'malignant' of the scourges that affects us - it is the #2 killer in the developed world, behind only heart disease - remains with us, and I venture to guess causes more misery than the next five diseases combined. It is more common with age, and everyone knows that Western society is aging. There are aspects of modern society that contribute to its prevalence. But it affects the young and otherwise healthy, too. Thus, when Dr Mukarjee was starting his oncology fellowship he wanted to give an answer to his patient. She was a 33 year old kindergarten teacher with young children, and had just been diagnosed with leukemia, which throughout most of history was a death sentence. Further, he had another patient battling an aggressive form of abdominal cancer. Both of them had the question of what this horrible thing was they were dealing with. His book "The Emperor of all Maladies" is his epic answer.
To go back even further than Atossa, there is the Edwin Smith papyrus, a copy of an Egyptian text written about 2500 BCE, thought to have been originally written by Imhotep, a great Egyptian physician, scholar and renaissance man; centuries later, the Greeks so impressed with his intellect conflated him with their God Asclepius: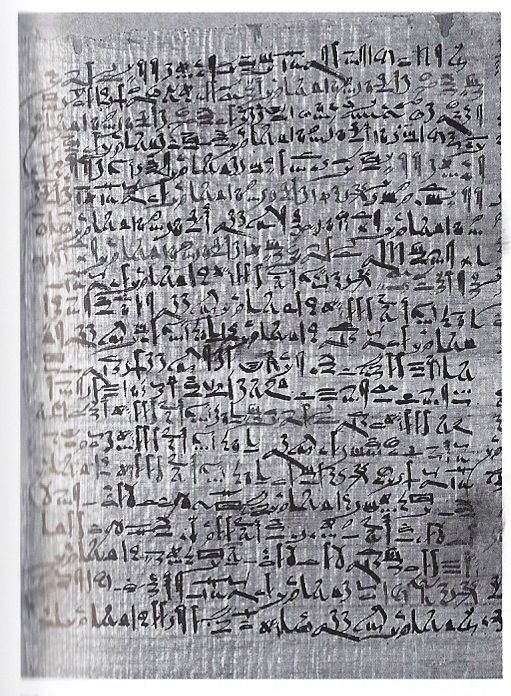 For those not proficient in heiroglyphics, the text says in part "a bulging tumor in [the] breast. . .like touching a ball of wrappings, or they may be compared to the unripe hemat fruit, which is hard and cool to the touch" Discussing treatment, the ancient scribe noted "There is none".
But that didn't stop ancient physicians from speculating about the cause and the cures of cancers, at least the ones that broke through the surface of the body and could be seen and appreciated by the ancients. Galen thought that cancer stemmed from trapped black bile, one of the four humors of the body; in a sense he was more correct than he knew, because this automatically presupposes a systemic nature of the condition, even if one can only see its outward manifestations. Of course medieval surgeons tried extirpating the disease in various forms, and if the tumor was benign - more oncos than karkinos - the surgery sometimes worked, if the patient didn't get infected. But when Vesalius tried dissections he was unable to find this 'black bile'; blood yes, phlegm assuredly; yellow bile in the liver and gallbladder OK, but nowhere was this 'black bile' to be found. So he left it out of his anatomical drawings with a conclusion that was obvious. His concepts were picked up by early surgeons, and thus cancer until the twentienth century was re-relegated back into the realm of surgical diseases. We'll get back to that a little later in the diary.
But interestingly enough, Mukarjee doesn't start out his book with cancer's ancient history, although that occurs early on. The book really starts with the pioneering work of Sidney Farber, who was one of the early cancer researchers and the first to make some headway against the uniformly fatal diease of childhood leukemia. He didn't start as an oncologist; he started as a pediatric pathologist, scrutinizing samples and blood draws under a microscope, and noting the vast sheets of misformed white blood cells that characterized the blood of leukemic children; an overwhelming number of deformed cells whose only function it seemed is to divide and divide and divide. By the time the diagnosis become obvious, the children were doomed and some early pediatricians objected to his initial efforts to treat them; they thought he was needlessly prolonging their dying process. But he pressed on, envisioning a cure if he could just get those goddamned cells to stop dividing. The eventual results of his efforts were folic acid antagonists; chemicals that stopped cell division in its tracks and at least temporarily induced 'remission' in children and would one day cure many of them. Needing funds for his effort, he hit on the idea of the 'Jimmy Fund' a young lad, referred to Farber with a diagnosis of intestinal lymphoma being made the first fundraising poster boy for cancer research. Interestingly enough, the original 'Jimmy' - actually a Maine boy named Einar Gustafson - survived and came back fifty years later.
Next of course we have a major league fundraiser in the person of Mary Lasker, a wealthy widow whose husband had died badly of intestinal cancer. When she got together with Farber, they launched fundraising into high gear, especially as chemotherapy - giving carefully controlled poisons in the hopes of killing the cancer cells - starting racking up sucesses; the book tells the tale of their efforts which eventually led to the war on cancer and the creation of the National Cancer Institute. Lasker was a tireless champion, and it is hard to imagine now, but there really was the sense that even if the biology of cancer was at that time still incompletely understood, there may be a cure in site. It was the same ethos as the Manhattan Project and the Apollo Moonshot. Those worked, why not a cure for cancer?
Perhaps, to really understand the relentless spread of cancer a video is worth 10,000 words. In this I can add to the book, which doesn't have the advantage of Youtube links. And keep in mind a tumor that is one square centimeter in size already contains a billion cells:
Scary, eh? Mukherjee takes us through the discovery of even more potent cancer chemotherapeutics, the discovery of the hormonal sensitivity of certain cancers, notably those of the breast and prostate, the theory of cancer being caused primarily by viruses (with rare, though notable exceptions this is just not true; early viruses were found to have copied cancer genes from the hosts, not the other way around); the discovery of radiation therapy - and in the process gives what I think is a useful summary of the statistics behind clinical trials that evaluate claims of 'efficacy' or the effectiveness of a treatment, and ultimately to the process by which the molecular secrets of cancer were unlocked, the mutated cancer genes, called 'oncogenes were discovered and in some case how they led to new wonder drugs, and some of the blind alleys of research and treatment.
II. The Plural of anecdote is not data

Any book that treats a subject so varied and written about as cancer is going to leave a lot of things out, and I think one of the difficulties in writing it is not getting drowned in information. There are after all thousands of research articles, articles in the lay press, and persona accounts and publications about cancer every year. And that isn't even including blogs.
So it is not difficult to see what has been left out - and was pointed out by reviewers of the book when it came out in 2010. There is very little mention of alternative medicine (mostly snake oil in my opinion); the big business of cancer; the implications of cancer in our health care system; the discussions of cost-effectiveness and so forth. But Dr Mukherjee had to stop somewhere and I think does a very complete job; the wonder is not what he left out; but the distance that 'The Emperor of all Maladies' does cover.
Nevertheless there is one omission that puzzles me, especially given that the sections on cancer biology and the concepts behind the research are presented so clearly: That is, the story of Henrietta Lacks, and the role of the HeLa cell.
HeLa cells are immortal - that is, they never ever stop dividing even if individual cells die out -cervical cancer cells that were taken from Ms Lacks, an unfortunate African -American women who got a very aggressive form of cervical cancer and died of it within a year. As was the way research was generally carried out in those days, a cancer researcher by the name of George Gey took some tissue from Ms Lacks, without getting informed consent or permission, and created on of the first cancer cell lines. This would prove invaluable for research, not only in cancer, but in studying polio and other viruses. Indeed, as it turned out, the cells were too potent, contaminating a lot of other cell lines that were supposed to be of other cancers, but were really renegade HeLa Cells. Again, since a video is worth 10,000 words, thus:
Fittingly, the same year "The Emperor of all Maladies" was published, Rebecca Skloot published her book The Immortal Life of Henrietta Lacks detailing the story. Poor Ms. lacks was sort of forgotten for a long while, even if her cells achieved this weird sort of immortality. Professor Skloot, by the way had earlier published an article version of the story
here
Mukherjee also describes the concept of cancer screening, the role of 'power' in statistical trials (that is a mathematical measure of how confident one can be that the results of any trial, be it positive or negative are really there and not just statistical noise) and the development of the mammogram and the 'Pap' smear; ideas that seem so obvious today, but not so at the time. One test that is not mentioned is the so-called 'PSA' the prostate specific antigen test. This is a concept deserving of further explication, and quite likely two or three diaries in the future (and is somewhat important to me personally in that I have already made the decision I will never get one). For now, suffice it to say that despite widespread use, and many physicians and patients who swear by it (and the impressive stock performance of the manufacturers of the devices used to treat prostate cancer) when the data is critically looked at, the benefits of screening seems outweighed by its cost, both in dollars and the side effects of treating an indolent tumor, barely an onkos, and the impotence, incontinence and pain such treatment causes. Indeed, the US Preventative Services Task Force has now come out with a recommendation against routine use of the PSA for screening purposes, and I find it very characteristic of the medical profession that despite the evidence against - similar to the lack of evidence for the widespread efficacy of obtaining mammograms for normal risk women in their forties, which Dr Mukherjee does mention - opinion is overwhelmingly that we should still do it. I can tell a similar tale of CT screening for lung cancer, a disease which still carries a survival rate of less than 5%. Incidentally, another fabulous passage in the book is the slow emergence of the link between smoking and lung cancer, the painstaking way this was found; the tobacco companies evasion and outright deception in this, and ultimately the highly UNSATISFACTORY outcome in which big tobacco essentially pays off the states and keeps smoking rates still at roughly 20% of the population, unchanged in the past decade.
Early on, I mentioned the 'War on Cancer' that started with Nixon in 1971. Whether that sort of terminology is truly appropriate is an open question, and I think very hard for us to look objectively at in 2012. But it is apt in the following way; Wars, even successful ones produce a lot of waste - in a sense, war is waste - and in general a good bit of what is euphemistically called 'collateral damage'
III. Collateral Damage

In the early 1880s there was a young, very energetic, almost one would say manic, surgeon who originally practiced in New York and then was recruited to come to Baltimore in the Johns Hopkins hospital where he practiced an operation designed to cure cancer with a single minded ferocity that probably was close to fearsome for his patients to encounter. I refer of course to the radical mastectomy, which is removal of the entire breast as well as the lymph nodes of the arm and the muscles of the chest wall as an attempt to cure breast cancer. The following pictures are useful: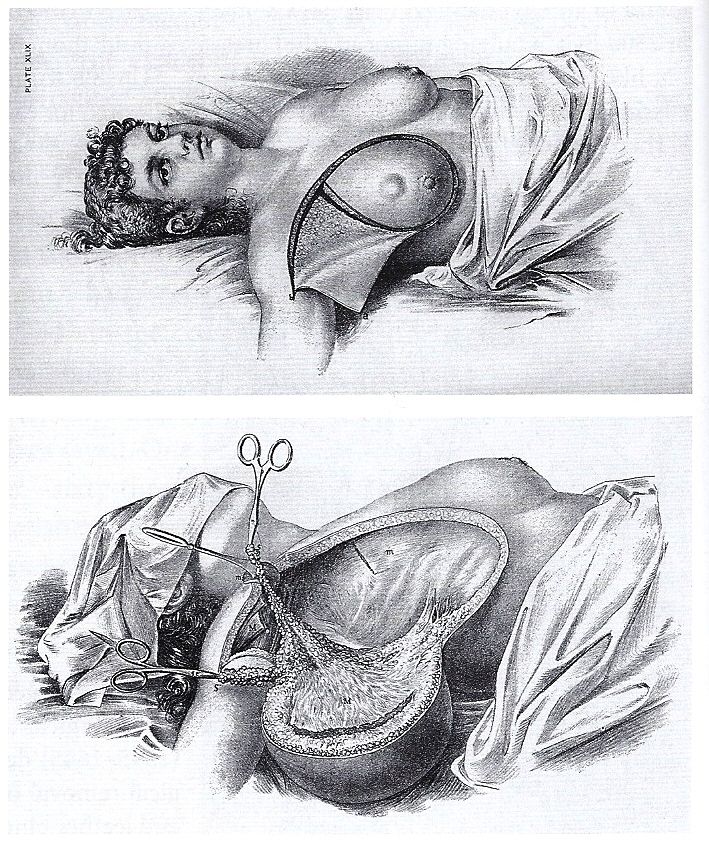 Our mastectomies, when they are done, are kinder&gentler these days. We even try to reconstruct the breast as much as possible, and our plastic surgery colleagues are getting better at it all the time. But that wasn't how the operation was originally conceived; it was noted that women recurred after mastectomies, and recurrance was usually followed by distant spread and fatality. So the thought process was that surgery needed to be radical to get the cancer by the roots, as if pulling an especially tough weed. But the more the surgeons pulled -that is inflicted increasingly invasive and mutilating surgeries on their patients - the cancers still came back. So they pulled harder, that is, got ever more tissue out. It wasn't until the 1970s when Bernard Fisher came out with his trials of 'lumpectomy' - originally a demeaning term for inadequate surgery - and showed that survival was the same, did surgeons abandon this approach. As Mukherjee states:
"Between 1891 and 1981 in the nearly one hundred years of the radical mastectomy, an estimated five hundred thousand women underwent the procedure to extirpate the cancer
[NB: it is even mentioned in 'The Godfather' novel].
Many chose the procedure. Many were forced into it. Many others did not realize that that it was a choice. MAny were permanently disfigured; many received the surgery as a benediction; many suffered its punishing penalties bravely, hoping that they had treated their cancer as aggressively and definitively as possible.
[Mukherjee doesn't mention though he surely must know that women often went into the operating room without a cancer diagnosis; it was felt more efficient and clean to do the biopsy and the mastectomy in one procedure, rather than two, so a woman would go into the operating room not knowing whether she would wake up with a breast or not]
['Halsted's] ideas entered oncology, then permeated its vocabulary, then its psychology, its ethos, and its self image. When radical surgery fell, an entire culture of surgery thus collapsed with it. The radical mastectomy is rarely, if ever, performed by surgeons today
A similar ethos, this time chemically was at work in the studies that tried to cure advanced metastatic cancer with what is called an autologous bone marrow transplant. Often the limiting toxicity to chemotherapy is destruction of the cells that make the normal cells of the blood. What if women could have their marrow cells harvested, saved, then blasted with supratheraputic doses of chemotherapy and then their cells re-infused into them? It sounded so good on paper: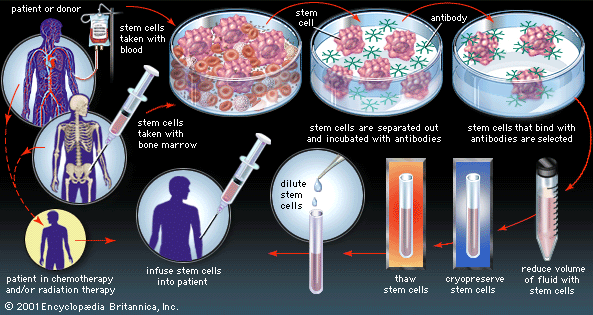 And some of the original studies reported success; there was a particular South African oncologist named Werner Bezwoda who reported treating dozens of women this way. Moreover - and this I remember personally - the treatment began to take on political implications, which, again, Mukherjee details, juxtaposing it, in what is perhaps the books most orginal and poignant section, with the early AIDS activists. These were angry young people, who, tired of seeing their friends die around them every day (one of the original opportunistic AIDS conditions was an indolent skin cancer called Kaposi's sarcoma; original treatment of these patients borrowed from oncology protocols and set up their own wards) agitated successfully for a streamlining of the procedures to get new antiretrovirals to the market and get them to dying patients who needed them promptly. The parallel is obvious. Unfortunately, unlike anti-retrovirals, the bone marrow transplants for metastatic breast cancer were eventually found to be ineffectual, have ferocious and sometimes fatal side effects, and Dr Bezwoda was found to have committed unpardonably sloppy research, and indeed, research fraud. It is estimated roughly 40,000 women around the world underwent this needless procedure at a cost of between two and four billion dollars
IV. The personal is medical
Anyone who has friends, close family, relatives will know of someone who is battling or has battled cancer. And that includes me. So I appreciate that Mukherjee tries to be empathic in the book; despite the explanations of the history, the biology, the politics and the funding he never forgets that it is real people he is treating, and he understands their fear; their hope and their acceptance. He references a lot of personal accounts of the disease, including Susan Sontag's 'Illness as Metaphor'. The book ends with an account of the death of one of his patients; it is the one with the aggressive abdominal tumor; treatment with Gleevac had bought her more years, but could not rid the disease from her entirely. So she leaves and goes home to die, but die with peace and dignity, and this is an impression which stays with the author and with us:
Germaine seemed, that evening, to have captured something essential about our struggle against cancer: that to keep pace with this malady, you needed to keep inventing and reinventing, learning and unlearning strategies. Germaine had fought cancer obsessively, cannily, desperately, fiercely, madly, brilliantly, and zealously - as if channeling all the fierce, inventive energy of generations of men and women who had fought cancer in the past and would fight it in the future....She had deployed every morsel of energy to the quest, mobilizing and remobilizing the last dregs of her courage, summoning her will and wit and imagination, until, that final evening, she had stared into the vault of her resourcefulness and found it empty. In that haunted last night, hanging onto her life by no more than a tenuous thread . .it was as if she had encapsulated the essence of a four thousand year old war
I guess since I started out with a Swinburne epigram, I shall close with one:
When the heart of our gladness is gone,
What comfort is left with us after?
When the light of our eyes is away,
What glory remains upon May,
What blessing of song is thereon
If we drink not the light of his laughter?
'A Dark Month'
This quote from the poem is not meant to refer to cancer specifically, although it seems to deal with the death of a child; this is an unhappy outcome sometimes even today of this dread disease. But it seems so apt, just like the passage I quoted at the beginning of the diary. And here is the paradox: a portion of the passage was quoted at the memorial service for Sydney Farber, who had died earlier of a heart attack. The meaning was clearly to invert the moment, as the speaker implied that it was cancer that was soon to be dead, thanks in part to the pioneering efforts of Dr Farber. But clearly, forty years later cancer is not dead, and maybe never will be, until, like what the poem really means, this death will be with us always until it is we humans who finally die at the end of the world. Only then I think, at the final end, will the world see the last of Karkinos.