Don't tell me you didn't see this one coming. Lately, Romney has been saying that his investments are in a blind trust which he has no control over. However, back in 1994 when Romney was running against Ted Kennedy for the Senate, he had a totally different point of view about how much control one exercises over his/her own blind trust:
Romney: The blind trust is an age old ruse, if you will, which is to say, you can always tell a blind trust what it can and can not do. You give a blind trust rules.
So, if Romney thinks you can give blind trusts rules, why didn't he direct that his blind trust not invest his money overseas? He knew he was going to be running for president, for Pete's sake. Hasn't that etch-a-sketch worn out yet? Poor Mitt Romney must really wish we were living in the 1950s before everything you said and did was preserved for eternity on video. Has anyone yet to find just one position Romney has taken, that there isn't documented evidence of him taking a different position on the same subject?
But wait! What about before the blind trust was set up. Did Romney only invest in America then? Oops! As Jed Lewison reported on the front page earlier today:

And now, according to public records cited by the Obama campaign, it appears that Romney did in fact hold at least one of his offshore investments before the formation of his blind trust: a Bermuda-based shell corporation formed in 1997 known as Sankaty High Yield Investors Ltd with Mitt Romney as the sole owner.

Despite denial, records show Romney owned Bermuda shell corporation before forming blind trust
Mitt Romney's slogan leaves off a few words? It should say:
Believe in America, but Invest in the Bahamas, or the Caymans, or Swiss bank accounts.
While looking for more videos of Mitt Romney talking about blind trusts, I stumbled across this cartoon of Romney, which begins with him saying "With all this talk about my blind trust, I'm here today to ask for your blind trust. Your blind trust in voting for me."
With all this talk about my blind trust, I'm here today to ask for your blind trust. Your blind trust in voting for me. Look at me. I'm you're special needs candidate. I have special needs because I make my money in a special way that has to be especially protected for rich people. I pay 14% of my income in taxes, while other people who have to work for a living pay 20, 25, 30% of their income. See how special I am? And you mustn't judge me by how I make my money, like doing hostile take overs, speculating in foreign countries, stashing cash in Swiss bank accounts, and investing in Fanny Mae and Freddie Mac. Trust Me! In the land of the blind, the one-eyed man is President.
Wow! When I clicked on it, this video only had had one view, and was posted a month ago.
So there you have it! Since I've become a big fan of Venn Diagrams thanks to upworthy.com, I just had to create one for this occasion.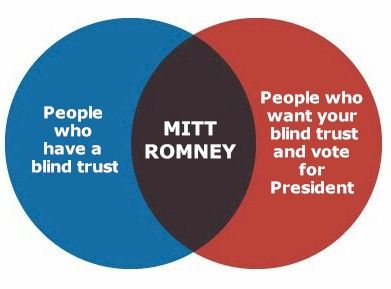 For more great Venn Diagrams about Mitt Romney, be sure to visit Mitt, Venn and Now.
Here's a report from CNN in January 2012 calling out Mitt Romney on his defending himself from attacks in the primaries for investments that were held in a blind trust, which he had no control over, and showing the same video clip from 1994:
Back in April, Newt Gingrich was questioning Romney's blind trusts too, and put out this campaign ad: