This weekend Los Angeles continues hosting Outfest (which began on Thursday) and Philadelphia is hosting QFest (which also opened Thursday), LGBT film festivals. They feature several transgender-oriented films.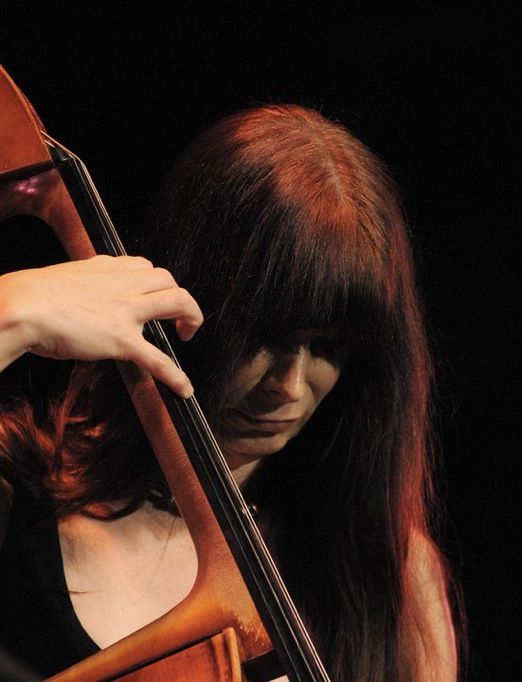 One of those is I Stand Corrected, which is lesbian director Andrea Meyerson's documentary portrait of Jennifer Leitham, an extraordinarily talented jazz bassist. She subject and the director were featured in a recent interview at the Advocate.
Jennifer's career began before she came out and transitioned. Her technique and passion earned her gigs on more than 100 recordings, along with a long stint with Mel Tormé. After she finally came out and began transition…which was after Tormé's death…she was hired by Doc Severinson to be part of his band, the Tonight Show All-Stars. She has appeared with Woody Herman, George Shearing, Gerry Mulligan, Peggy Lee, Joe Pass, Cleo Laine, Louis Bellson, Pete Rogolo, and Bill Watrous. She now has her own trio.
It is pleasing that what most sets her apart is that she plays the double bass left-handed.

Makes it very difficult to obtain a decent instrument. I'm told I give people vertigo when they watch me play. My teacher used to and now my students relate to me as though I was in a mirror.
Asked about how she thinks Tormé would have reacted to her transition,
Mel's wife Ali came to one of my trio shows and we spoke about it. She felt that he would have been very accepting. The great composer/orchestrator Angela Morely was one of Mel's top arrangers. She was the first transgender person I ever met. She gave me hope. Mel was totally accepting of her.
The British saxophonist, composer, and conductor Morely died in 2009 at the age of 84. She won two Emmys for Outstanding Achievement in Music Direction (1988, 1990) for television specials which starred Julie Andrews and was nominated for Emmys for composing music for Dynasty and Dallas. She was nominated for Oscars for Best Music, Original Song Score/Adaptation with Alan Jay Lerner, Frederick Loewe and Douglas Gamley for
The Little Prince
and with Richard M. Sherman and Robert B. Sherman for
The Slipper and the Rose
. She also wrote the score for
Watership Down
.
A Canadian in Mayfair
(composed by Angela Morely)
But…back to Jennifer Leitham. Many of the Jazz greats Jennifer played with before she transitioned have now passed away, but she had a chance to talk with some of them before they died.
I was able to see several of them after I transitioned. Benny Carter and Louis Bellson were so warm and encouraging. Ray Brown told one of my best friends, "The hard part is over. Now all she has to do is just play." I can't tell you how much that meant to me. Snooky Young was so beautiful about it; he pulled me through some pretty rough stuff. There are others too — so many have left the world in the last few years. Some are still with us, Bill Watrous still calls me to play, as does Ed Shaughnessy. Of course Doc Severinsen was very encouraging during my transition, and was highly supportive when I had some challenges after surgery. I'm very grateful for the wonderful interviews he gave for I Stand Corrected.
Asked how they got together for the project, Meyerson said they first met when she was filming a production of
Los Angeles Women Fest
in 2006.
I saw her play solo a few months later and was completely mesmerized by her playing. I had never seen a bass player command the instrument like that before. I approached her that night and told her I may be interested in doing a documentary about her. We met shortly thereafter and connected beautifully and agreed to move forward. At that time, all the documentaries I had seen about transgender people were about the transition — the angst, the family, the partner, the doctor visits. I loved that Jennifer was living her life as she was meant to and was so positive and happy. I was really taken with her talent as a musician and her beautiful spirit as a person and felt we could really create an uplifting film that would both enlighten and entertain people.

--Andrea Meyerson
Leitham is currently working on her memoir, written during her many flights when on the raod, and also tunes for her next CD. She has recently added singing to her repertoire.
Jennifer will not be at the film's showing at
Outfest
, but will rather be appearing with her band at a jazz festival in Mammoth Lakes, CA.
Other transgender-themed films at Outfest are the Indonesian film Children of Srikandi, the Iranian Facing Mirrors, the Swedish She Male Snails, the short The Thing, Vessel for My Heart, and Wildness.
QFest features Trans, a film about New Hope plastic surgeon Christine McGinn and 4 other transpeople, Facing Mirrors, and the Israeli Melting Away.