Welcome!!! The purpose of this regular series is to promote enthusiasm and action among Daily Kos members. Romney will likely outraise President Obama. However, we believe that we can still win if (1) we can remain competitive financially, and (2) we volunteer our time and energy (GOTV, canvassing, phonebanking, LTE, ...).
Click on the little ♥ to follow ObamaNightlyNews and watch for us every night
9:00 ET, 8:00 CT, 7:00 MT, 6:00 PT
Fired up in Virginia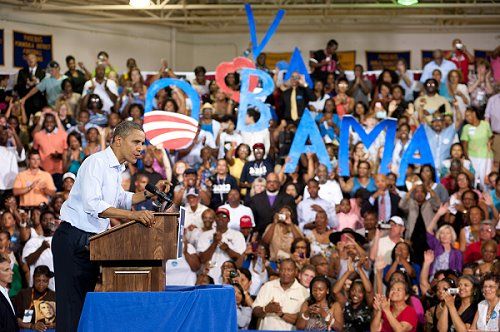 President Barack Obama at a campaign rally in Virginia on July 14, 2012
(Photo: Obama for America)
If Mitt Romney were running a "post-truth" campaign, would the political press report it? (Jay Rosen, PressThink 7/12/12)

No, they would not. This falls under: too big to tell. [...]

What template is there for reporting on a strategy that incorporates…

1.) Key lesson of the climate change debate: you can run a political campaign against verifiable facts, and thereby weaken those facts in the public's mind.

2.) The Palin-ator: you can invent stuff and stick with it when it is shown to be false because culture war politics feeds off the noise and friction when fictional claims are fact-checked by the mainstream media.

3.) David Frum's observation from within the Republican tent: "Backed by their own wing of the book-publishing industry and supported by think tanks that increasingly function as public-relations agencies, conservatives have built a whole alternative knowledge system, with its own facts, its own history, its own laws of economics."

4.) Old-fashioned secrecy, as in: don't release information, don't explain.

I think there's evidence that the Romney forces have figured much of this out. And so even though we have a political press that believes itself to be a savvy judge of campaign strategy, here is one that will probably go unnamed and un-described because (…and this may be the cleverest part) a post-truth campaign for president falls into the category of too big to tell.
Chronicling Mitt's Mendacity, Vol. XXV
(maddowblog 7/13/12)
After more than six months of marveling at Mitt Romney's propensity for falsehoods, I have to admit it was unsettling to see his campaign's new attack ad, launched yesterday. The spot accuses President Obama of making "untrue" claims about Romney shipping jobs overseas -- Obama's claims are actually quite credible -- and concludes that the president is running a "dishonest campaign."

Think about that for a moment. The candidate whose entire campaign has been built on one falsehood after another, the candidate whose dishonesty is routinely characterized as "almost pathological," the candidate whose near-constant lying puts him in a league of his own among modern politicians, is complaining that his rival is taking liberties with the facts.

There's dishonesty in politics, and then there's meta-dishonesty in politics.
Rachel Maddow plus Melissa Harris-Perry: Ghosts of Bush Administration Haunt Romney Campaign (TRMS 7/13/12)
Visit msnbc.com for breaking news, world news, and news about the economy
Republicans Join the War on Poverty! (Amy Sullivan, TNR 7/13/12)
Nearly 50 years after LBJ declared a War on Poverty, political conservatives have not only conceded that poverty is bad, but have become outraged about it. (At least if it affects women.) And they want you to be outraged, too. (That is, if you are a woman who voted for Obama in 2008, are concerned about the GOP's positions on social issues, but might possibly be convinced to back Romney in November for economic reasons.)

The conservative 527 American Crossroads unveiled a new television ad this week called "Obama's War on Women" [video at link] and it's unlike anything I've seen before in political advertising. For one thing, the narrator mentions "poverty" or "impoverished" eight times in one-minute. The ad's graphic text also emphasizes the theme, using large block letters to spell out "IN POVERTY" in each example. (As in: "17 million women IN POVERTY" in Obama's America.)

[...] for at least 30 years, Republicans haven't used the most sympathetic language when referring to poor single mothers and other women in poverty. The phrase "welfare queens" comes to mind. But now conservatives who use to complain that single moms should just get a job are not exercised about the fact that during the economic recovery, "…men have gained FOUR TIMES AS MANY JOBS as women."
Melissa Harris-Perry: Is Romney able to connect with the working class? (mhpshow 7/14/12)
Visit msnbc.com for breaking news, world news, and news about the economy
President Obama's Weekly Address 7/14/12
This morning, President Obama urged,
It's Time for Congress to Pass the Middle Class Tax Cut Extension (full transcript and SusanG's diary).
The last thing we need right now is more top-down economics. What we need are policies that will grow and strengthen the middle class; that will help create jobs, make education and training more affordable, and encourage businesses to start up and stay right here in the United States.

Soon, we'll face a choice between these two different approaches. On January 1st, taxes are set to go up for tens of millions of Americans. I think that would be a huge financial hit for middle-class families. That's why I've cut middle-class taxes every year that I've been President – by $3,600 for the typical family. And that's why, this week, I called on Congress to immediately stop the January 1st tax hike from hitting any American on the first $250,000 of their income.

Under my plan, 98% of American families won't see their income taxes go up at all. But the other 2% of Americans will have to pay a little more in taxes on anything they make over $250,000. In other words, the wealthiest few Americans will go back to the income tax rates they were paying under Bill Clinton. And if you remember, that was when our economy created nearly 23 million new jobs, the biggest budget surplus in history, and millionaires were doing pretty well. [...]

The only place we disagree is whether we keep giving tax cuts to the wealthiest 2% of Americans. Republicans in Washington want more of those tax cuts. With the deficit we have, I don't think we can afford them.

But even if we disagree on the tax cuts for the wealthiest Americans, we all agree that no American should pay more taxes on the first $250,000 of their income. So let's at least agree to do what we all agree on. That's what compromise is all about. Let's not hold the vast majority of Americans and our entire economy hostage while we debate the merits of another tax cut for the wealthy. Let's skip the unnecessary drama, the needless delays and all the partisan posturing and let's just do the right thing for the people who sent us here to serve. [...]
Obama for America TV Ads
If you haven't seen
OFA's newest TV ad "Firms,"
it's a must-see. The
Obama campaign releases another brillantly brutal TV Ad
diary on the rec list is chronicling coverage of this ad, which features Mitt's off-key rendition of "America the Beautiful" and concludes
Mitt Romney's not the solution. He's the problem.
Word.
Update: Mitt Romney: Asking for Apologies While Launching Attacks, another new OFA ad, concludes with one of Newt's attacks on Romney:
h/t Dartagnan for pointing this one out in the comments:
The emergence of a proactive and aggressive Democratic Presidential campaign is a beautiful thing to see.

Donate to re-elect Obama/Biden at ActBlue: ObamaNightlyNews for Obama/Biden 2012.

Buy Obama/Biden bumper stickers, t-shirts, etc. at the Obama 2012 Store.

Volunteer at Obama For America to help register voters and participate in GOTV events.

Bookmark and share two sites that will help voters in your state: Gotta Register will generate a voter registration form for your state. Gotta Vote explains how to register and what to bring when voting in your state. Voters can also download a convenient checklist with all of that info.