Research into the source of uniforms for the 2002 Salt Lake City Games has been sparse, but the first hit shows that the uniforms for the Torch Relay Team were made in Burma/Myanmar.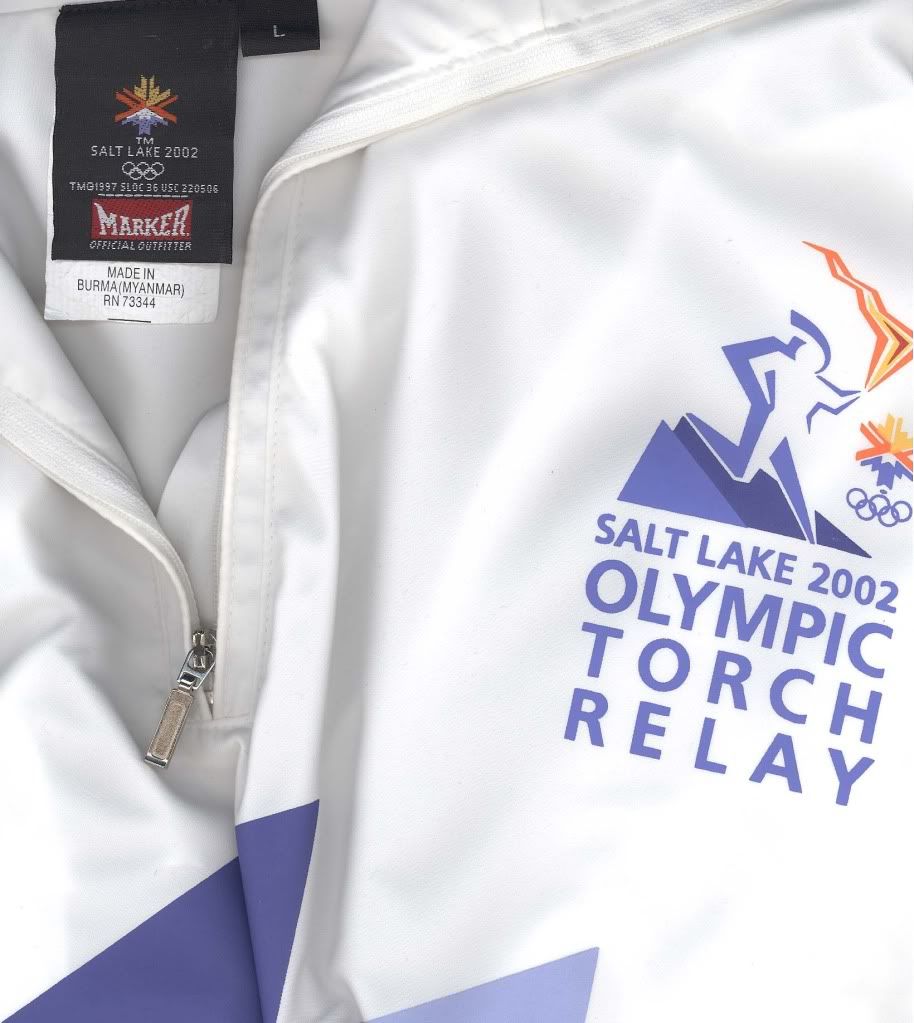 HT: TX Freethinker's Story

Activists in the U.S. first became aware of the uniform's origin when a local runner in Massachusetts, chosen as one of the more than 11,500 official Torchbearers who helped carry the Olympic Flame to Salt Lake City, found a "Made in Myanmar" label on the uniform. The runner was a youth who had escaped slavery in Sudan, one of a tiny handful of countries where, as in Burma, forced labor is still tolerated.
There were 11,500 uniforms freely given to the torchbearers with "Made in Myanmar" tags.
At that time Myanmar was ruled by a military junta which had overruled an election 12 years earlier.
In May 1990, the government held free elections for the first time in almost 30 years and the National League for Democracy (NLD), the party of Aung San Suu Kyi, won 392 out of a total 489 seats (i.e., 80% of the seats). However, the military junta refused to cede power[48] and continued to rule the nation as SLORC until 1997, and then as the State Peace and Development Council (SPDC) until its dissolution in March 2011.
The United Nations General Assembly issued multiple declarations on the Situation of human rights in Myanmar:

18. Deplores the continued violations of human rights, in particular those directed against persons belonging to ethnic and religious minorities, including summary executions, rape, torture, forced labour, forced porterage, forced relocations, use of anti-personnel landmines, destruction of crops and fields and dispossession of land and property, which deprives those persons of all means of subsistence and results in large-scale displacement of persons and flows of refugees to neighbouring countries, with negative effects for those countries, and an increasing number of internally displaced persons;

19. Urges the Government of Myanmar to end the systematic enforced displacement of persons and other causes of refugee flows to neighbouring countries and to create conditions conducive to their voluntary return and full reintegration in conditions of safety and dignity and to allow the safe and unhindered access of humanitarian personnel to assist in the return and reintegration process;

20. Deplores the continued violations of the human rights of women, especially women who are internally displaced or belong to ethnic minorities or the political opposition, in particular forced labour, trafficking, sexual violence and exploitation, including rape;
This is lovely irony after this quote from Romney at the time.
"I don't want to overstate what the Olympics can do, but at a time like this, maybe more than any time in our history, this gathering has powerful symbolism that is not lost on America or the world," said Mitt Romney, CEO of the Salt Lake Olympic Organizing committee, as he and President Bush met with the 211-member U.S. Olympic team in a gymnasium on the University of Utah campus before the ceremony.
5:50 PM PT: According to a sidebar piece, also in the Chicago Tribune, it appears that the team apparel was outsourced to Canadian Apparel Firm, Roots.
And as a bonus gift to the Fox and Friends team, it included berets.
HT: Kayakbiker
6:26 PM PT: The catering service was even outsourced to a UK firm, Compass Group PLC.
(T)he official caterer for the 2002 Winter Olympics in Salt Lake City (worth an estimated US$25-$40 million).