And what a bizarre thing Romney said today - he doesn't need to release his returns because Teresa Heinz didn't release hers. So apparently Mitt Romney is now running for First Lady.
http://www.americablog.com/...
Hat tip to Olympia.
Mark Zuckerberg's mortgage rate 1.05% - (07-16) 15:06 PDT Palo Alto -- Billionaire Mark Zuckerberg is giving new meaning to the term "the 1 percent."
The Facebook founder refinanced a $5.95 million mortgage on his Palo Alto home with a 30-year adjustable-rate loan starting at 1.05 percent, according to public records for the property.
While almost all lending rates have reached record lows this year, the borrowing costs available to high-net-worth individuals like Zuckerberg are even lower if the person is willing to bear the risk of monthly interest rate adjustments, said Greg McBride, senior financial analyst with Bankrate Inc., which tracks interest rates. With the Federal Reserve signaling it will keep interest rates near zero for at least two years, large increases are unlikely anytime soon.
"When you can borrow at a rate below inflation, you're borrowing for free," McBride said. "This is the concept of using other people's money and it preserves financial flexibility for the borrower."
No. 40 billionaire
Zuckerberg, 28, is the world's 40th wealthiest person, with a net worth of $15.7 billion, according to the Bloomberg Billionaires Index

Photo: Megan Farmer, The Chronicle / SF
--John Gittelsohn and Dakin Campbell, sfgate
Drought drives ranchers to cull cattle - As a relentless drought bakes prairie soil to dust and dries up streams across the country, ranchers struggling to feed their cattle are unloading them by the thousands, a wrenching decision likely to ripple from the Plains to supermarket shelves over the next year.
Ranchers say they are reducing their herds and selling their cattle months ahead of schedule to avoid the mounting losses of a drought that stretches across a record-breaking 1,016 U.S. counties. Irrigation ponds are shriveling to scummy puddles. Their pastures are brown and barren. And they say the prices of hay and other feed are soaring beyond their reach.
New York Times via sfgate
Ship adrift: A Shell Oil drilling vessel slipped its anchorage and began moving toward shore in Alaska's Aleutian Islands before it was re-anchored, the Coast Guard said. The Noble Discoverer came within 100 yards of shore near Dutch Harbor in Unalaska Bay on Saturday, raising concerns of grounding.
sfgate.com
Red Cross Widens Area Involved in Syrian Civil War
The International Red Cross says there is now a "non-international armed conflict" – or civil war – across more parts of Syria, widening its earlier designation.
The group had previously said such conflict existed between government forces and opposition groups in the flashpoint areas of Homs, Hama and Idlib. But ICRC spokesman Hicham Hassan said Sunday that hostilities have spread to other parts of Syria.
Hassan told VOA last month that such a designation is based on the intensity of the conflict and the organization of the armed groups and that it aims to give potential victims "the best protection possible."
He said Sunday that international humanitarian law applies to any area where there is fighting between government forces and the opposition.
Voice of America
UK legislators grill former Barclays official - One of the key figures in the Barclays Bank scandal says he was merely acting under orders when he asked his staff to manipulate interest rates.
Jerry Del Missier was giving evidence at a parliamentary inquiry in London on Monday.
The scandal revolves around the London Interbank Offered rate, or Libor
al-jazeera
UAE deports online activist to Thailand - The United Arab Emirates has deported an online activist to Thailand after stripping him of his right to reside in the emirates, a rights group said.
The London-based Emirates Centre for Human Rights said activist Ahmed Abdul Khaleq was deported on a Comoros passport arranged by UAE authorities in the first such banishment by the country.
He is among a group of activists whose residency or citizenship has been revoked by UAE officials after they campaigned for reforms.
al-jazeera
Violence rages in the Syrian capital - Syrian troops and rebels have clashed inside Damascus for a second day in some of the worst violence in the tightly controlled capital since the country's crisis began 16 months ago.
The fighting on Monday briefly closed the highway linking the capital with Damascus International Airport to the city's south and plumes of black smoke drifted over the city's skyline.
"Mortar shelling resumed in the early morning," the Local Coordination Committees (LCC), a network of activists, said. Reuters news agency reported that the crackle of small arms fire echoed through the streets of the city.
Troops backed by armoured vehicles were said to have advanced through the city centre, driving out rebels who
had secured a foothold within striking distance of major state installations.
al-jazeera
Syria: Assad regime 'ready to use chemical weapons' - The most senior Syrian politician to defect to the opposition has told the BBC the regime will not hesitate to use chemical weapons if it is cornered.
Nawaf Fares, ex-ambassador to Iraq, said unconfirmed reports indicated such weapons might have already been used.
He also said that major bombings across Syria had been orchestrated by the regime in collaboration with al-Qaeda.
BBC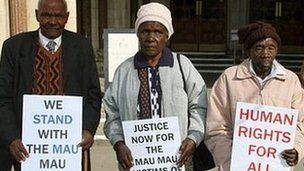 Veterans of 1950s Mau Mau uprising in Kenya seek UK damages - Three Kenyans who allege they were
tortured by the British colonial authorities during the 1950s Mau Mau uprising are to begin a damages case at the High Court in London later.
It is the latest stage of a legal battle by veterans of the rebellion to sue the UK government.
Hundreds of elderly Kenyans claim they were the victims of brutality at the hands of British colonial officials.
BBC
Senate report: HSBC 'allowed drug money laundering' - A US Senate probe has disclosed how lax controls at Europe's largest bank left it vulnerable to being used to launder dirty money from around the world.
The report into HSBC, released ahead of a Senate hearing on Tuesday, says huge sums of Mexican drug money almost certainly passed through the bank.
Suspicious funds from Syria, the Cayman Islands, Iran and Saudi Arabia also passed through the bank.
HSBC said it expected to be held accountable for what went wrong.
The damning report comes at a difficult time for the British banking sector, with standards and practices are under the spotlight.
BBC
America's adopted athletes
Many of the men and women representing the US Olympic team started their lives somewhere else. Here are six immigrant Olympians hoping to bring home gold for the USA
BBC
Money Woes Nag at a Penal Company Tied to Christie - A company that plays a critical role in New Jersey's corrections system, running halfway houses as large as prisons, has had such severe financial difficulties over the last four years that it contemplated filing for bankruptcy in 2010, according to newly disclosed documents.
Senior executives at the company, Community Education Centers, even feared at the time that they might not have enough money to pay workers, the documents show.
Community Education's senior vice president, William J. Palatucci, is one of Gov. Chris Christie's closest friends and political advisers, and Mr. Christie has long championed the company.
Not long before Mr. Christie took office in January 2010, Community Education defaulted on its debt, the documents show.
SAM DOLNICK, nytimes
Investigation Sought of Extensive F.D.A. Surveillance - Federal health officials faced pressure from Capitol Hill and outside groups on Monday to investigate a wide-ranging surveillance program that the Food and Drug Administration mounted against a group of its scientists who raised warnings about the safety of medical imaging devices.
Representative Chris Van Hollen, a Maryland Democrat, sent a letter on Monday to Kathleen Sebelius, the secretary of health and human services, calling on her to conduct a full investigation into whether the surveillance program violated federal employee protections and whistle-blower laws.
"The tactics reportedly used by the F.D.A. send a terrible message to those who are prepared to expose waste, abuse or wrongdoing in government agencies," wrote Mr. Van Hollen, whose staff communications were monitored by the F.D.A.
ERIC LICHTBLAU, nytimes
Egyptians Who Jeered Clinton Cite American Conservatives
to Argue U.S. Secretly Supports Islamists
Jeers for Clinton in Egypt Were Inspired by Anti-Islam Conspiracy Theories of U.S. Bloggers - The news that Secretary of State Hillary Rodham Clinton's motorcade was pelted with shoes and tomatoes by Egyptian protesters, who also taunted her by chanting "Monica! Monica!" as she left the U.S. consulate in Alexandria on Sunday, delighted conservative bloggers in the United States.
What has attracted less attention, however, is the extent to which the Egyptians who vented their rage during Mrs. Clinton's visit appear to have been inspired by fears that the Obama administration harbors a secret, pro-Islamist agenda which originated with American conservatives.
As my colleague Kareem Fahim reported on Sunday, some political opponents of the Muslim Brotherhood in Egypt claim that the United States even plotted to install the Islamist party's presidential candidate in office.
...
Pressed by American reporters to explain where they got the idea that their new Islamist president, Mohamed Morsi, had been foisted on them through a U.S. plot, rather than the will of the majority, several Egyptians cited information gathered from American blogs or news sites.
An Egyptian-American Christian who met Mrs. Clinton on Sunday cited a recent assertion by Representative Michele Bachmann, a Republican
By ROBERT MACKEY, The Lede, nytimes.com


(graphic by palantir)


The OND is published each night around midnight, Eastern Time.

The originator of OND was Magnifico.

Regular editors are jlms qkw, Bentliberal, wader, Oke, rfall, JML9999, and chief cat herder NeonVincent; with guest stints from maggiejean and annetteboardman.