This was referenced on the front page, but I want to highlight a critical finding from the most recent SurveyUSA poll of Florida, which has Obama up 5. Note the following cross-tab:
Landline (75%): Romney 50, Obama 44
Cell Phone (25%) Obama 59, Romney 25
Here is why this is so important. As I noted in an earlier diary on this subject
The CDC found that 25% of households (and 23% of adults) in the second half of 2009 had no landline service and only cell phone service (just 2% of households had no telephone service of any type). For certain subgroups in the population, the numbers are considerably higher: 30% of Hispanics are cell-only, as are 49% of adults ages 25-29"
One of the most disturbing trends in polling this cycle is the small percentage of the young that are turning up. Remember, Obama carried 66-32. Let's take look at the share of the 18-29 share in recent PPP polling:
Iowa, 18-29 in PPP is 15%, 2008 was 17%
New Mexico, 18-29 is 17%, 2008 was 21%
Wisconsin, 18-29 is 12%, 2008 was 22%
Virginia, 18-29 is 12%, 2008 was 21%
North Carolina 18-29 is 10%, 2008 was 17%
SurveyUSA's Florida poll found the 18-34 share of the electorate much close to the 2008 number.
It is important to understand here the significance. In many of these states the undercounting of the young is enough to shift 3 or 4 points - enough to make a close state not so close.
Gallup discussed the issue of young voters
The 20-point deficit in turnout intentions for young voters compared with the current national average is the largest among major demographic subgroups. A table showing the full data on each subgroup can be found on page 2.

If history is a guide, young voters should become more likely to say they will definitely vote between now and the fall, as occurred in 2004 and 2008. These increases were much larger than the national increases in those years, suggesting young voters decide whether they will actually vote later than most voters do.
Gallup suggests that the gap between the current electorate and the 2008 electorate will close, as yound voters become more likely to vote. It is possible that PPP is showing this, but in fact given the difference between SurveyUSA and Marist (both of which poll cell phones) and others, I think some of the difference is in the methodology.
In either case, though, the important thing to note here is that the electorate is likely to change in Obama's direction in the next 90 days.
It is close, but Romney needs something to change to actually win.
As some know, I have been running monte carlo simulations of the electoral college based on probabilities created by Chris Bowers. As of this morning, Obama and 87% chance of winning and receives an average of 293 electoral votes
More detail on the simulation: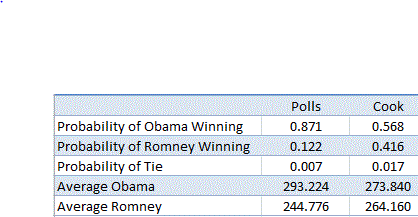 Cook's odds have actually improved over the last 6 weeks. He has moved a couple of states out of tossup to leaning Obama.
Here is the list state by state of the most recent numbers and the odds of winning a particular state.