Sally Ride, first U.S. woman in space, dies at 61 - CAPE CANAVERAL, Fla., July 23 (Reuters) - Sally Ride, the first U.S. woman to travel into space and an advocate for science education, died on Monday after a 17-month battle with pancreatic cancer, according to her organization, Sally Ride Science. She was 61.
Ride broke new ground for American women in 1983 when at the age of 32 she and four male crewmates blasted off aboard space shuttle Challenger.
"The fact that I was going to be the first American woman to go into space carried huge expectations along with it," Ride recalled in a 2008 interview on the 25th anniversary of her flight.
"I didn't really think about it that much at the time -- but I came to appreciate what an honor it was to be selected," she said.
--Irene Klotz, Reuters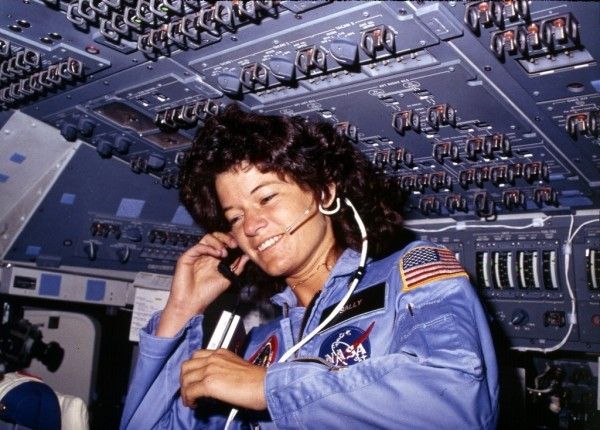 Ride during STS-7. (NASA)
Welcome to the Overnight News Digest


(graphic by palantir)

The OND is published each night around midnight, Eastern Time.

The originator of OND was Magnifico.

Regular editors are jlms qkw, Bentliberal, wader, Oke, rfall, JML9999, and chief cat herder NeonVincent; with guest stints from maggiejean and annetteboardman. .

Penn State: Sanctions are not the same as remorse - The academic institution has begun to feel its disgrace over the failings of once revered Penn State coach Joe Paterno. A week after a task force led by former FBI director Louis Freeh released a 267-page litany of shame, Penn State ordered a seven-foot, larger than life-size, campus statue of Paterno removed from its pedestal.
Penn State Office of Physical Plant workers cover the statue of former football coach Joe Paterno near Beaver Stadium on Penn State's campus in State College, Pa., on Sunday, July 22, 2012. (Christopher Weddle - AP)
A phalanx of uniformed men threw a blanket over the coach's bronze likeness with its right hand still pointing to the heavens -- and carted it off like it was on a metallic perp walk.
Far more painful to the athletic department than the removal of its iconic effigy was the "corrective and punitive" sanctions the National Collegiate Athletic Association announced Monday, related to Paterno's repeated failures to protect young victims of sexual assault by former assistant coach Jerry Sandusky.
--Bonnie Goldstein, SheThePeople (WaPo Blog)
Real N.C.A.A. Penalty for Penn State, but No Cheers Yet - INDIANAPOLIS — The N.C.A.A.'s penalties for Penn State's football program were severe: a $60 million fine; the vacating of a decade's worth of victories that moved Joe Paterno from first to seventh on the career list among major-college coaches; a ban on lucrative postseason play for four years.
(Patrick Smith/Getty Images)Students at Penn State as the N.C.A.A. announced sanctions Monday against the university.
And the language of the N.C.A.A. bosses who handed down the sanctions Monday was unrelievedly grim: the sexual abuse scandal at Penn State was the worst chapter in the history of intercollegiate athletics and a cause for universities across the country to take stock of whether their athletic programs had become "too big to fail," and thus "a grave danger" to the values and integrity of their institutions.
"We've had enough," Edward Ray, the president of Oregon State and the N.C.A.A. executive committee chairman, said of the ethical lapses that have disfigured big-time college sports in recent years. "This has to stop."
Ray's declaration came after the punishment that could handcuff Penn State's cherished football program for a decade or more.
...
But the call for meaningful reform, even coming with what is the sternest punishment of a major athletic program ever, did not meet with instant confidence. The money involved in big-time college sports is staggering, and it grows almost exponentially every couple of years. One way to appreciate that is to understand that the $60 million fine levied against Penn State amounted to a single season of football revenue at the university.
--PETE THAMEL, nytimes
Pot advocates rally in advance of Obama visit - (07-23) 16:23 PDT Oakland -- Several hundred medical marijuana users and supporters gathered Monday afternoon outside Oakland City Hall, denouncing a U.S. Justice Department crackdown on the industry in advance of a scheduled campaign fundraising visit by President Obama.
They waved flags decorated with marijuana leaves and carried glossy signs with slogans like, "Fight crime not cannabis." After a series of speeches - many by patients who said pot had helped them - they marched at 3 p.m. through downtown, blocking streets. Police officers mostly kept their distance.
Antiwar groups also planned rallies Monday in Oakland, underscoring the anger that Obama has stirred for some on the left, even in a city where he has enjoyed big support.
But that support was also on full display. As marchers passed by, chanting, a long line formed outside the Fox Theater, where Obama planned an evening fundraiser costing $100 to $7,500 per person. Some people wore Obama T-shirts, or Obama pins on their formal wear.
--Matthai Kuruvila, Jaxon Van Derbeken and Demian Bulwa, sfgate.com
California State parks scandal may undercut tax pitch - The scandal over a stash of $54 million in California's Department of Parks and Recreation, which led to the resignation of the department's director and firing of a deputy on Friday, will likely create problems for Gov. Jerry Brown's tax measure in November, political observers said.
The governor used the threat of park closures as part of the narrative of the state's desperate financial crisis even as some critics said it was merely a strategy to inflict unnecessary pain on the public to drum up support for new taxes. Now, the admission by top-level state officials that they were unaware the parks department had tens of millions in extra funds could undermine Brown's pitch to voters that the state needs more of their tax dollars.
"It just reinforces the image that people in state government are playing games with our tax money and that raises the question of whether we should send them more of our tax money," said Jack Pitney, a professor of politics at Claremont McKenna College.
While Brown's administration originally called for closing 70 parks to save $22 million, parks advocates and lawmakers have worked doggedly to find alternatives and now only one has actually closed, although the threat of closures in the next fiscal year remains.
But that possibility has now lost its political power
--Wyatt Buchanan, sfgate
Romney adviser spooks conservatives - If Republicans in Congress agree on anything, it is their desire to eradicate President Obama's health care law. But one of the top advisers to Mitt Romney, the party's likely presidential nominee, has spent the past two years advising states and private insurers on how to comply with the law.
The adviser, Michael Leavitt, gets high marks from state officials and policy experts, who describe him as a pragmatist with a voracious appetite for information. But his work has caused consternation among some conservatives, who want states to resist the health care law.
...
Leavitt's full-time job is running his consulting company, Leavitt Partners, which is based in Salt Lake City and has advised officials in Mississippi, New Mexico and Pennsylvania, among other states. He shows them how to set up health insurance exchanges and where low- and middle-income people and small businesses can buy subsidized private insurance from competing carriers.
--New York Times via sfgate
Safety fixes didn't reach offshore rigs - After the lethal explosion at BP's Texas City, Texas, refinery that killed 15 workers in 2005, the oil industry boosted safety at industrial operations on land but never made the same improvements offshore, according to federal investigators meeting in Houston this week.
The Chemical Safety Board is set to conclude that the offshore drilling sector's focus on monitoring individual worker injuries, while ignoring bigger warning signs of "process safety" problems that could lead to emergencies, set the stage for the Deepwater Horizon disaster.
"BP, Transocean, industry associations and the regulator did not effectively learn critical lessons of Texas City and other incidents," the CSB says in documents obtained by the Houston Chronicle.
--Jennifer A. Dlouhy, Houston Chronicle via sfgate
Poverty rate nears worst mark since '65 - The ranks of America's poor are on track to climb to levels unseen in nearly half a century, erasing gains from the war on poverty in the 1960s amid a weak economy and a fraying government safety net.
Census figures for 2011 will be released this fall in the critical weeks ahead of the November elections.
The Associated Press surveyed more than a dozen economists, think tanks and academics, both nonpartisan and those with known liberal or conservative leanings, and found a broad consensus: The official poverty rate will rise from 15.1 percent in 2010, climbing as high as 15.7 percent. Several predicted a more modest gain, but even a 0.1 percentage point increase would put poverty at the highest level since 1965.
Poverty is spreading at record levels across many groups, from underemployed workers and suburban families to the poorest poor. More discouraged workers are giving up on the job market, leaving them vulnerable as unemployment aid begins to run out.
--Associated Press via sfgate
Hong Kong lashed by strong typhoon - A strong typhoon hit Hong Kong overnight, leaving scores injured and hundreds of flights cancelled or delayed.
Typhoon Vicente hit late on Monday, bringing winds of more than 140 km/h (87 mph) and downing hundreds of trees.
The storm warning was briefly raised to the highest level of 10 for the first time in 13 years but downgraded on Tuesday as the storm passed.
Trading on the stock exchange was temporarily delayed on Tuesday morning.
--BBC
No word in the following study about political centrists. ;-) --BL
GPS sheep tracking supports 40-year-old theory -- Instead of fleeing randomly when faced with a predator, sheep attempt to bury themselves within their flock, new UK research has shown.
The theory that animals moving in groups retreat towards the centre of their flocks if a predator appears has been tested before.
But the researchers are the first to show that sheep behave this way using GPS technology.
Details of the work are published in the journal Current Biology.
--Nick Crumpton BBC News
Mariah Carey confirmed to join 'American Idol' as judge after Jennifer Lopez, Steven Tyler exit show
BEVERLY HILLS – Mariah Carey will be joining "American Idol" as a judge next season, filling the female diva slot and removing any last sliver of doubt that Jennifer Lopez is really leaving.
Fox Entertainment President Kevin Reilly, wearing a grin as big as Carey's list of hits, confirmed the hire on the phone with Carey in front of television critics Monday.
He was less forthcoming about her salary, which is reported by multiple sources to be $12 million for her first season.
That's the same rate at which Lopez was hired. Lopez reportedly made $15 million her second season, during which the show's ratings tumbled, and unconfirmed sources said she was rebuffed when she asked for a raise to return for season three.
Now Fox has definitely moved on.
--David Hinckley / NEW YORK DAILY NEWS