The League of Conservation Voters has said enough is enough. They are putting up some serious money to vote out the worse of Climate Change Deniers in Congress -- dubbing them as the 'Flat Earth Five.'
... Only question is, "Is 5 spots going to be enough?"

Environmentalists target 5 Republicans who question humans' impact on climate
by Juliet Eilperin, washingtonpost.com -- July 23, 2012

The League of Conservation Voters will launch a $1.5 million campaign Tuesday targeting five House Republicans who question the connection between human activity and climate change, in an effort to test whether the issue can sway voters.
[...]

The League of Conservation Voters, which has endorsed both Democrats and Republicans in the past, aims to unseat Reps. Ann Marie Buerkle (N.Y.), Dan Benishek (Mich.) and three other yet-to-be-named House Republicans -- they've dubbed the group "the Flat Earth Five" -- by attacking their global warming stance and ties to the fossil fuel industry.
[...]

During a televised campaign debate in 2010, [Ann Marie] Buerkle said that "a lot of the global warming myth has been exposed." While she later explained that she was specifically referring to pirated e-mails from climate scientists, which came to light in an incident known as Climate-gate, she added that "the jury's still out" on whether fossil fuel burning contributes to global warming.
Just like
"the jury's still out"
on Buerkle's Re-election chances, right New York?

Environmental group launches campaign to unseat Michigan congressman
by Sara Matthews, greatlakesecho.org -- Jul 25 2012

[...]
"Representative [Dan] Benishek's extreme views put him at odds with scientists, his constituents and the Pentagon, which has called climate change a national security issue," said Jeff Gohringer, national press secretary for the league. "He has had some rather outlandish statements regarding climate change."
[...]

"It's all baloney," [Benishek] said in the interview. "To spend trillions of our dollars on this unproven science stuff is ridiculous." [according to Michigan Congressman Dan Benishek, R-Crystal Falls.]

[...]
The Michigan congressman joins New York Rep. Ann Marie Buerkle, R-Onondaga Hill on the league's list. Three more incumbents will be named later -- one a week.
Dang, only one per week.
WHO would YOU put on that Flat Earth List, and replace with "someone from the 21st Century," if we only had the opportunity?

I dunno, like an Election or something?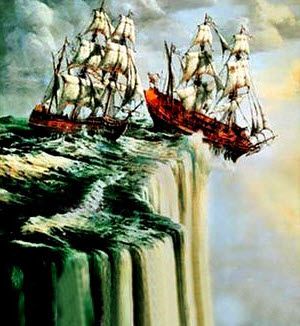 See ya, Flat Earthers, you can run, but you can't hide.
Pssst anti-Science Luddites, we have the Internet -- maybe you've heard of it?