I lived in Salt Lake City, Utah for several years. I loved it. The people were AMAZING. I found my purpose in life. I became an atheist. Worked the Obama campaign and cried along with legions of folks eager to elect him. I ate great Belgian waffles and discovered the joys of curry chicken pad thai. Had more sex than I'd had or have had since. But, in light of the Front Page diary "Mitt's mouth touches off international incident somewhere between London and the middle of nowhere", I have to say this, fleshed out below the orange curly gaffemonster: people, it's not fair to compare the two, but I can see where Cameron was coming from:
Olympic Size
Look at that sprawling urban landscape that stretches for miles...607 square miles.
or...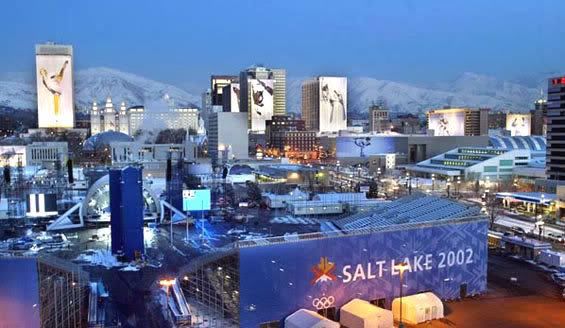 Those mountains are at the edge of the downtown area. From where the photo camera is to the University of Utah (at the base of those mountains), it's a quick 4-mile bike ride. And even though Greater Salt Lake is 110 square miles (1/6 the size of Greater London)...the SLC Downtown area proper is far smaller, roughly a 4x4 mile grid, for a princely 16 square miles or so.
Even then, all those skyscrapers you see can be found in a tight radius of just a few blocks by a few blocks. And that's it. Absolutely everything south of this 16x16 downtown area is suburbs*, mountains, and churches. 40 minutes north or south will get you to the next major towns (Ogden and Provo, respectively), and there's not really much to see along the way, except beautiful mountains and sky-piercing churches ;). 40 minutes east will get you to Park City, one of the most die-hard liberal towns in the Midwest, and very pro-Obama. That's where Sundance is held each year.
*There are, of course, working class towns, too, like Magna.
Populations
London alone has 7 million people. The next largest city in America is New York City with 8.2 million people. Salt Lake City has 190,000. A hundred and ninety thousand.
Tallest Building
A bit of a cheap shot here, but...
London: The Shard, 1000 FT, 87 floors
Salt Lake City: Wells Fargo Building, 422 FT, 24 floors
...how ironic that the tallest building in Utah is a bank! At least The Shard is multipurpose.
What Does 'Middle Of Nowhere' Mean?
It's a flippant way of saying a place is either a) removed from the rest of civilization, b) one you're not familiar with, or c) far away from where most people live. I think Sarah Palin's literal back yard probably meets all three of these.
--
So is SLC M.O.N. material (Utah has almost 3 million people, after all)? In relative terms, especially when invoking the three criteria above, yes. Salt Lake City is in the middle of nowhere.