Exploring the fabled city of Timbuktu, the singular adobe mud mosque of Djenne, or profiling the amazing music of contemporary Malian virtuosos like Ali Farka Toure, Habib Koite and Toumani Diabate...these were the news headlines that I used to see in reference to Mali. However, with the recent political unrest and distressing extremism terrorizing the northern territory, hardly a week goes by without a friend or colleague asking for my opinion on what's happening in the country where I passed several years and still have strong ties. I diaried some of my reflections and analysis previously. But as focus shifts to Timbuktu, it makes me think back to my visit there almost one decade ago during my Peace Corps service.
What I'd like to share are some of my diary entries from that journey. They aren't particularly coherent and are merely my personal reflections as recorded at the time. In retrospect, I wish I'd seen more, done more, and just...been more in the moment. My innate confidence that I would have the chance to return seems naive now. Indeed, the Timbuktu in my memory may never be the same place again. So I offer these entries as a sort of memorial, in hopes that they allow others to imagine what it was like and to hope that one day it will be again.
Diary
Day One
I had been requested to go with others associated with the Ministry of Artisanat and Tourism for the official "opening of the tourist season" ceremony and festivities. A free trip to Timbuktu, transportation and lodging provided? Did I have to think about my answer?
And so I find myself hurtling along the road that traverses the whole of Mali, the changing countryside rushing by while I try to soak it all in. We leave Bamako early in the morning, still an hour later than the time we had set, but this is Mali and time is always relative. I'm ensconsed in the front seat of a Land Cruiser, wrapped in my "fular" a cloth that women use as a shawl, prayer cover-up, and general all-purpose protection from the elements. I'm finding it to be an effective shield from the sun.
We pass village after village, clusters of mud huts and people going about the business of agriculture. Women pounding millet, children playing in the dirt. Sometimes we stop for a few moments to buy fresh fruit on the roadside or roasted peanuts. But we press on. We want to make the journey in one day flat. As we get farther north, the landscape becomes more and more stark. Trees disappear to be replaced by scrubby plants and shrubs. There are few villages now, but families of nomadic Peuhls walk by with their herds of goats and sheep and donkeys. The women balance precarious loads of calabash bowls on their heads as they walk gracefully along the path. Their lips are tattooed blue as is the area around their mouths and they wear headdresses of coins. Peuhl women are traditionally considered to be very beautiful and I find them to have a manner of quiet elegance. The young boys run around keeping the animals from wandering into the road. Men in turbans walk behind groups of donkeys.
After reaching Duentza we make a turn off the paved road and start the last and most difficult part of our journey. Now it is obvious that we are on the way to the desert. We start to see sand and occasionally the dirt road becomes an even greater challenge for our driver as the wheels tug this way and that in the pull of the slippery sand. But he didn't get to be the professional driver of a Land Cruiser for nothing. He manages to keep our vehicle from getting stuck and keep our average speed at well over 100 kmh. Night is falling and we still have to catch the ferry across the Niger River if we want to get to Timbuktu today. By the time we reach the water's edge, the last faint rays of the sun have disappeared. In their place, the night sky is ablaze with a million stars. We stop the cars and get out to wait for the return of the ferry. A few grass huts perch on the edge of the river and the hum of frogs is punctuated by the murmur of voices and crackling of a campfire.
The ferry finally arrives and we drive onto it. The rough engine chugs away and we glide across the water slowly. One of my Malian colleagues tells me that it is too bad it is dark because there are sand dunes and other land features that are very pretty to see from the water. While I'm sure it is true, I can't deny there is a certain element of mystique to crossing a river under a blanket of stars and stealing into the city of Timbuktu under the cover of darkness. I wrap my fular over my head and around my shoulders and ward off the chill of the night.
We finally arrive on the opposite shore and drive along the road till we reach the city gates. Save the paved road leading into town, all the streets are made of sand. We make a few turns, drive across a gully and pull up at the hotel. I get out and stretch, say hi to my fellow Peace Corps volunteer "V" who also works with the same department and we get the key to our room. I crash into bed, sleepy but content to have arrived.
Day Two
The next morning when I wake up and take a look out the window, I can see that our hotel is on the edge of town and what lies beyond the window is open desert. It's beautiful and I can't wait to get out and see it.
The day is punctuated with protocol visits to the office of the High Commissioner of Timbuktu and to the airport to meet and greet some other officials who are flying in from Bamako. Since we are here with the delegation from the Ministry of Artisanat and Tourism, we have to show up and do the formalities with the rest. But the afternoon is ours, and V gets ahold of a friend she knows in Timbuktu. This woman is really amazing. She's an American who has lived in Mali for years and has a quick wit and sharp sense of humor. She's working on a project dealing with the restoration of some of the ancient Arabic manuscripts for which Timbuktu is famous. So all in all, an excellent inside contact to have. She takes the two of us out for lunch and then to the Institute of Islamic Studies where she is working. We help her sort through a pile of over one hundred goat skins to select the best ones for the work. Then it is time to play. She has a Jeep and a driver and when she hears that I have never been in the desert before she decides we must take the vehicle out for a quick joyride on the dunes.
So off we go, four wheeling on the sand. The driver finds their favorite dune and we stop and get out. I'm supposed to climb this thing? The sand is slippery and I don't quite know what to make of it. It's easier if you take your shoes off, she tells me, and also if you walk sideways. I follow her advice and soon I've mounted the dune as nimbly as I can. The sand is amazingly soft under my feet and we sit on top of the mountain of sand and look out into the Sahara which stretches are far as the eye can see. Behind us in the other direction lies the city of Timbuktu and I can't help but think what it must have been like for a caravan of old to arrive at this point and see the city ahead and know that their journey was almost over. Scarab beetles scurry past us and a small herd of goats and camels walk past with a shepherd accompanying them.
Day Three
The next morning we dress in our finest Malian clothing and go to the center of town to await the arrival of Amadou Amani Toure, the President of the Republic of Mali, affectionately known by everyone as ATT. V and I find chairs out of the way of the official dais and she runs around filming things. I enjoy the local musicians who are sitting a few feet away from us, an old man playing what looks like a cross between a lute and a guitar. He picks out a simple but lilting melody and beside him another man sits cross-legged and taps out a rhythm on an overturned calabash bowl. He wears big silver rings on his fingers and they rap smartly against the bowl, making it an effective drum.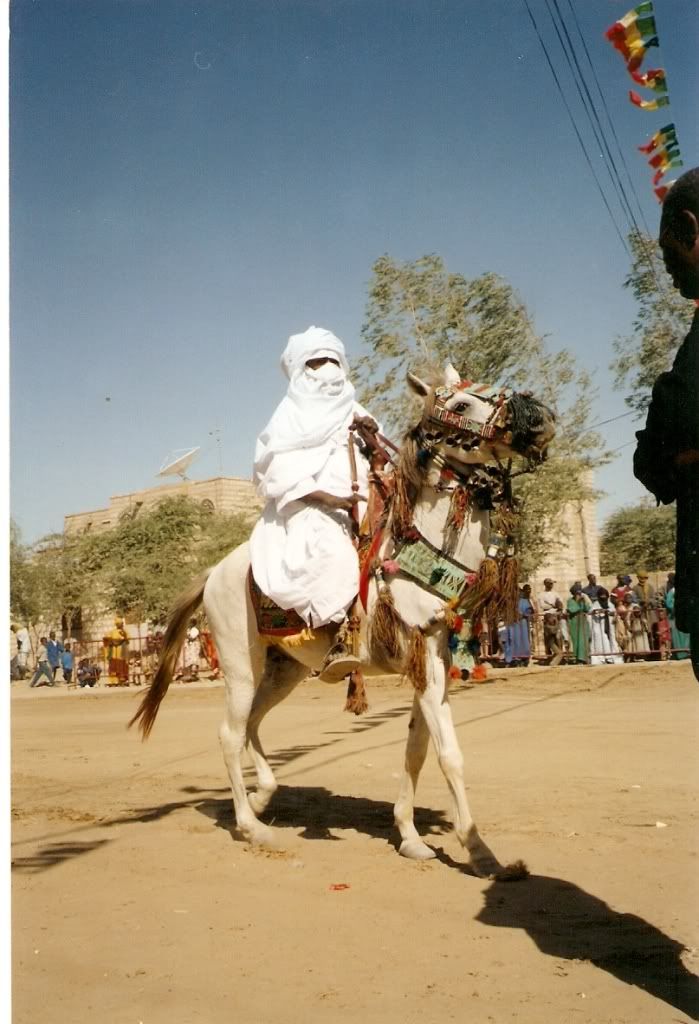 People from the town begin to gather at the edges of the town square, or circle as the case may be. Robed men on camels lope past and a mysterious figure dressed entirely in white, with only his eyes uncovered, reigns in a horse beautifully outfitted in leather spangles of bright colors and shiny pieces of metal. Tuareg men decked out in their finest walk proudly past, their robes billowing in the breeze and their turbans shrouding their features. They know that they're a photo op for any tourist and they use the mystique surrounding them to their advantage. I succumb to the urge and ask one to pose with me. He accepts and
V snaps the moment
. He tells me quietly that when I develop my film he would like a copy of the photo. Sure, I say. I'll be living in Mali for a few years, I'm sure I'll be back to Timbuktu, but where can I find you? I have a stall in the Maison des Artisans. I'm not hard to find, he tells me. I agree to look him up the next time I'm there.
Finally, the chaos of the crowd quells momentarily and ATT arrives. Many speeches are given by various governmental officials. I follow the French words but from time to time I get distracted by the people around me all wanted to move closer an inch or two. The President gives a short address and then declares the tourist season of 2003-2004 officially open. A small cavalcade of camels ride past in a salute as do the adorable boy and girl scout troup. The band strikes up the music and all the high ministers are ushered into their Land Cruisers. V and I finally find her friend's driver through all the milieu, and he drives us to the Institute where we meet up with her and are invited to lunch.
We have been invited to come with her to the house of a friend, a scholar whose family has lived in Timbuktu for countless generations. The library of ancient manuscripts in his care has been passed down since the golden age of the empire. We had been at the library the day before to see the documents, priceless works of art written in elegant Arabic script. Some religious but most dealing with every subject imaginable – math, science, genealogy, personal correspondence of caliphs. In any case, today we are at his residence and as he is actually out of town on business we are having lunch with his first wife and their four children. Upon arriving we pass through the beautiful wood carved doors, studded with decorative metal carvings to enter a small cobble-stoned courtyard. As we go into the house I can see that the stone walls are very thick, presumably to protect against the heat. We sit on low reclining couches in a cool dark salon and chat while the food is prepared. When it arrives, a cloth is spread on the floor to cover the very nice Moroccan rug and we all sit in a circle around the food bowls. The rice is hot and I almost burn my fingers on it. The youngest child sits on her mother's lap and finally recovers from her fear of us strangers to accept some food. She still regards us with wide apprehensive eyes while she eats.
As we finish eating we realize the time has gotten away from us and that V and I should make a stop by an exposition that is being held at the sports stadium. We make our goodbyes and go to the fair, wandering around to see all the booths and goods before settling in at the stand of the Malian office of tourism. I chat with coworkers and everyone stands around looking good. President ATT arrives and he and his entourage make the rounds to meet and greet and have their photos taken. When they reach our booth, he comes down the row of people shaking hands and being polite. He takes my hand and asks how I am. I say I'm fine and that it's a pleasure to meet him. His wife, the First Lady, shakes my hand and exclaims that my hairstyle, braids with beads threaded through them, is really well done. Quite a compliment coming from the woman who is considered to be something of the Jackie O of Mali. I can't wait to tell it to the girl who braided my hair.
The delegation moves away and I grin at V. Didn't really expect to be meeting any heads of state during my stint in the Peace Corps, but then again I didn't quite expect to be hanging out in Timbuktu either. I can't complain; my life always seems to be full of surprising twists and turns. We make a dash through the sand back to the Institute for a tea party with V's friend. She is entertaining some French dignitaries that are interested in investing in her project. We get there just in time to join everyone outside in the courtyard.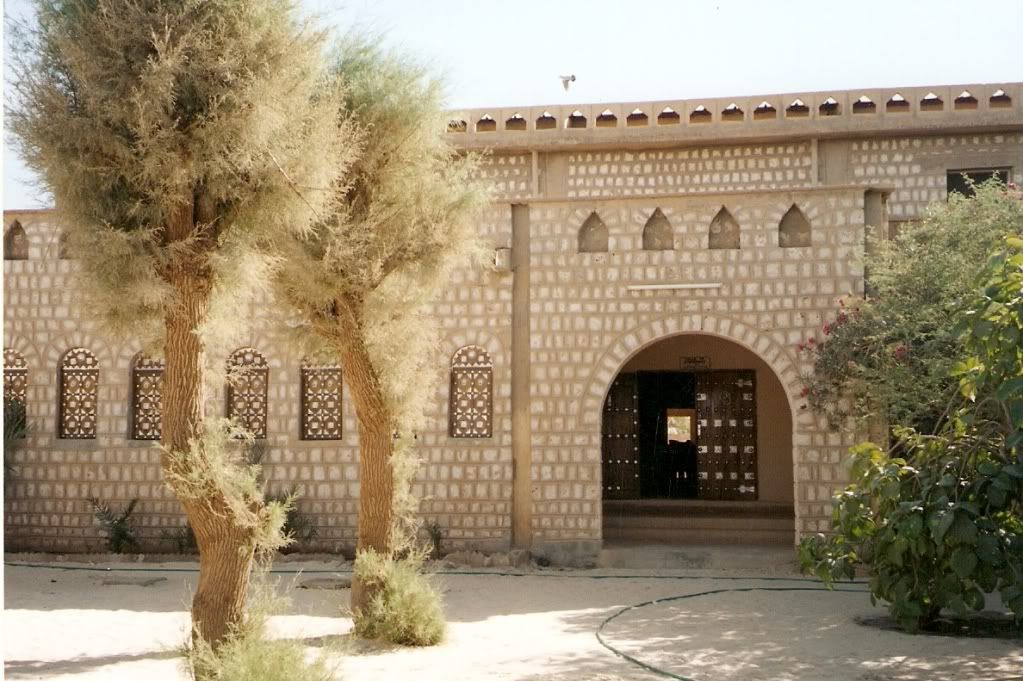 Sitting on mats as the sun drops towards the horizon, we eat legs of roast mutton and drink small shots of very strong, very sweet tea flavored with mint leaves. I hang out with Mohammed, the artisan that we met the other day when sorting through the goat skins. He is making the tea and we find out that since he is a blacksmith and my Malian last name is a blacksmith name, we can call each other kin of sorts. I call him my older brother. Turns out that he can arrange a camel-riding expedition for us during our stay here. He's also working on finding some camel cheese for V and I. We were so amused and curious to find that such a thing existed, we just have to try it.
We are invited to something of a state dinner that evening, outdoors in tents in the style of the desert. When we arrive, we are shown to a tent and we sit on the rugs, wrapping our shawls around us. The nights here are chilly. There is a small fire in the sand a ways off from us but I think it is more for mood and atmosphere than for warmth. In any case, there is lots of traditional music, lots of camels standing at attention, more speeches, and thankfully some food. Roast chicken, flat bread, salad, and roast mutton. In the plate with the mutton, I find some very odd long pieces of meat. Turns out that it's camel meat. A bit tough and rather strong-flavoured. Something like jerky, I think. It's been a long day and I'm glad when the President finally makes his exit, meaning that it's now ok for the rest of us to leave. We get back to the hotel and head to bed.
Day Four
The next morning is occupied with a round-table discussion on the problems and issues of tourism in Timbuktu in particular and Mali in general. It's alternatively interesting and tedious for me and while I can follow everything in French, having to translate in my head for three hours definitely wears me out. When it's over, I'm ready for a break.
V and I are supposed to have our camel ride with Mohammed this afternoon so we go back to the hotel to wait for him. He sweeps into the lobby in his dark robes, and we follow him out of the hotel and into the sand where three camels are kneeling. One is a huge beautiful camel with all the decorative trimmings on its saddle and bridle. The other two are somewhat less intimidating, thankfully. I'm still feeling pretty nervous about the proposition of being atop one of them. I swallow my fear and grin at the young Tuareg who is in charge of my camel. How do you get on this thing? I climb into the saddle, which actually is more like a chair with a piece between your knees that you can hold onto. My camel handler, also named Mohammed, tells me that when the camel gets up out of it's kneeling position, I will need to lean backward first and then forward. Ok. No worries. I hope. It turns out to be less scary than expected and before I know it I am perched high atop a camel, the desert sand a good five or six feet beneath me. Mohammed tells me that it might be easier if I take off my shoes as you have to brace your feet on the camel's neck. I take his advice and find that he's right. I can curl my toes into the skin on the neck and it feels much more solid. V is ahead of me, she's got less fear and more equestrian experience. Off we go into the desert. Big Mohammed tells us that we are going to go out to a Tuareg camp and have tea. If we wanted to we could even spend the night, he tells us.
We leave the town behind us and make our way into the desert, the camel's hooves making a soft swooshing noise in the sand. The creak of the leather saddles, the snort of the animals, the gentle voice of the breeze. It's very calm. I make small talk with my camel handler in French. He tells me that he's just in Timbuktu to make some money before going back out into the desert with the animals. We reach a spot with a small camp. There are two small rounded tents made out of what looks like woven matting. A woman sits in the sand feeding sticks into a small fire. We approach and our guides greet her in Tamashek, a desert language that is related to Arabic but isn't the same thing. She nods in agreement to whatever deal they've offered her and we sit nearby. Mohammed tells one of the children to bring out a mat for us to sit on, but V and I assure him that we're quite happy to sit on the sand. It's soft and actually quite clean. Leather pillows are brought out and we all recline there talking and waiting for the tea to brew. I watch the woman and her two small children. I can't tell what age she is, her skin is weathered and she looks older than I'm sure she is. This is a hard life. It's no surprise to us when the woman from the other side of the camp comes over with something to sell. It's a beautiful hand-crafted leather pillow case. She and V start to discuss the price, with the help of our guides translating. It seems to be the signal for our personal market to be opened and before you know it, jewelry, trinkets and other articles are produced from beneath robes. Mohammed pulls out some necklaces and bracelets, then reaches into his pockets again and pulls out photos of his leather work. V and I laugh and tease him about how his pockets are never ending. What are you going to pull out next? With a grin, he dramatically reaches into his robes and flourishes a leather encased mirror. We collapse in giggles.
One thing you learn quickly about Tuaregs is that they are definitely always ready to make a deal. The bargaining goes back and forth for some time. We stop to drink the tea. Then continue discussing prices. Finally, V buys the pillow and I give in and buy a necklace. As much as I don't like being hounded for money, I can't begrudge these people trying to make a living as best they can. We finish the last round of tea and then head back to find our camels. When we reach the edge of Timbuktu, the sun is just setting and I turn to take a picture of its rays streaming across the sand. We get back to the hotel as dusk begins to settle. V and I have no idea what the going rate for camel tours are but we hand Mohammed some money which he turns around and hands to an older man who meets us, presumably the owner of our camels. We see that Mohammed also pulls out some money of his own to give to the man, so when he walks us up the hill to our hotel, we reimburse him for that expense. All in all, it's not exorbitant as I was expecting. I think that had we tried to arrange the outing on our own, it would have cost three or four times as much.
It's our last night in Timbuktu, and I feel tired and ready to go home. But also intrigued and wishing I could stay. I never expected to fall in love with the desert, but if I had the chance, I would mount a camel and join a caravan out to see the deep Sahara. I promise myself that one day I will do so.
Day Five
The next morning we pack our bags and then head out to do some shopping before our departure. We wander around the center of town, a shabby and dusty place reminiscent of the Wild West. Instead of tumbleweed, there are plastic bags and other trash sadly blowing through the streets. Finding the Maison des Artisans, we go in to look for handcrafts. I leave V deep in conversation with one seller and poke around a bit on my own. I walk into one shop only to find the man I had taken a photo with the other day. He remembers me and asks about the picture. I get his name (surprisingly enough it is Mohammed!) and look over his jewelry. Mohammed from the day before shows up, and V and I go to see his small stall. I see something that would make a nice gift for my brother and go through the bargaining process with the man who made it. They always start with the price about three times what the piece is going to go for. Then you give your price, then there is the second price, the third price, and then you buy. Or not. I get him down to what I find to be reasonable, and a deal is struck.
Mohammed invites V and I to his house for tea and although we have to be back at the hotel to catch a ride with our coworkers, we have a little time so we accept. He leads the way through the streets, stopping briefly to buy some freshly killed sheep meat to roast and eat with the tea. We reach his house and go into the sandy courtyard. We sit on mats and recline in the shade. He pulls out his tools and starts to work on a wooden box that he will cover with goat leather. We watch and ask questions about how is he doing it and why certain techniques work better than others. An older man comes and sits down and introduces himself as Mohammed. Apparently he is the older brother or maybe the uncle of our Mohammed. We dub them "Mohammed le Vieux" and "le petit Mohammed" – Mohammed the old and the small/younger Mohammed. Vieux is smoking a pipe and he looks over our purchases with a critical eye. V bought some swords, and he since makes knifes he shows us things to look for to tell the quality of a well-made weapon.
We sit and chat, the tea finally makes an appearance as does the meat, now looking much more appetizing as it's chopped and grilled. I think that I have eaten more mutton in my few days in Timbuktu than the total sum of my life to date. Mohammed Vieux eventually gets around to asking us if he can show us some of his goods for sale. Ah yes, the sale. We agree to look but tell him that we've just spent all our money. Oh, no problem he assures us. I'm sure that there will be something that we can agree upon. Thus begins one of the most amusing bargaining encounters I have witnessed. I stay out of it and let V go back and forth. Vieux tells us that he has worked long and hard on these knives and that he will be going back to the desert in a few days. V says that her fiance will be unhappy with her if she returns with all the money gone. How is she going to eat on the trip back? Oh, he'll be so happy that you made such a good purchase, Vieux replies. And besides, if he is a good man he should be providing you with money. Vieux names a price. It's twice the amount of money that we have with us. V tells him that the knife is such good quality that she couldn't possibly buy it for the price its worth. No, no, Vieux assures her, we can come to an agreement. What money can you find? She names a price. Oh no, that's too low. I have to have money to last for the next few months. Back and forth. Forth and back. The younger Mohammed just chuckles and continues to work on his craft. He has covered the box in leather and is now making intricate carvings in the skin. Finally they get to a price that older Mohammed will accept and that V actually has the cash for. We finish our tea, make the purchase and then they walk us back to our hotel.
Mohammed le Vieux tells us that if we are ever in the desert he would like to have us stay as guests at his tent. We tell him that we'll take him up on the offer someday. They leave us at our hotel, and we find our bags and our group. Sometime in the early afternoon we manage to load up the vehicles and get out of town. As we pass under the gates to leave the city, I whisper goodbye to Timbuktu and promise myself that I will return one day. It's been the doorway to the Sahara for over a thousand years. I think it will still be there waiting when I come back.