The Palm Beach Post has revealed this has gone on for two years.
State sends TB patients to $35-a-night Jacksonville motel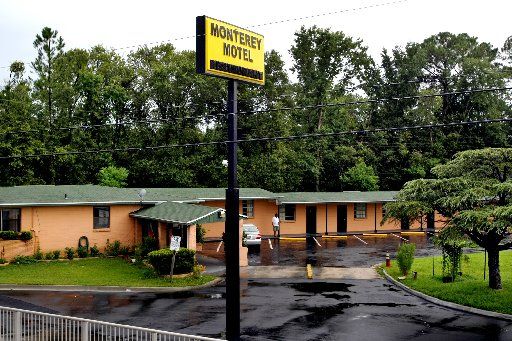 The state paid the Monterey Motel in Jacksonville more than $11,000 to house tuberculosis patients. (GARY CORONADO/Palm Beach Post)

The low-rent coral and green motel on the outskirts of downtown doesn't look like a haven for tuberculosis patients.

But for at least two years, TB patients were routed by Duval County health officials to the Monterey Motel and told to stay put.

Longtime motel resident Alfred Scott — who was treated for the lung disease more than 20 years ago — said he and other residents only were told of the TB patients when they saw people wearing masks coming and going on the motel walkways.

..."The man-and-woman team responsible for cleaning rooms, who spoke only limited English, appeared confused when asked whether they had taken precautions. In fact, Kevin Davis, a former manager with the Duval County Health Department's TB unit, questioned whether hotel managers had been briefed fully about TB transmission or precautions for staff.
The rush to close Florida's only TB hospital six months before the planned time shows that Rick Scott's Florida only cares about the bottom line. Only here would they think to send contagious ill patients to a cheap motel.
Florida accused of covering up of the worst TB outbreak in 20 years

Back in April, the CDC warned the state to take action, but the public didn't know about the TB problem until June. It took weeks for the Post to get the records they requested repeatedly, ones that "should have been freely available under Florida's Sunshine Law."

So much for transparency and concern for the health and welfare of Floridians. Raw Story:

According to the Post, the coverup began as early as last February, "when Duval County Health Department officials felt so overwhelmed by the sudden spike in tuberculosis that they asked the U.S. Centers for Disease Control and Prevention to become involved. Believing the outbreak affected only their underclass, the health officials made a conscious decision not to not tell the public, repeating a decision they had made in 2008, when the same strain had appeared in an assisted living home for people with schizophrenia."

That decision now appears to have gone terribly awry, partly because the disease appears to have already spread into the general population but also because just nine days before the CDC warning was issued, Florida Governor Rick Scott had signed a bill downsizing the state's Department of Health and closing the A.G. Holley State Hospital that had treated the most difficult tuberculosis cases for over 60 years.