goes too far. For one thing, these guys are just Monty Python characters, while Romney is real. Hmm, maybe that doesn't help. Well, those twits are British, while Mitt is quite definitely American, and he has anonymous aides who not only get the shared Anglo-Saxon heritage,
but willingly point out that Obama doesn't understand it.
They're right of course, Obama is clueless about Britain, which is why the British were equally derisive of the Obamas when they went to Britain. The British just couldn't stand them and...for crying freaking crud!: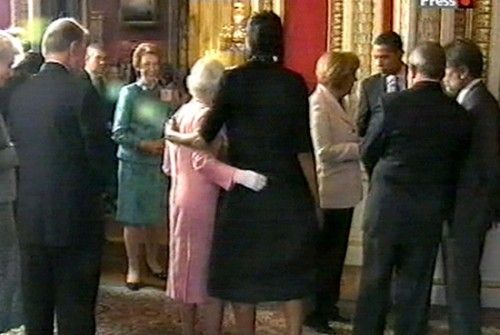 I will give Mitt a break on one thing. Forgetting Ed Milliband's name is the sort of thing we all do. We just aren't normally standing next to the person whose name we forgot and we don't have a microphone in front of us. If we haven't all had one of those moments, well, I sure have, just not with lots of people listening. So on that, from me if not from the leader of the Labour Party, Romney gets a pass --- unlike keeping staff who think stupid things like Obama doesn't get the shared Anglo-Saxon heritage, and have the further stupidity to say it to reporters, for which I have no hesitance about knocking Romney long and hard. And for talking about an intelligence briefing. I assume they gave the briefing just a courtesy since the British obviously had figured out he comes from the "Not Ready for Prime Time Party", but, still, talking about it?
I suppose it's like criticizing security for the Olympics without knowing what's going on. Romney is fine as long as he doesn't have to interact with other people, in which case, duck. Maybe we can just stop him from ever leaving the country so he doesn't embarrass us again. Oh, right, he has to leave once in a while to visit his money. Darn.
Well, it's not like he's going to keep saying dumb things in other countries on his tour like he did in Britain. He won't, right? Please? He said what in Israel?!