Have you ever heard about the Creation Museum and other such garbage and wondered how the FUCK operations like this manage to keep filling themselves with wide-eyed, hopelessly misinformed people?
11 Eye-Opening Highlights From a Creationist Science Textbook

A few months ago, I was reading about homeschooling, because I do things like randomly reading about homeschooling. I read an article that mentioned a family using science textbooks produced by Bob Jones University. (If you're not familiar, that's a large, for-profit, evangelical Christian university in South Carolina.) I had to see what one of those textbooks was like. I bought one for a few bucks on Amazon and a few slow shipping weeks later, I had my answer.

I purchased a copy of Science 4 for Christian Schools, an evangelical-written and -approved science textbook published in 1990. According to the stamp on the inside cover, my copy was previously owned by The Country Church & Country Christian School in Molella, Oregon. So, thanks guys!
Here's a couple of examples of the sort of jaw-droppingly, brain-hurtingly stupid crap that a frighteningly high number of children in the U.S. are being taught even as I type this: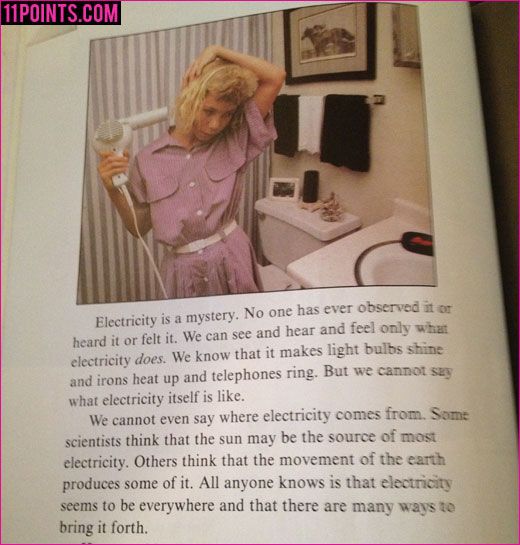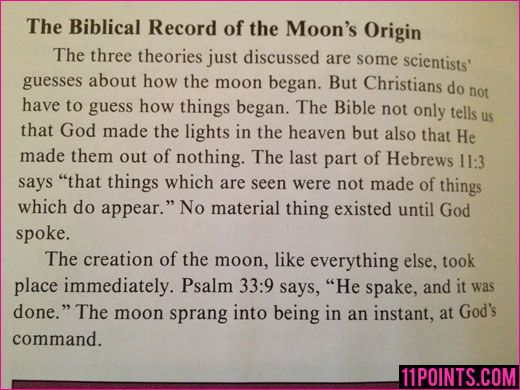 I honestly thought that these photos had be doctored, Onion or Cracked-style. Unfortunately, it turns out that this is for real; you really can order this garbage on Amazon.
I weep for our future.