The origins of words dealing with color can be a bit baffling at times. The deep origins of the English word "blue" seem to lead back to the Indo-European word *bhlēwos which meant "yellow."
Note: the * indicates that the Indo-European word has been reconstructed by historical linguists.
The modern English word "blue" comes from the Old French "bleu." This, in turn, seems to have come from the Common Romance *blāvus, which came from the prehistoric Germanic *blæwaz.
True Blue:
True blue, meaning faithful and steadfast, comes from the color of a fabric manufactured in Coventry, England during the Middle Ages. The cloth had a reputation for having a durable blue dye which resisted fading.
Blue Blood:
Blue bloods, the aristocrats, came into English from Spanish. The Spanish nobles of the Kingdom of Castile were stereotyped as having fair skin which revealed the blue veins underneath. The neighboring Moors (who were Muslim) supposedly had darker skins and thus their veins were not visible.
Blue Collar:
The term "blue collar" in reference to trades jobs was in 1924 in a newspaper in Alden Iowa. During the 1950s, blue collar came to refer to the millions of factory and trade workers. The term comes from their blue work shirts, as compared with the white shirts, ties, and jackets of management (the blue bloods).
Blue collar has come to have socioeconomic class meanings that extend outside of the workplace. Thus, we have blue collar bars, blue collar neighborhoods, blue collar food and drink, blue collar recreation, and so on.
As a corollary to blue collar, the concept of pink collar came to be used in reference to the millions of women in secretarial jobs.
The Blues:
The idea of blue being associated with depression and melancholy seems to emerge in eighteenth-century London. In 1798 George Coman's one-act farce Blue Devils used "blue devils" meaning melancholy and sadness. Then later, in the U.S., African American musicians developed a style of music known as the Blues which tells tales of misery and hard luck. In 1912, Hart Wand's "Dallas Blues" was the first copyrighted blues composition. In his lyrics he uses the term blues to describe depression.
Blue Ribbon:
Blue ribbon originally referred to the ribbon worn below the left knee of a fourteenth-century British knight who had been admitted into the Most Noble Order of the Garter.
The Most Noble Order of the Garter was founded in 1348. Membership is limited to the Sovereign, the Prince of Wales, and no more than 24 members known as Companions.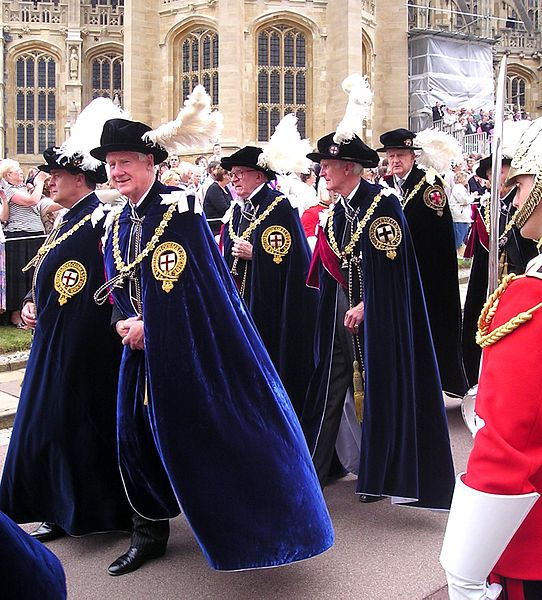 The Companions are shown above.