From Huffington Post:
Todd Bentley Controversy: British MP Wants To Ban Preacher From United Kingdom For Kicking People

In one interview, Bentley claims that the "Holy Spirit" told him to kick an ill elderly woman in the face with his biker boot.

"Just as my boot made contact with her nose," the 36-year old said, "she fell under the power of God."
He also said he cured a man of cancer and a broken sternum by kicking him in the chest.
"I'm concerned by Todd Bentley's methods," said British physician Peter May. "I would urge people to keep away from him."

Member of Parliament Malcom Wicks even went so far is to request that Bentley be banned from the UK. "His visit can do nothing but harm," Wicks told Home Secretary Theresa May.
This pastor held a controversial revival in Central Florida in 2008 that drew over 400,000 people. That's huge, and it's rather scary that so many flocked to see him.
The title of the original article from The Ledger in 2008 was changed not long after this post was written. I don't know why.
"It's chaotic … it's sandlot baseball. It's …''A Working Man's Revival'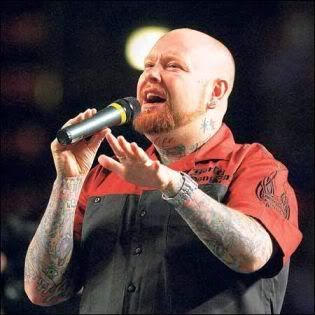 RICK RUNION | The Ledger
Canadian evangelist Todd Bentley speaks last week at the revival, which resembles a rock concert.

It resembles a rock concert. The crowds have listened to an hour of loud, power-chord Christian rock music, singing, "We are the generation who'll stand and fight; in the midst of all the darkness, carry the light."

Tonight, visiting evangelist Todd Bentley says he has been told by a prophet, Bob Jones, that 13 wise virgins would carry the revival forward. So Bentley calls teenagers up to the stage and "anoints" them, touching them and watching many fall backward, a practice Pentecostals call being "slain in the Spirit." It's just the beginning of an hours-long service.
People worship and sing during the "Florida Healing Outpouring" revival last week at The Lakeland Center.
RICK RUNION | THE LEDGER
The local ministers in the area did not speak out and stand up against his actions until he claimed he could raise the dead. Then they started to be heard.
Evangelist's Florida revival making local Pentecostal leaders very nervous.

While faith healing is a part of the Pentecostal tradition, the claims of resurrections have raised eyebrows. No dead bodies have been brought into the revival. Rather, reports of the recent death of a loved one - in some cases located long distances away - are relayed to the stage by e-mail or cell phone, and Bentley has led prayers for the person to be revived.

"We do our best to find out the situation. In one case, a boy drowned in a pool. He had no pulse, wasn't breathing and was clinically brain dead," he said.
According to the Huffington Post article linked above, Bentley continues to claim he is raising the dead.
Last December he claimed he had raised 33 from the dead, with 20 of them "medically verified."