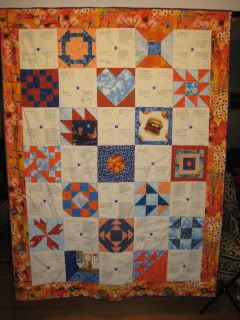 The Daily Kos quilt -- we are community and we are strong
Racheltracks is one of the sweetest people you will ever come across -- a doting grandmother and generous to a fault. Though she has little herself, she has been a gentle presence on diaries here when others have needed help. Right now, she and her family have a dire and immediate need -- and I'm hoping we all can help. They need transportation (a working car) so that her son-in-law can get to work. If he can't get to work and loses this job, custody of two children will be in jeopardy.
So the need is either
a) some funds to get their current car working again or
b) another working car.
Positive thoughts and prayers are most welcome, too.
The family is in the area of Cartersville, GA if you have a car for them. That's about forty miles north of Atlanta.
Our family right now has a world of trouble and perhaps someone here in Kosland can help. I wrote a diary a few weeks ago as we couldn't pay our bills and everything was fixing to be turned off, we didn't have money for food, etc. I live with my disabled fifty year old daughter and her husband, fifty-six. I have custody of my nine year old grandson as he was abused and starved by his mother and step-father. We also are in the process of getting permanent custody of a sixteen year old foster child who was terribly abused by her mother. My sil drove an over the road big truck, which needed a new transmission and clutch a few months ago to the tune of eight thousand two hundred dollars, and he was out of work for a month while we got the money together and they fixed it. Two weeks back on the road and the truck had another mechanical problem, which we can't afford to fix this time.

Sam got a job driving a dump truck and the weather here in Georgia has been rainy and stormy and he hasn't been able to work much, but we were hanging on. Then, a couple of weeks ago the transmission on our only car went out and now we have no car and Sam has no way to get to work, we can't get to doctor appointments, or anything.

We have someone who can replace the transmission for about seven hundred dollars, but we only have $188.00 to our name. I know a few months ago another Kossack had a similar problem and after writing a diary, someone actually gave her a car they didn't need. I was wondering if there were another Kossack out there who might have a car they don't need and could donate to us. I know that's asking a lot, but desperate times have me resorting to asking. If Sam had a way to get to work, we could even pay a little bit once we can get caught up on our bills.
If you can help these good people with some funds,
PayPal
may be sent to
racheltracks AT aol DOT com
-- or message racheltracks for an address if you prefer to send a check. Better still, if you are in their area and have a working car you don't need, it would be a real godsend that would help keep this family united.
This is a very fixable problem if we come together. Thanking all angels in advance...
Namaste.