Life imitates art.
In 2006, Mike Judge directed a movie called "Idiocracy", from a screenplay he wrote.
Some may recall Mike Judge as the creator of MTV's Beavis & Butt-Head. A TV show that capitalized on the depths of what 'dumb' is all about.
On YouTube, an excerpt of Mike Judge interview on David Letterman (Runtime: 0:02:06)
http://www.youtube.com/...
In 2010, we could clearly see the storyline of the film begin to come to
life in American politics with the overwhelming election of Tea Party
candidiates to the US House and Senate and state legislatures.
The Tea Party take over of the Republican Party is uncanny in its similarity
to the film's 500 year evolutionary process, but it only took 2 years for the Tea
Party to rush headlong to the moroninc fringe of establishing an "Idiocracy".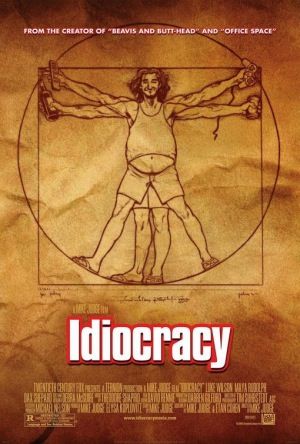 GENRE: Adventure|Comedy|Sci-Fi



PLOT: Private Joe Bauers, the definition of "average American", is selected by
the Pentagon to be the guinea pig for a top-secret hibernation program. Forgotten, he awakes 500 years in the future. He discovers a society so incredibly dumbed-down that he's easily the most intelligent person alive.

CAST: Luke Wilson, Maya Rudolph, Dax Shepard, Terry Crews

Written and Directed by Mike Judge

Internet Movie Database.com rating:
6.4/10 from 59,170 users
Idiocracy movie trailer, at YouTube (Runtime 0:01:40):
http://www.youtube.com/...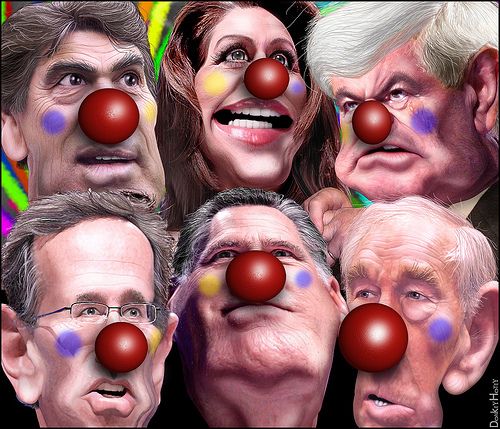 The clown show that the Republican Party Primaries have been this year lets us know the 'dumbing down' of America by Republican extremists is continuing and will likely not stop its accelerating evolutionary process until the electorate steps in at the ballot box to halt this pernicious political ideology.
Their motto should be:
"If you don't know what to do ... DO NOTHING!"

They're very good at doing nothing.