Good Morning, gardeners. Today I want to start with the politics of fertilizer. As TomP diaried on Thursday, Scott's Miracle-Gro has made a large corporate donation to the PAC supporting Mitt Romney. I will admit to having used Miracle-Gro potting mix, but I don't want my gardening dollars supporting the Republicans. I sent the company the following e-mail:

I am a long-time gardener and a regular used of Miracle-Gro products. Since your company has chosen to donate to a PAC supporting the election of Romney, I plan to buy other brands of garden products. I have been a gardener for over 45 years, and I am careful about where I spend my money.
I also looked for some organic alternatives:
...organic growing is about three things: balance of nutrients, soil structure and biology, with the ultimate goal being nutrient cycling. If you start with a nutrient-rich soil as your foundation, this should be enough to keep your plants healthy.
Even so, you may need to periodically feed your plants. Alternatives exist in the form of organic pellet fertilizer or fish emulsion and liquid kelp. You can make it yourself, find alternatives at your local plant nursery or buy it online. Link
Medina Agriculture Products produces a biologically based soil conditioner and organic fertilizer. Medina's HastaGro is an organic alternative for all Miracle-Gro products. This plant food promotes larger fruits and blooms without unnatural chemicals and toxins. HastaGro also prevents salt and chemical buildup in the soil, which is crucial for long-term gardening. Medina sells Growin Green Organic fertilizer in addition to HastaGro plant food and lawn food. For additional garden or lawn maintenance, Medina also sells Beneficial Microbes in four-ounce bottles and Soil Activator Gel, both of which aid in soil improvement and nutrient recycling. Link
In addition,
Lineatus
reported that Scott's knowingly sold bird seed that was coated with substances that are toxic to birds.
Please feel free to suggest other alternatives to Miracle-Gro and other Scott's products. Follow me below the colonial cheese doodle to see what's happening in my garden.
Blue jersey dad took great care of my expanded vegetable garden while I was in Armenia, and I now have a bumper crop of cucumbers, tomatoes, and squash: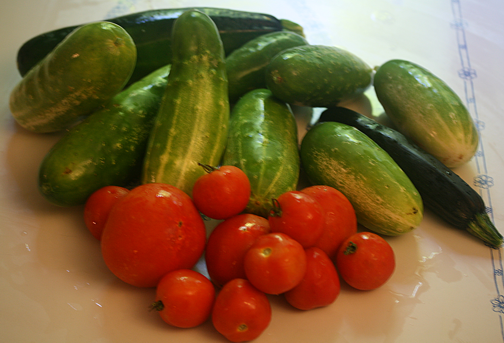 The mallows are blooming in the flower garden:
Dad caught this spider on my rose of Sharon: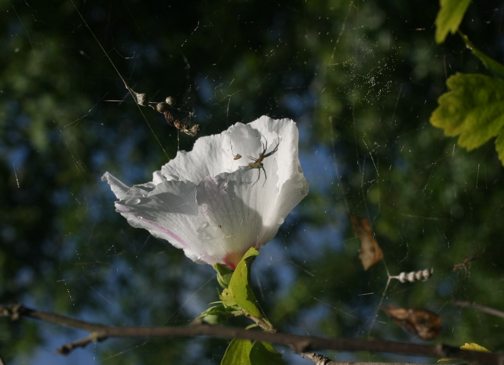 And here is one of my marigolds. I just love them:
Here is a frog in dad's lily pond: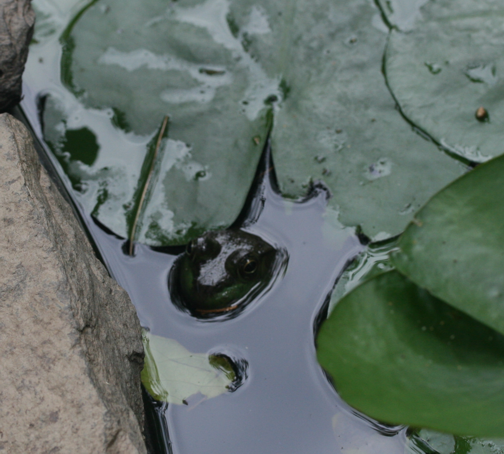 Finally, here is a lovely garden that is located at a 7th-century church in Echmiadzen, Armenia. I will be posting a photo diary on the churches of Echmiadzen in Brothers and Sisters tomorrow evening.
So what's happening in your gardens this week?