Summertime is the time for celebration in Iceland. Most people take large amounts of vacation and all of the biggest festivals show up one after another, especially in August. Three festivals, however, stand out in terms of sheer attendance numbers. First, there's 17 júní, Icelandic Independence Day. Then there's Menningarnótt, "Culture Night". And then there's Hinsegin Dagar - "Queer Days", Reykjaví­k's LGBT pride fest. Yes, it's a gigantic family festival here in Iceland, and in general 1/3rd of the population attends. Read more (and check out pictures and videos) below the fold.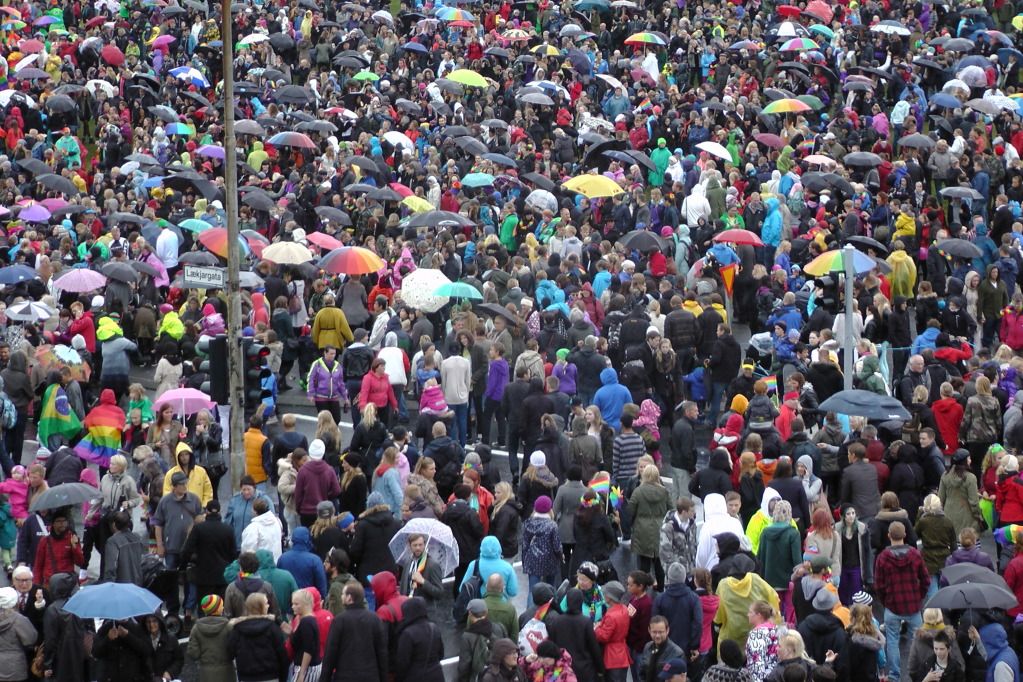 I was still sick with a cold, but I felt it was important to attend. Iceland is a nation of 320,000 people. So when over a hundred thousand of them do something, it's a Big Deal. Here's just a tiny stretch of the people lining the parade route:

It should be noted that Pride, like most things here, is a family event, and nothing is thought of straight people bringing their kids to it; in fact, it's pretty much expected. While this can come as a surprise in more conservative countries, to people here, it's kind of puzzling that people would have a problem with it. After all, people here bring young children to everything from death metal concerts to polical meetings with the prime minister.

Unlike last year, this year's parade was cloudy and drizzly - quite a surprise, given that this summer has been abnormally sunny, warm and dry.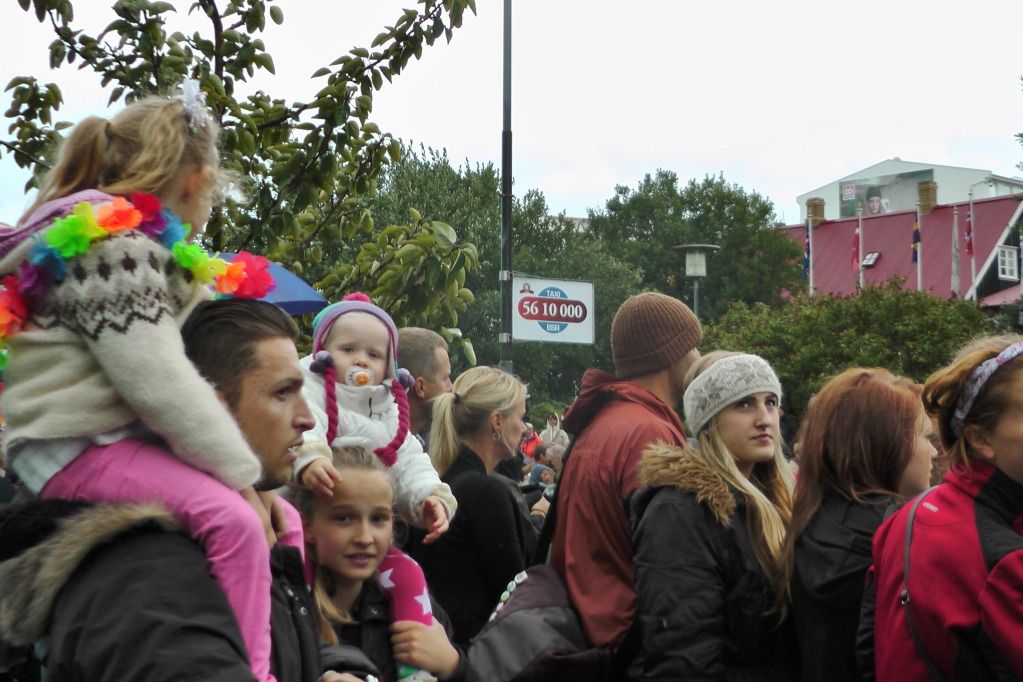 However, that hasn't stopped people from getting in the mood.
In fact, for many of these people, this isn't their first day to celebrate. Pride isn't just a parade and a concert - it's a whole multi-day series of events.
The other day, for example, the annual drag competition was held at Harpa, Iceland's equivalent of Madison Square Garden. But it was great to see people turning up for the outdoor events despite the weather.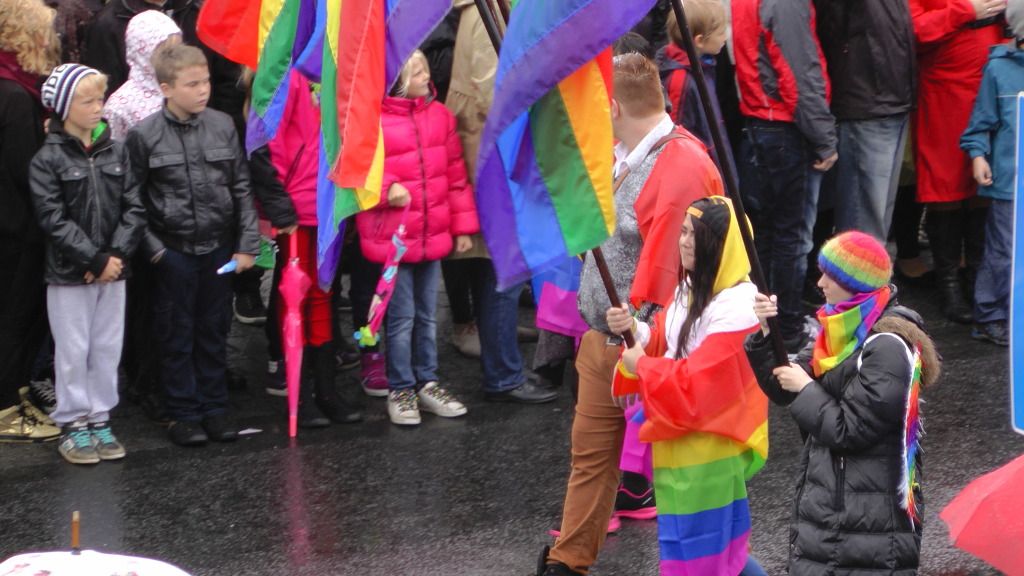 In this next picture we see a flag of the Faroe Islands. Most Americans don't know what the Faroe Islands are, so a little background: The Faroes are a chain of volcanic islands between Iceland and Scotland, and are an independent country in a voluntary union with Denmark. They speak their own language, which is the most closely related language to Icelandic, and share a similar culture. But while Iceland is one of the most socially liberal places on Earth, the Faroes are the most conservative Nordic country, with no recognition of same-sex couples, no same-sex adoption, etc. Naturally, there's a lot of hope here in Iceland that our Faroese brethren will shift on this issue in time.
Even some entities you might not expect have a big presence. Like the most paranoid place in all of Iceland: the American embassy!
Wow, for once I can take a photo of embassy personel without armed guards trying to confiscate my camera! ;)
Now wait, who's this I see?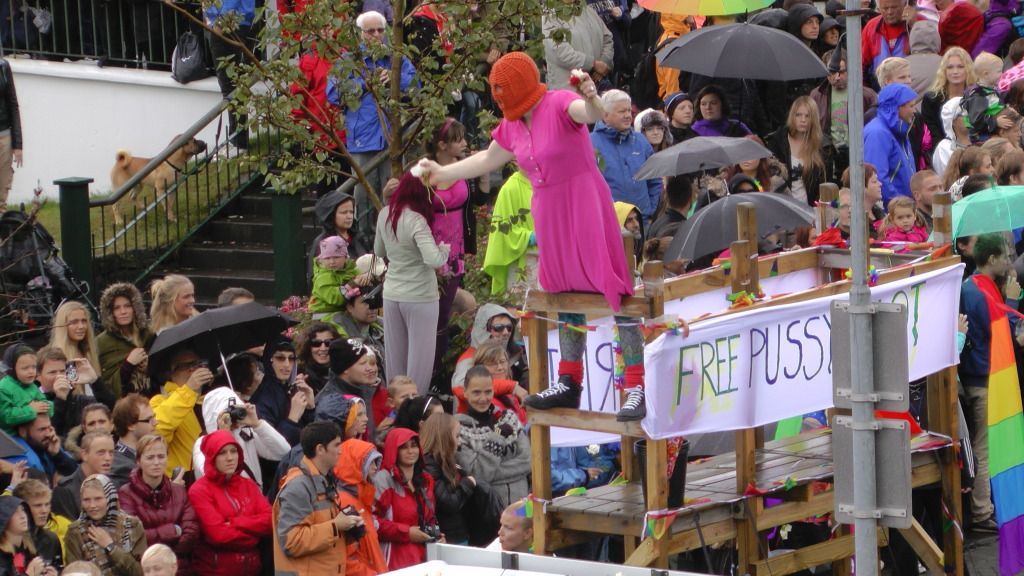 Why, that's none other than the mayor of Reykjavík, Jón Gnarr, once again taking part in the parade in drag.
Except this year, he's also doing his part to support Pussy Riot, the Russian feminist punk music collective who had several members arrested for protesting Putin (their cause is a big deal over here and gets a lot of press).
These T-shirts say "Proud Family". Note that even Batman (or as he's known over here, Leðurblökumaðurinn) is getting involved!
Hinseginn Kórinn, the Queer Choir, takes part of course.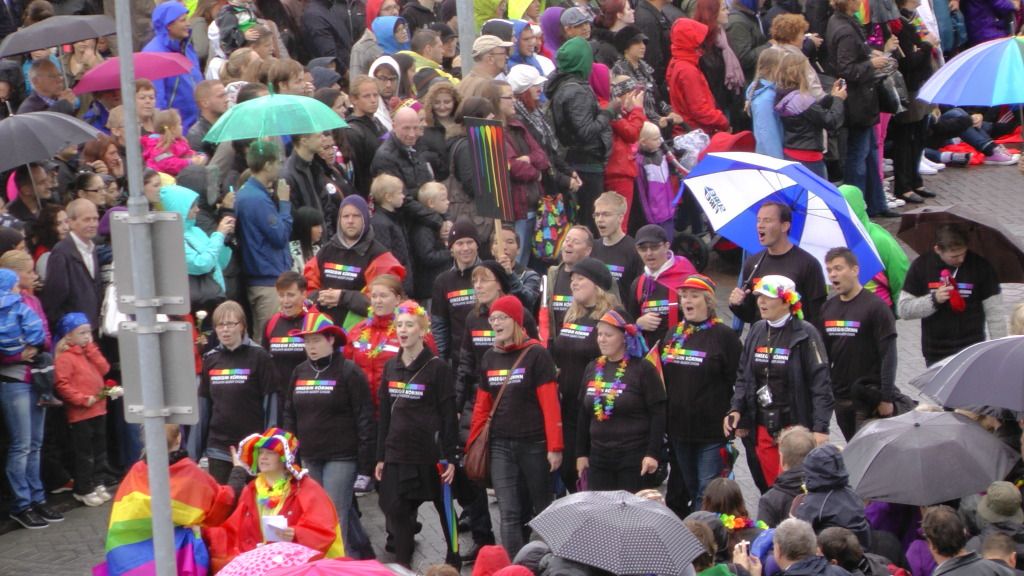 Of course, there are rainbow flags...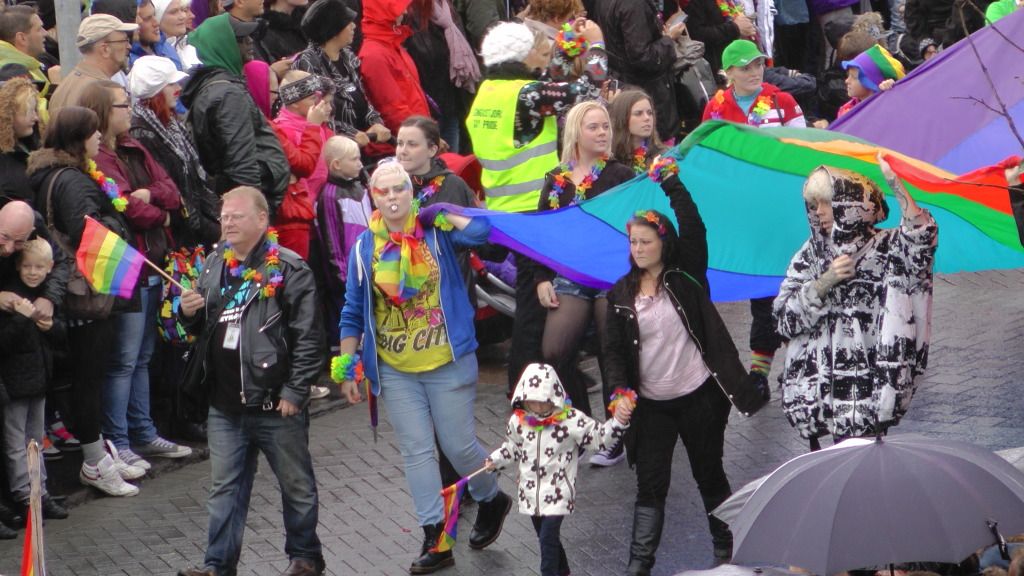 That is... big rainbow flags ;)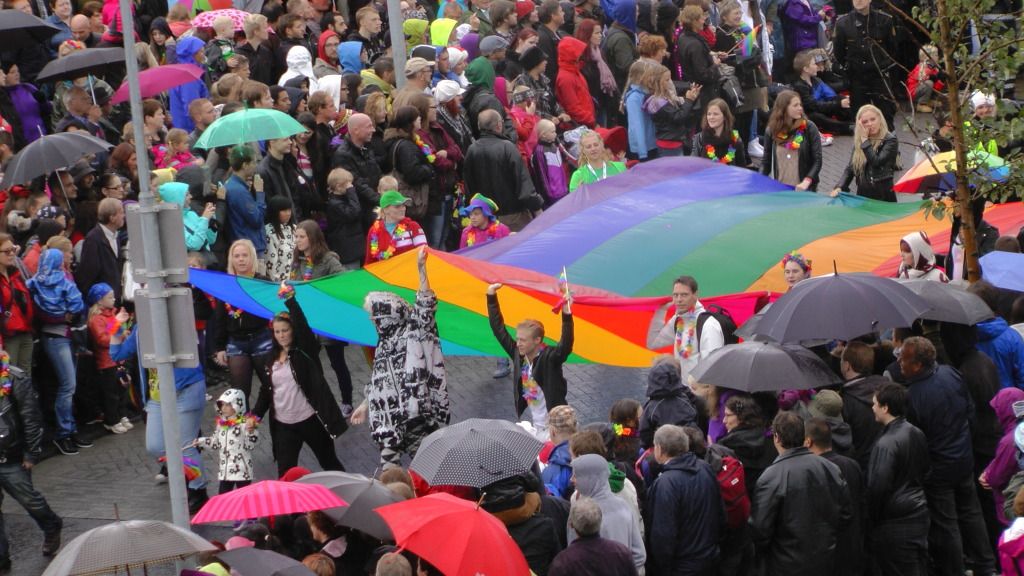 And a wedding.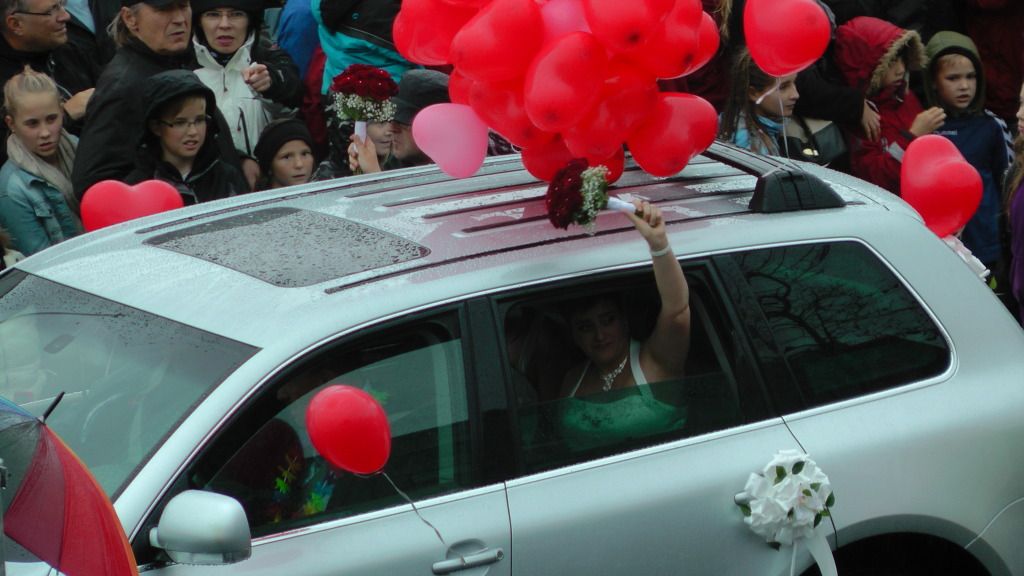 You know, a right proper party: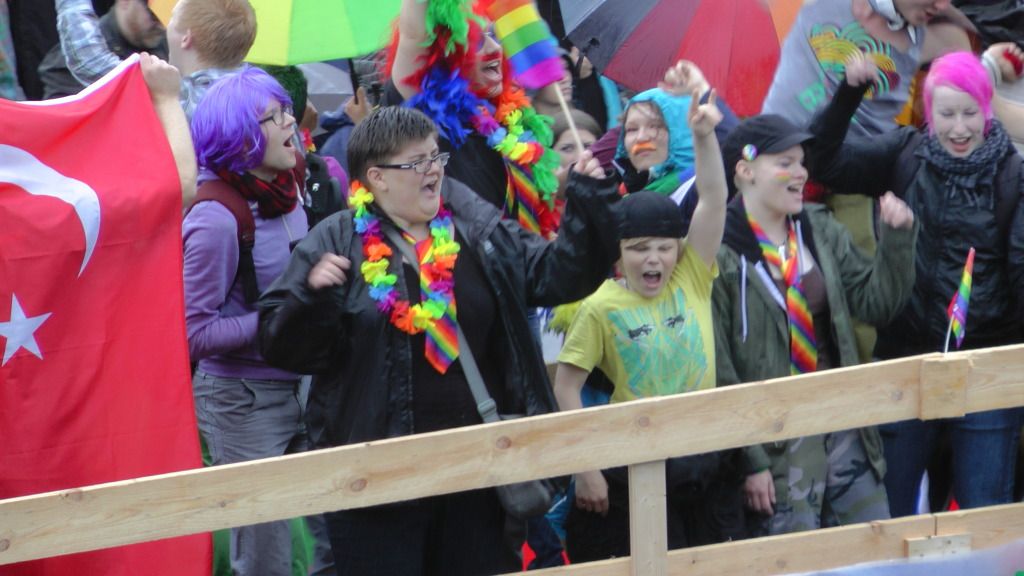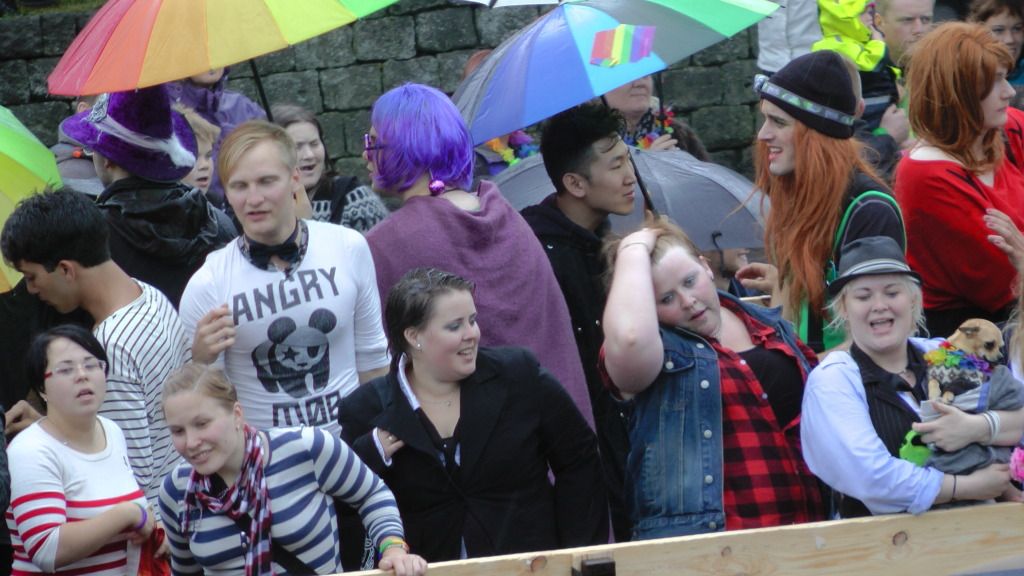 Time to cue the unusual costumes...
This being Iceland, finding sufficient creativity isn't a problem.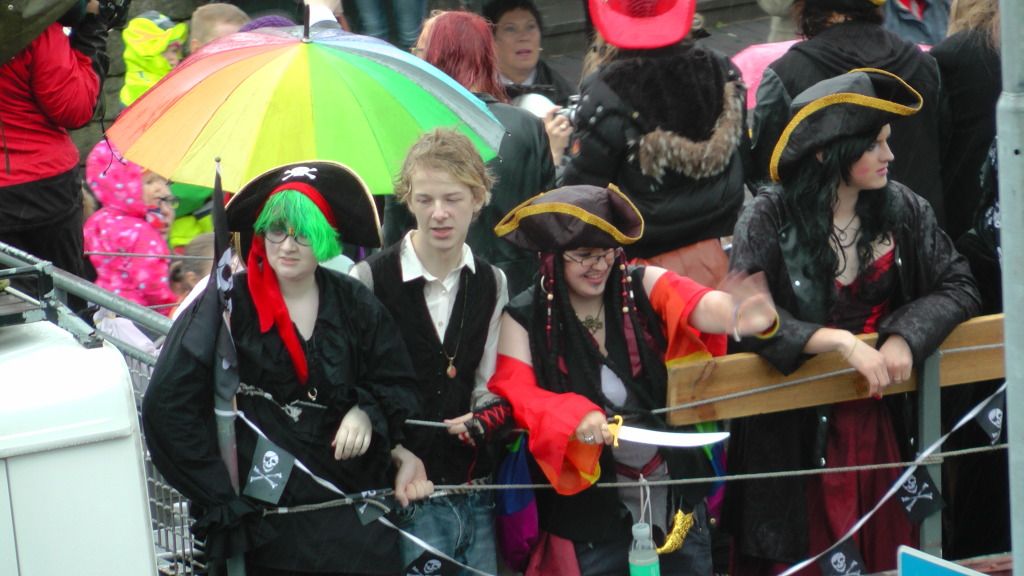 Too much, however?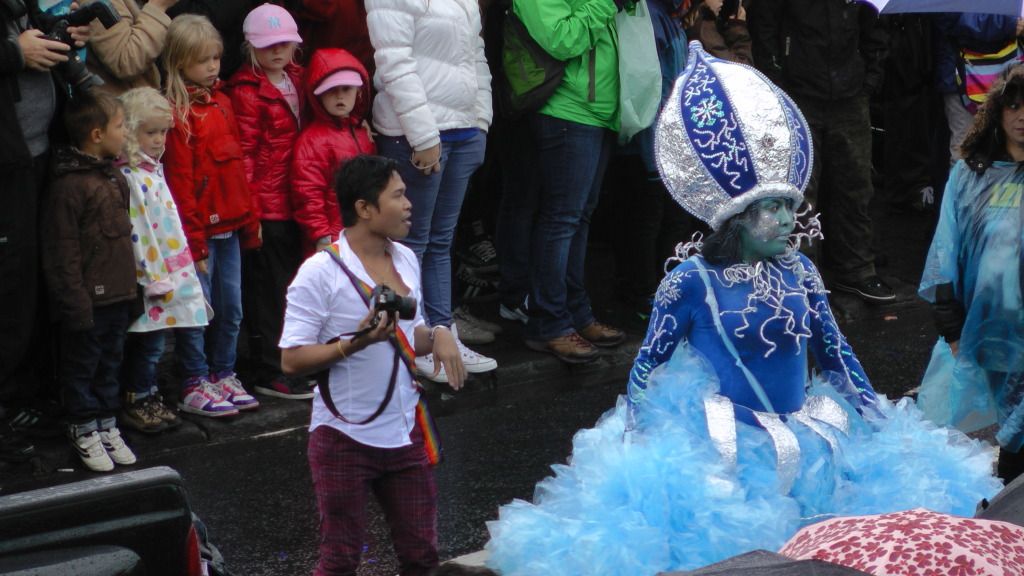 Nahhhh.... go alien space pope!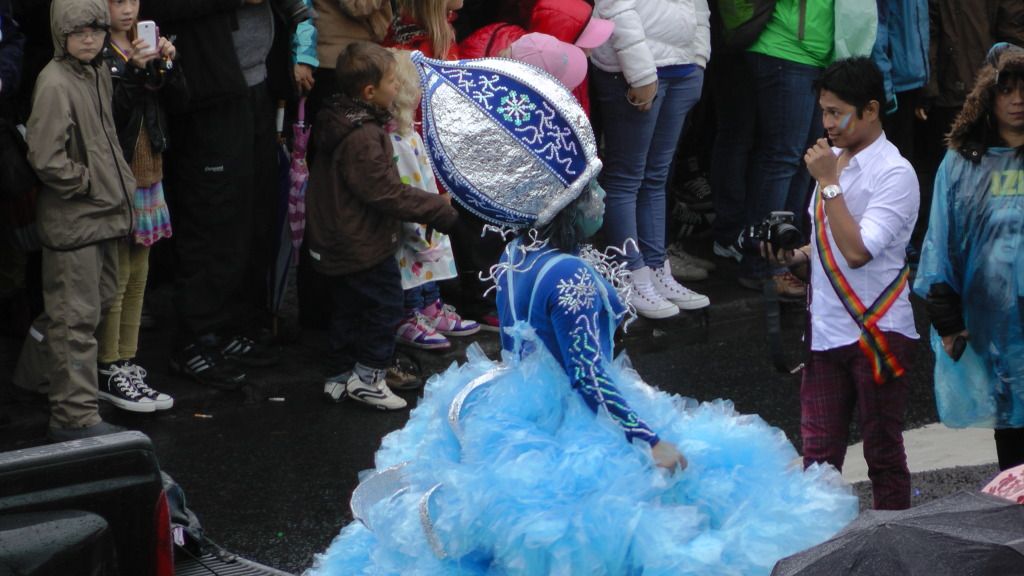 I have a feeling Björk is getting ideas ;)
Anyway, Áfram, Ísland!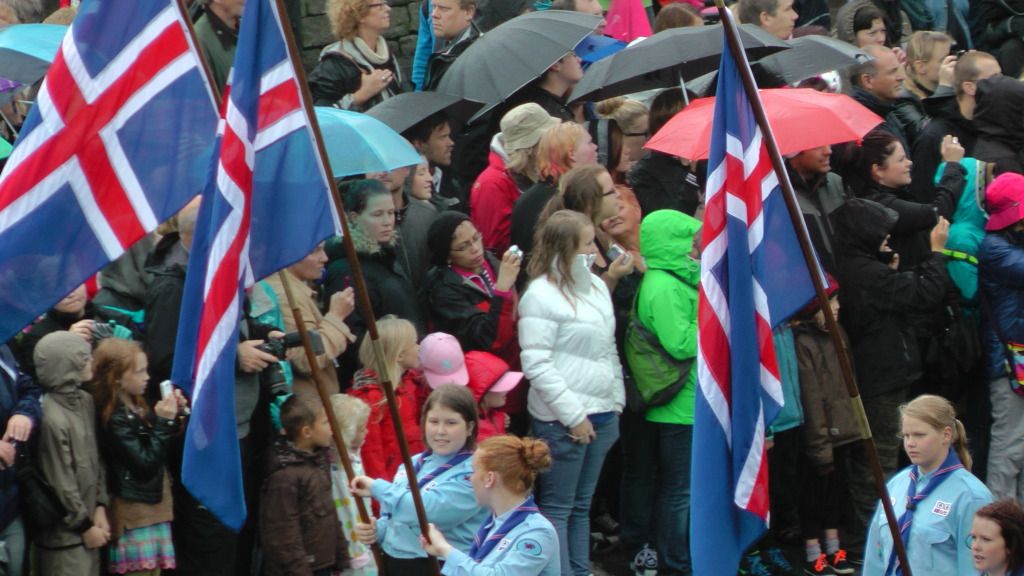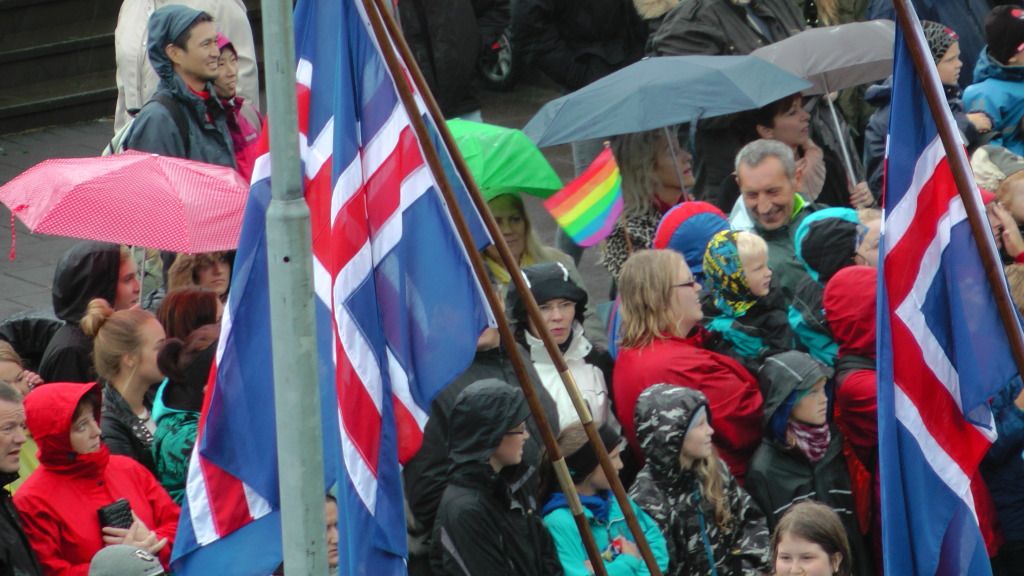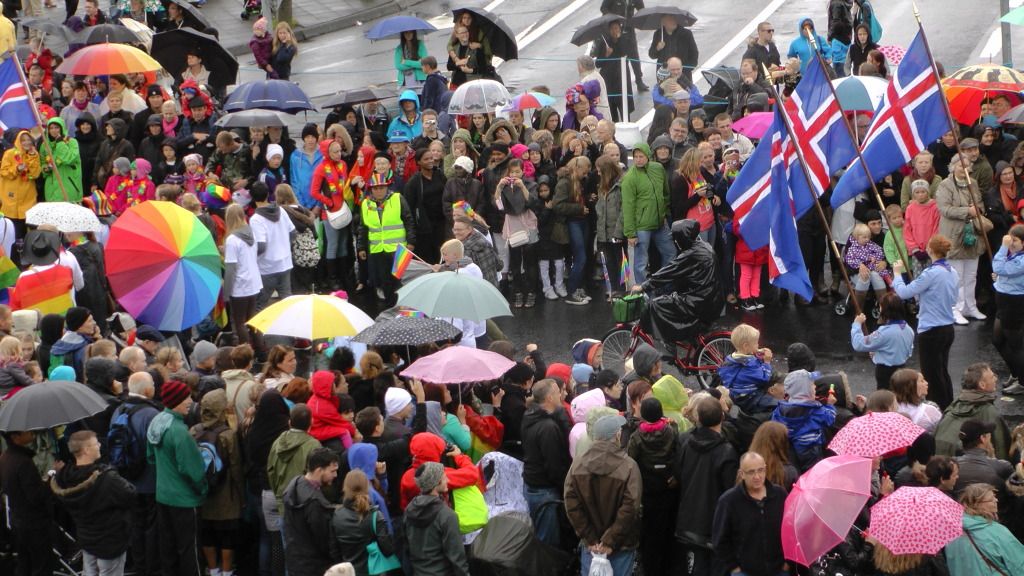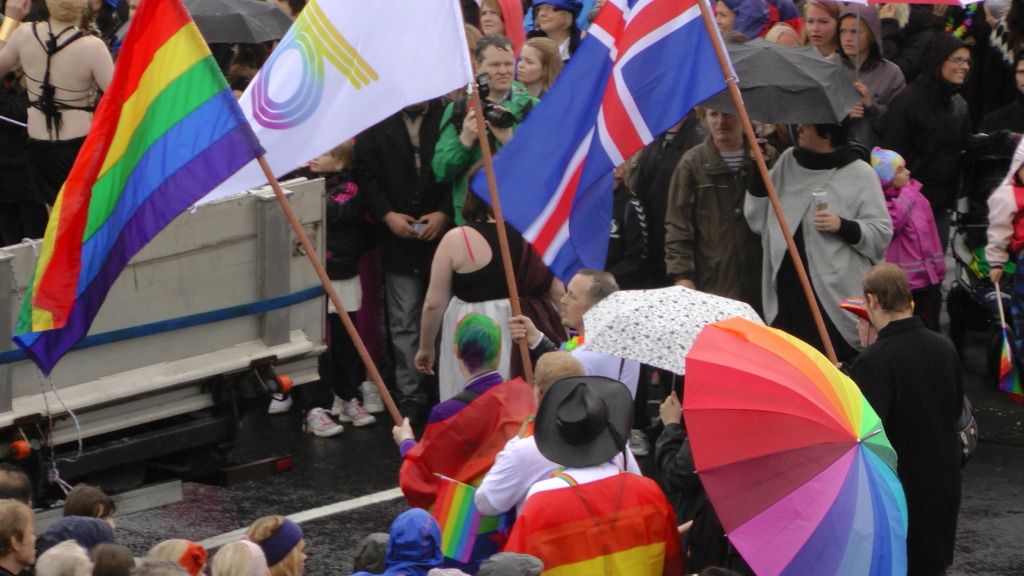 Anna Kristjánsdóttir, the first out transwoman in Iceland...
... walks ahead of the Trans Ísland float:
Rainbow time.
A local gay sports club races down the parade route in charges.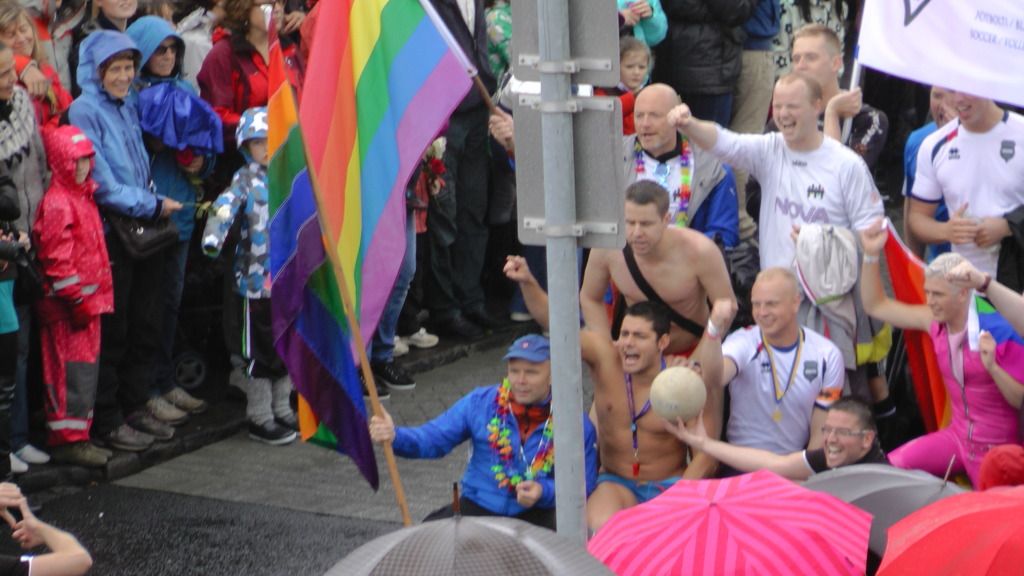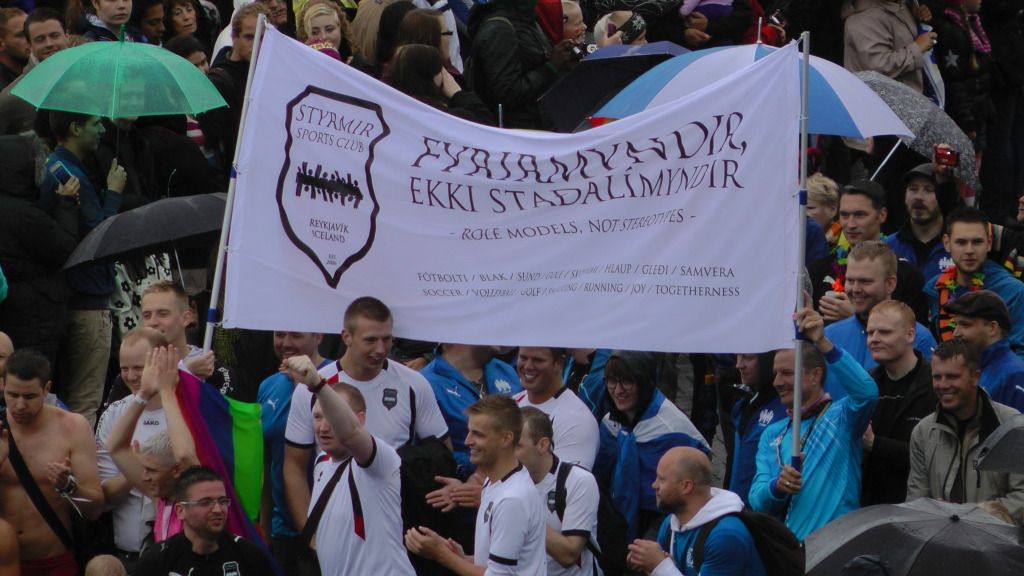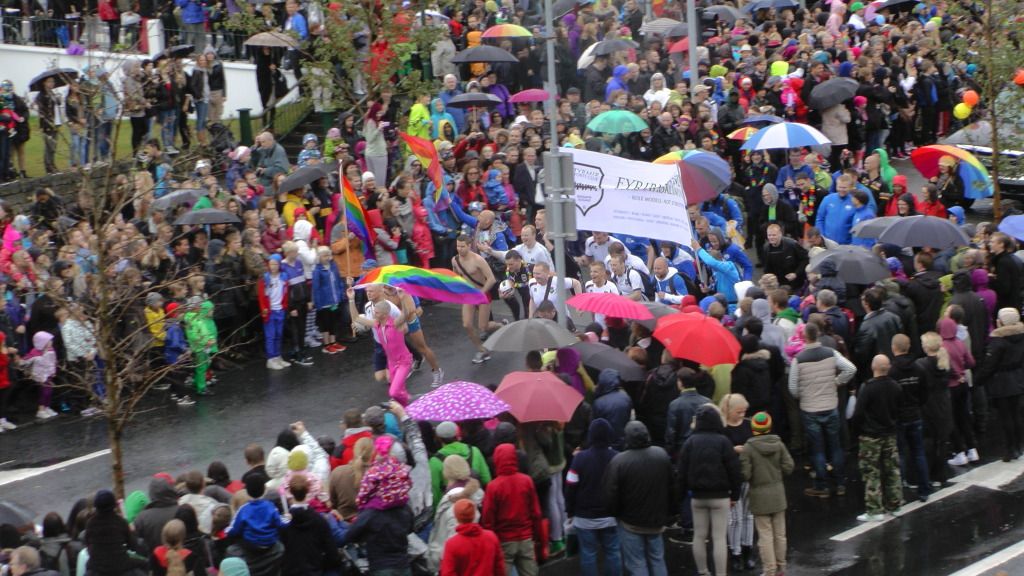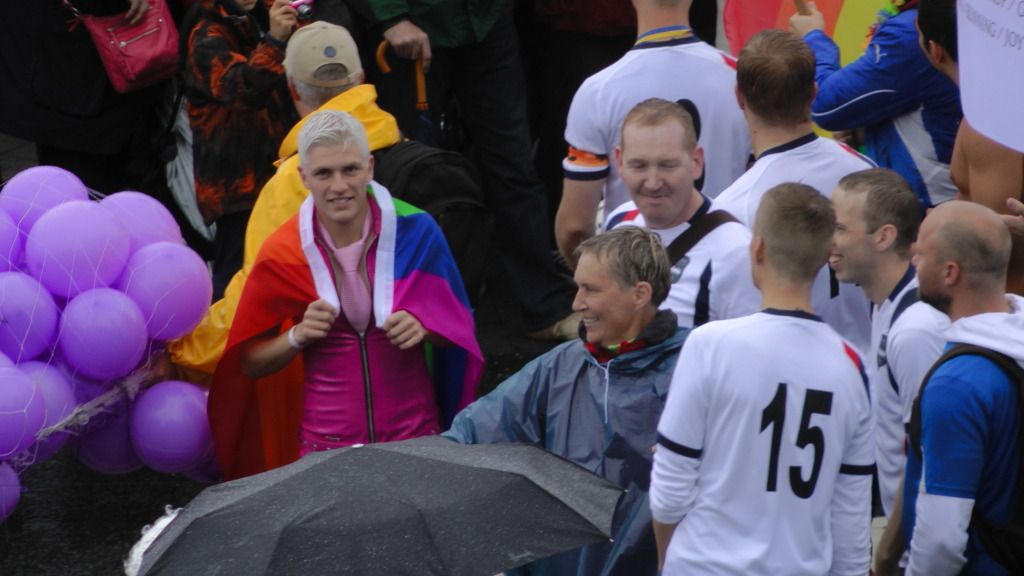 For those of you wondering what the sign behind the lesbian pole dancing float means - that says that's the prime minister's parking space.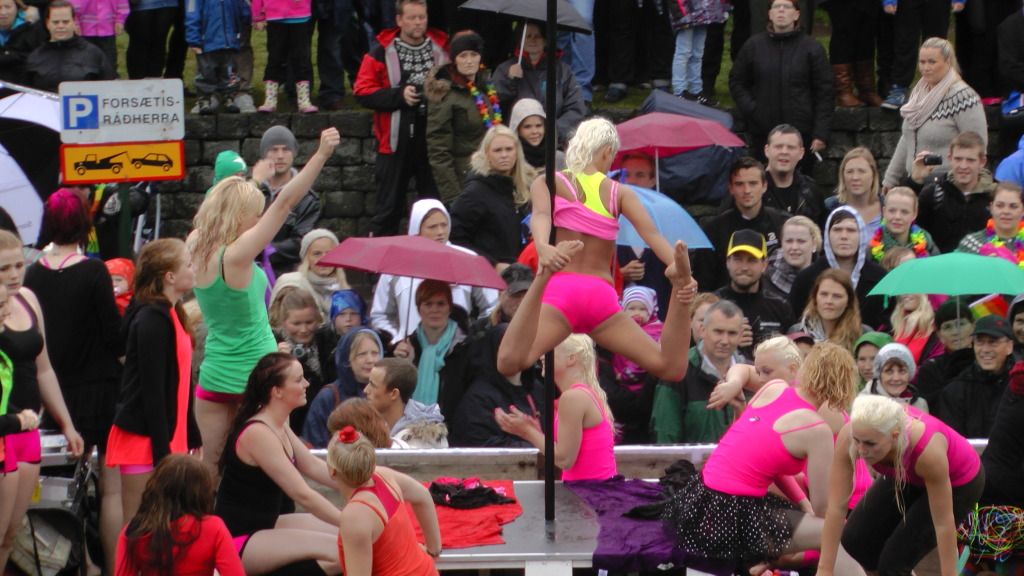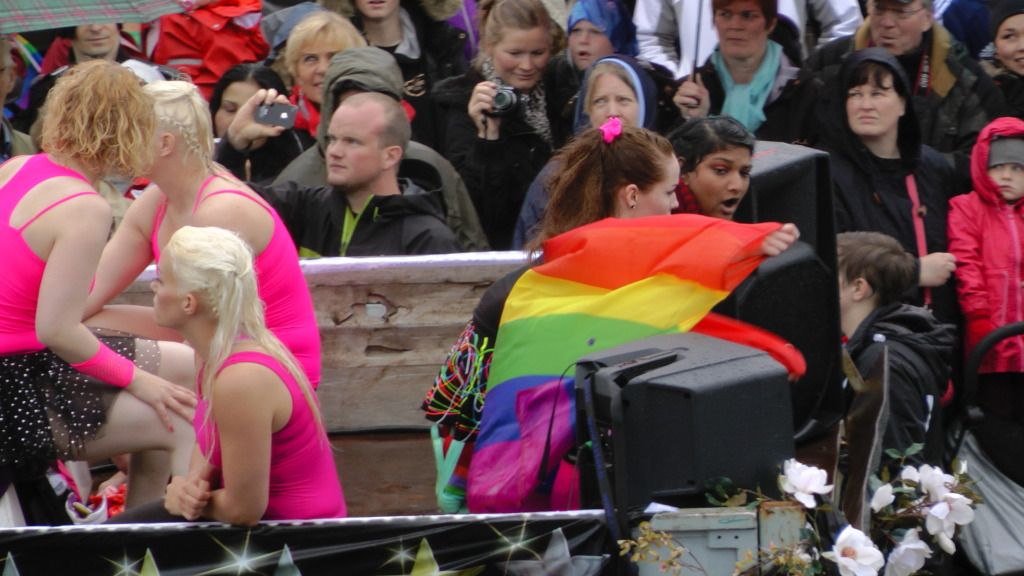 Given that the prime minister is a lesbian, though, I doubt she'd mind ;)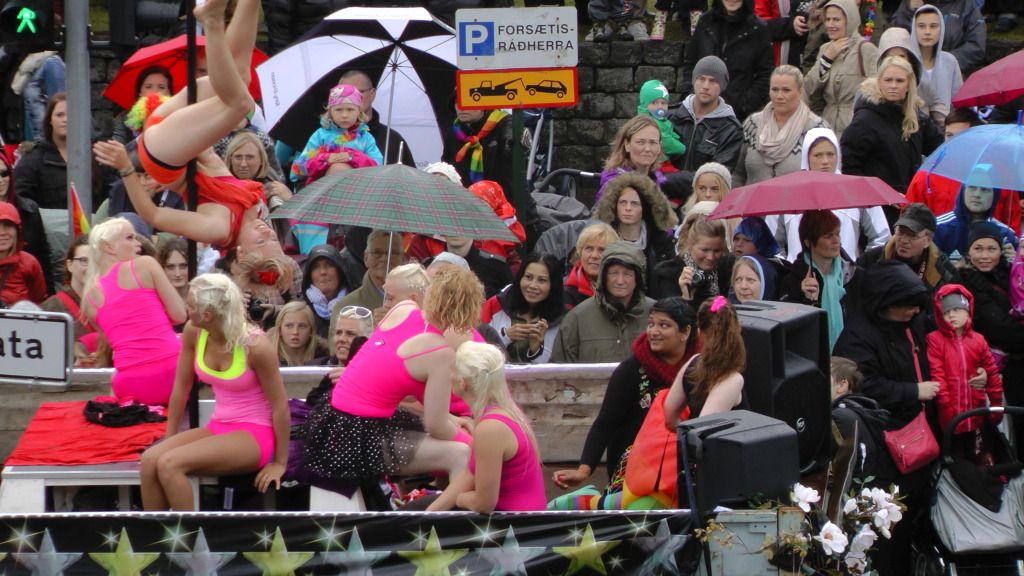 My favorite float in the whole parade.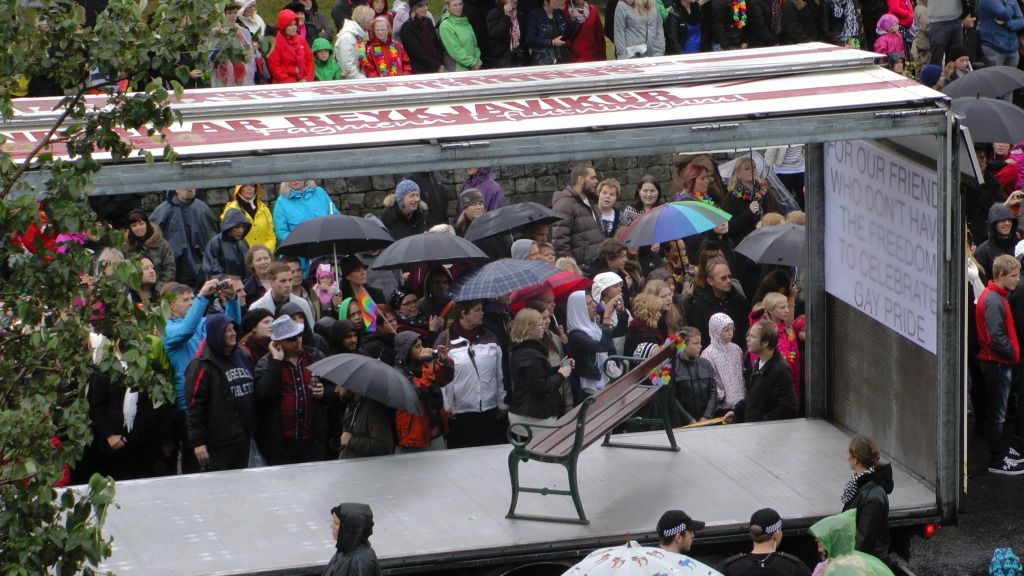 And, back to the glam...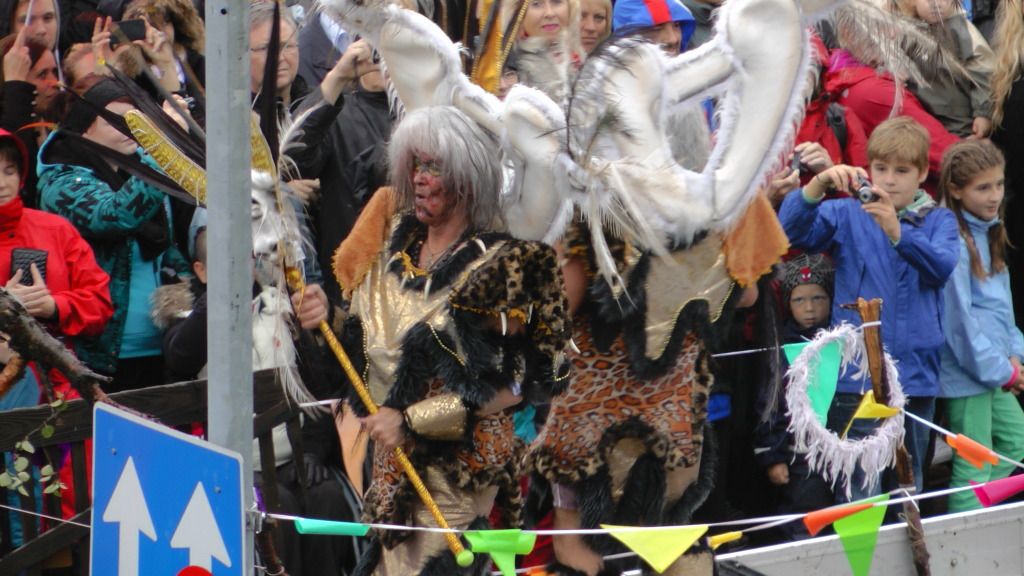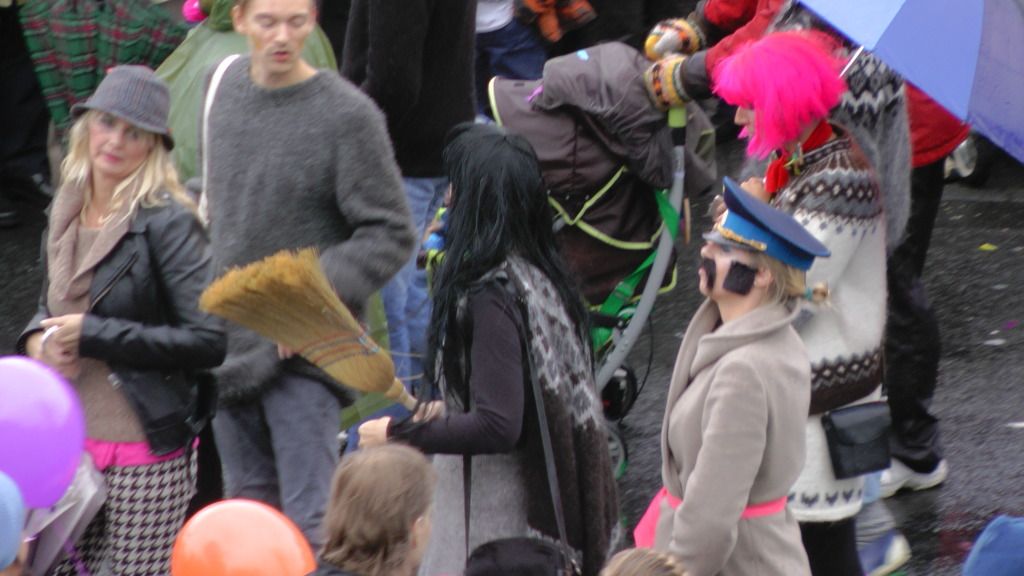 The closing float arrives...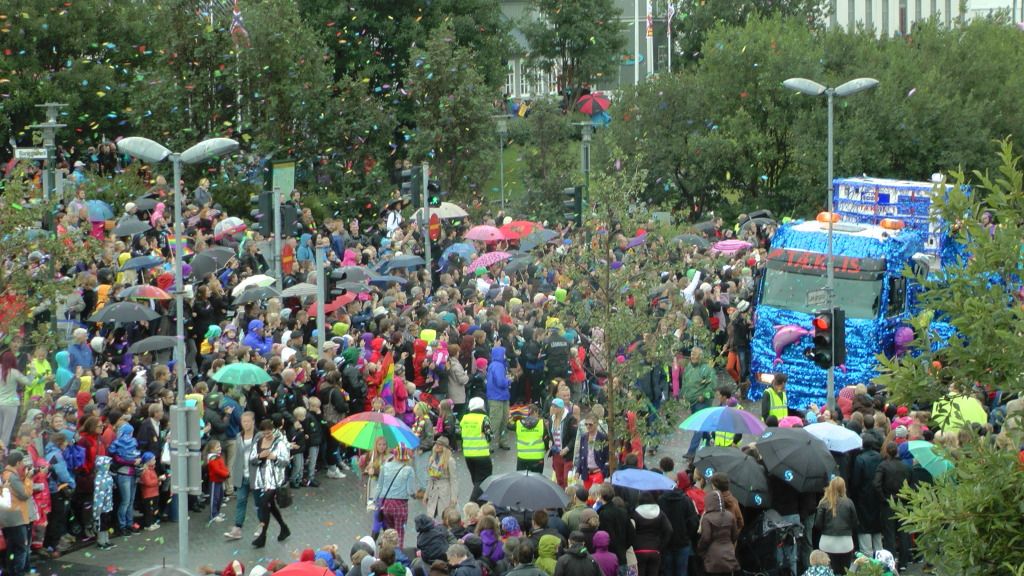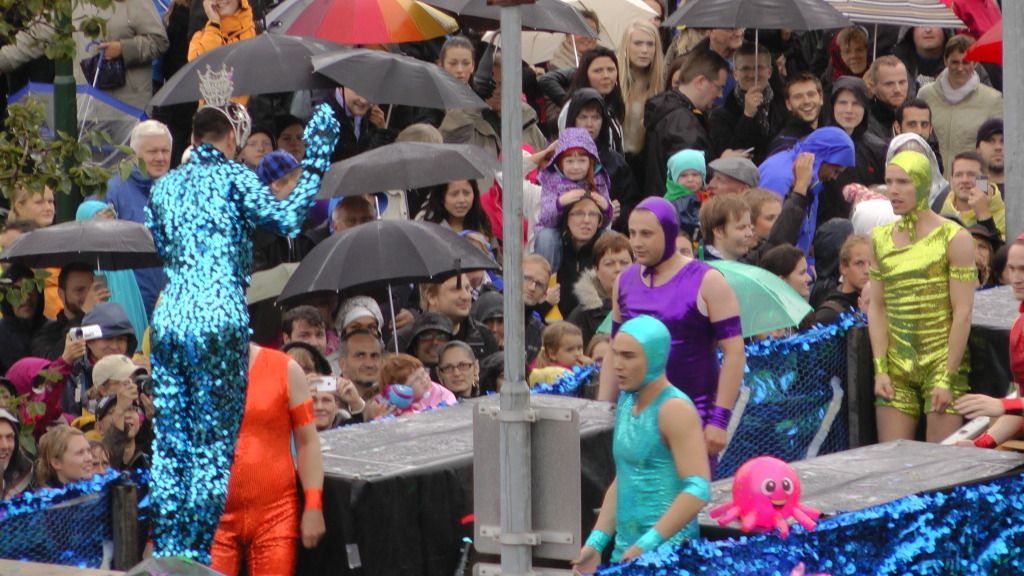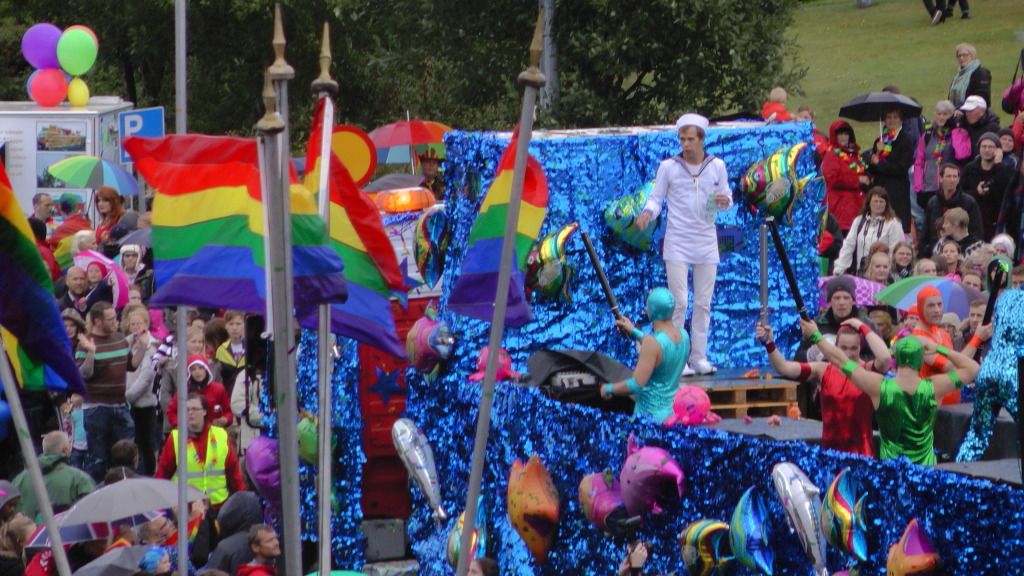 Paradegoers await the concert's beginning.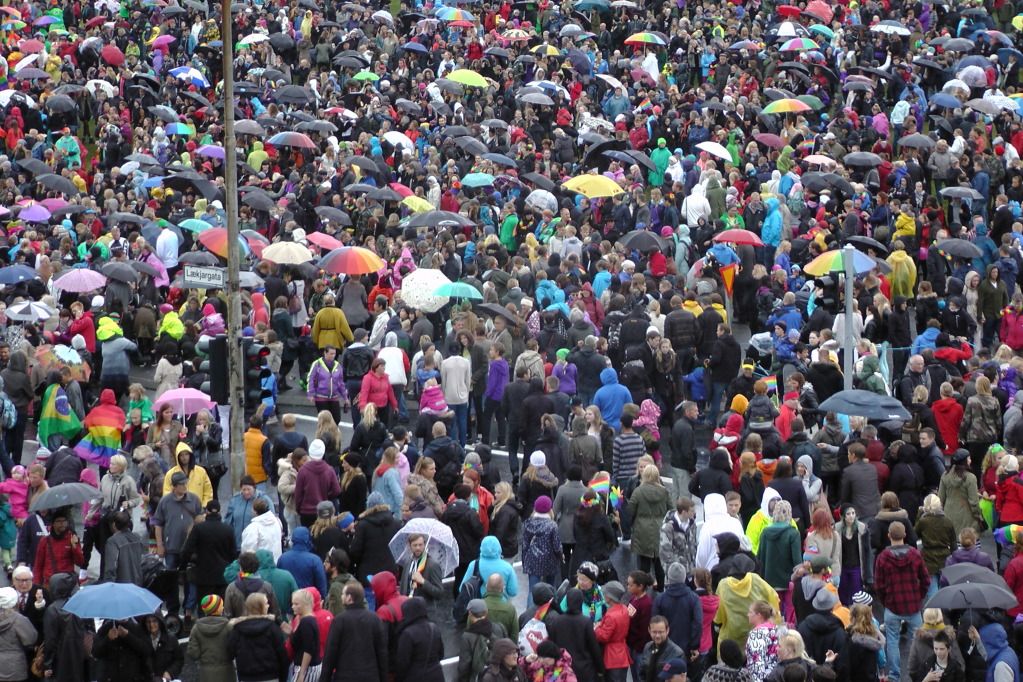 Some get the best seat in the house, if they're willing to risk a 3-meter fall (which of course, being Icelandic kids, they are):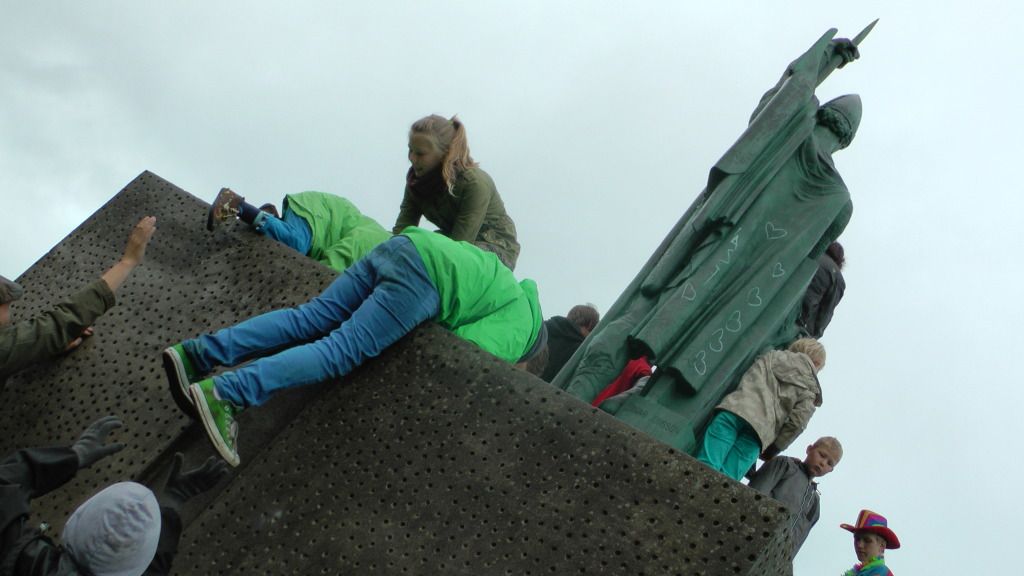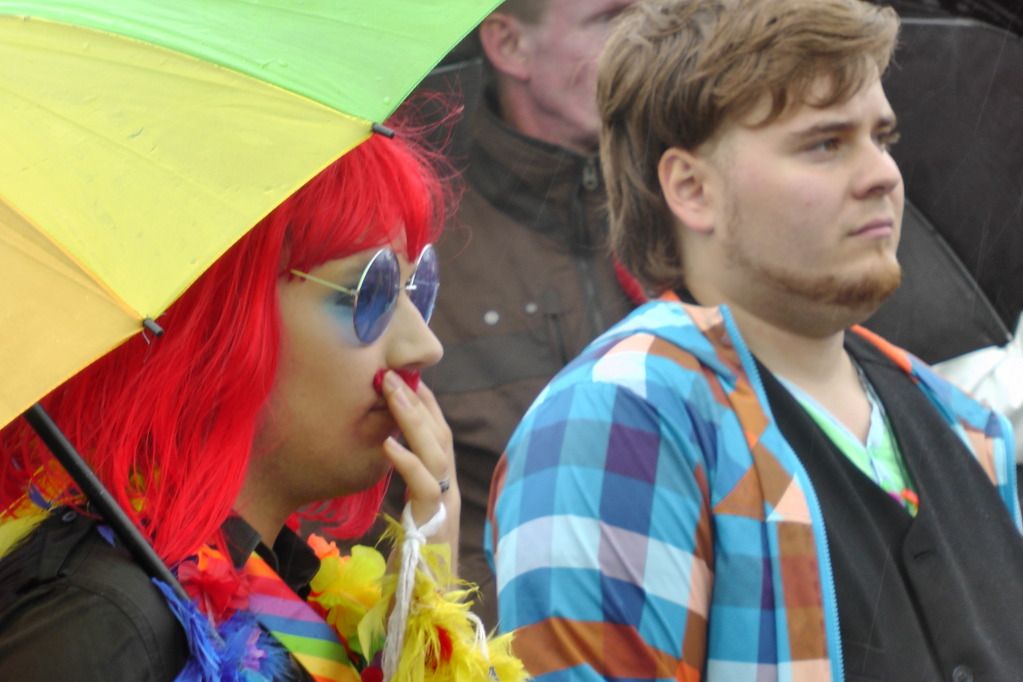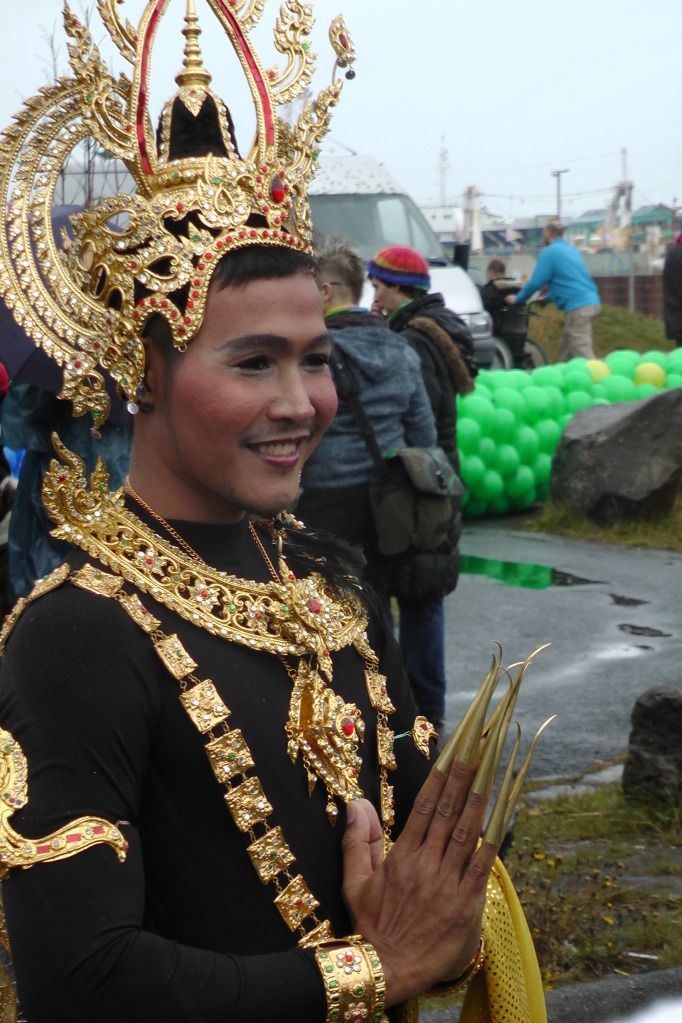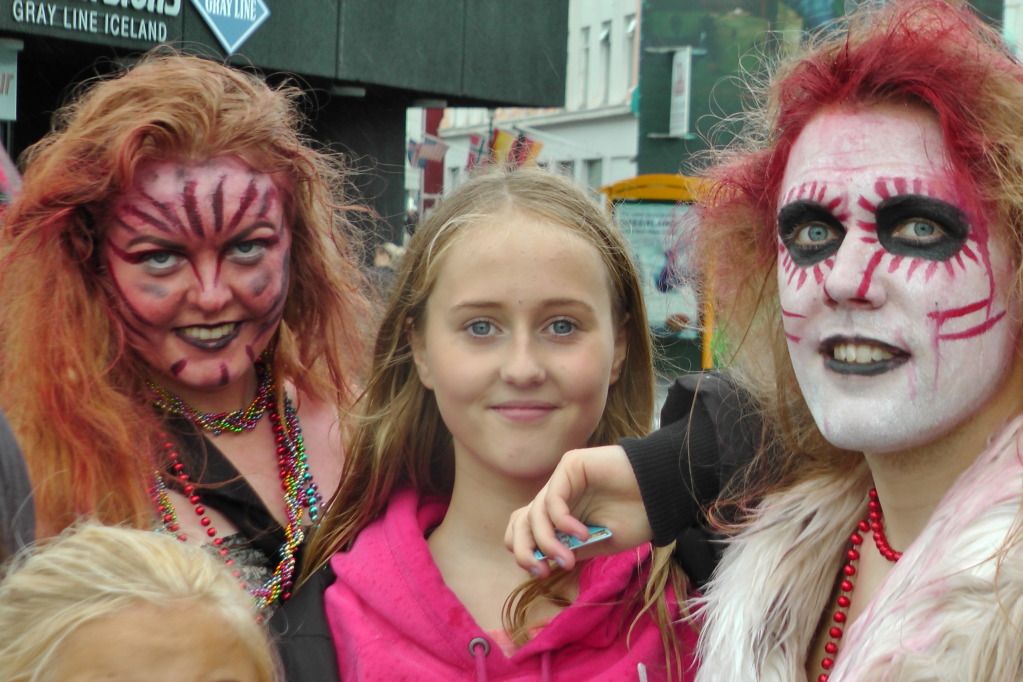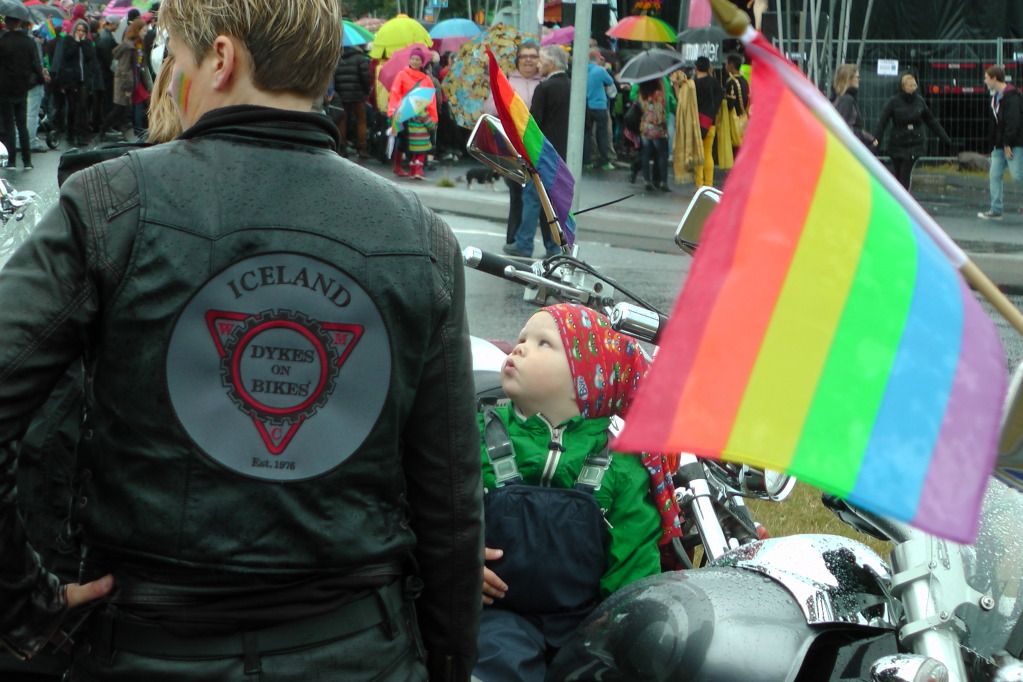 I love my country. :)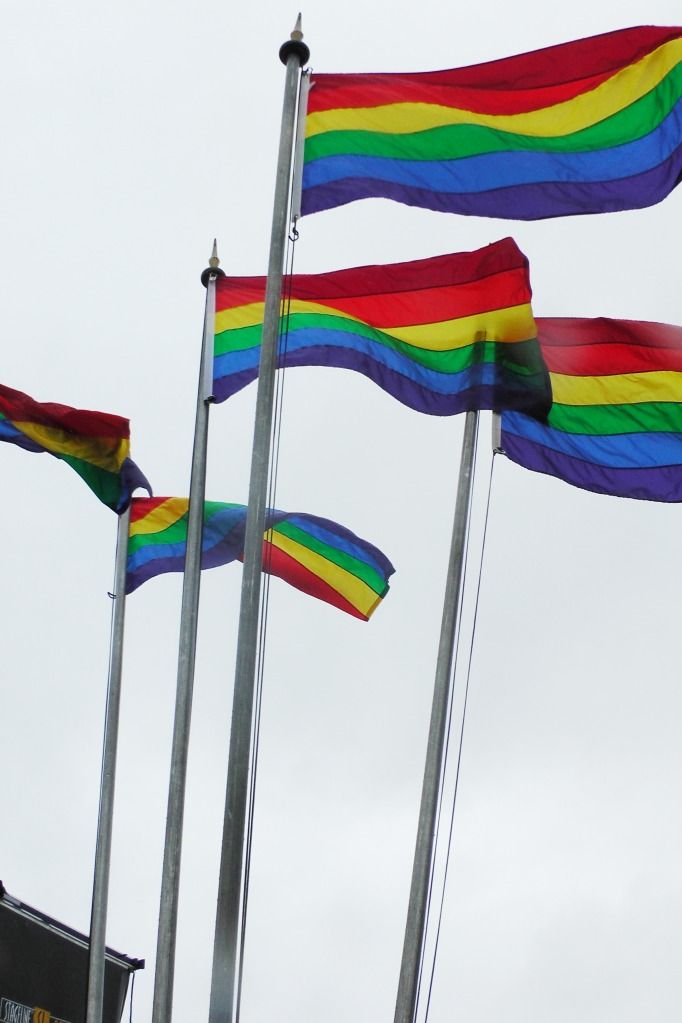 -----
For the whole parade:
Part 1:
Part 2: