Welcome, friends. The purpose of this regular series is to promote enthusiasm and action among Daily Kos members. Romney will very likely out-fundraise President Obama. However, we believe that we can still win if (1) we can remain competitive financially, and (2) we volunteer our time and energy (GOTV, canvassing, phonebanking, LTE, ...).
ObamaNightlyNews posts every night at 9:00 ET, 8:00 CT, 7:00 MT, 6:00 PT


Follow @ONNdailykos
Yesterday was the official kick-off of President Obama's DREAM Executive Order to allow people who were brought into the country illegally as children to remain here and get a work permit. Across the country, thousands lined-up to get help in applying for this deferred status.
Montano is in the country illegally. Her family brought her from Bolivia when she was 6, and the prospect of finding a college, medical school, residency program and hospital that would allow her to study and work was overwhelming. The family even considered moving back to Bolivia.

"It doesn't feel like it's real," Montano, now 17, said as she filled out her application at a clinic hosted by the National Immigration Forum in Washington, D.C. "My biggest worry was working after school, finding a residency program that would take an undocumented person. Now I see there's something out there."
Chicago: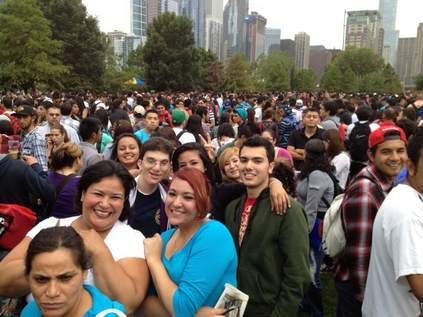 At one point, everyone in the ballroom took a break from talking with volunteer attorneys and going over paperwork to recite the Pledge of Allegiance before a U.S. flag. Liliana Garcia's voice rose above those around her during the pledge and at times cracked with emotion.

Applying for protected status means she might be able to land something better than the minimum-wage cashier's job at a local supermarket that has supported the family, she said.

"It's going to mean a lot for us," she said. "I can give them a better future."
Los Angeles: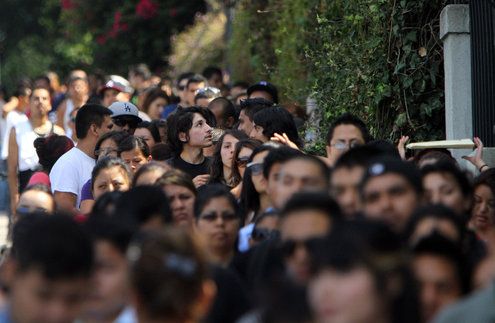 Elsewhere in Westlake, hundreds stood in line at the Central American Resource Center, waiting for informational workshops and lawyers' advice. Darkis Caballeros, 20, who waited with her 16-year-old sister, was ecstatic at the notion of no longer hiding her immigration status.

The sisters had left Guatemala City five years ago to join their mother in Lawndale. Darkis said she wants to become a medical assistant if she's allowed to work legally.

"And have a car," she said, smiling. "With a license."
However, Obama's Executive Order is only a temporary solution. In order to get a permanent solution, we need to re-elect President Obama and a Democratic Congress.
Other Latino Election News:
Univision is asking Romney and Obama to participate in a forum to discuss Hispanic issues.
Romney was met by 75 protesters outside of a fundraiser in Birmingham Alabama yesterday. They were protesting Romney's anti-DREAM Act position and his moronic "self deportation" plan.
President Obama continues to hold a large lead with Hispanic voters over Romney in polling and his selection of Paul Ryan doesn't look to help Romney with Hispanic voters:

Obama's lead over Romney among Hispanic voters in national polling hovers around and even above the 40 percent mark. Last month, a Latino Decisions survey showed Obama touching 70 percent of the vote and leading by 48 points. An NBC/Wall Street Journal/Telemundo poll conducted in late July found Obama taking 67 percent of Latinos to Romney's 23 percent. The POLITICO/George Washington University Battleground Poll published Monday placed that lead at 62 percent to 26 percent.

Link to
Transcripts and Documents
.