Rachel Maddow had done it again. She went digging in the video archives, and pulled out a clip from 1974, which she showed on The Rachel Maddow Show tonight. Why is Rachel the only one hammering Mitt Romney on the fact that he has lost all credibility when he says "trust me" about what's in his income taxes?

We spent a lot of very good time in the way deep archives today, looking for the tape that we showed at the top of show about the last time the Republicans picked a member of the House for their vice presidential nominee. That was the Barry Goldwater campaign back in '64. And while we were rooting around in all that archive tape, we had a little bit of a eureka moment when we got to the part of the archives about tax returns. I've never seen this before today, but I think this is amazing.

Alright, it's 1974, Richard Nixon has just resigned. Gerald Ford, therefore, has just become President, and by the power vested in him by the 25th Amendment to the Constitution, Gerald Ford gets to pick who the Vice President of the United States will be. But because there is not an election that confirms his pick, this is just somebody being appointed by the guy who has just been named President, actually Congress has to confirm the choice. Congress has to confirm the guy Gerald Ford picks to be the new Vice President.

Who does he pick? He picks Michael Bloomberg. Actually, he picks the Michael Bloomberg of his time. He picks a governor who is a giantly, giantly rich New Yorker. But Nelson Rockefeller has to go before the Senate to be confirmed as V.P., and Nelson Rockerfeller will not release his tax returns. At least he tries not to. Watch him try not to with members of the press. The context here is that he's saying he will release his tax returns if the Senate demands that he has to. But he's not going to give his tax returns out to some pesky reporters.


[Video of press and Nelson Rockefeller, August 20, 1974]

Rockefeller: The role of a vice president totally depends on the President. If the President wants to use him. Wonderful. If he doesn't. Fine.

Reporter: What will you do about your financial assets to meet the requirements of the vice presidency?

Rockefeller: I'll just conform to the law.

Reporter: Governor, are you prepared to detail your personal finances for Congress, including your tax return?

Rockefeller: I'm prepared to do whatever the Congress asks me and to conform to the law in every respect.

Reporter: What is your net worth now, Governor?

Rockefeller: You are not a member of the Congress. Excuse me.

Reporter: You seem to be a little less open with us.

Rockefeller: Well you're not the Committee of Congress, and I haven't been confirmed. And I haven't gone before the committee. My understanding is that protocol says that you don't discuss matters that are going to be taken up by Committee before you get to the hearings.

Reporter: Do you doubt you will be confirmed?

Rockefeller: Pardon me?

Reporter: Do you doubt you will be confirmed?

Rockefeller: I would never take anything for granted in life. Particularly action of this Congress. Thank you, gentlemen, it's been a pleasure. I may see you again.

Eventually Nelson Rockefeller did get confirmed by the Senate, but not before coughing of up seven years of tax returns.
August 27, 1974
: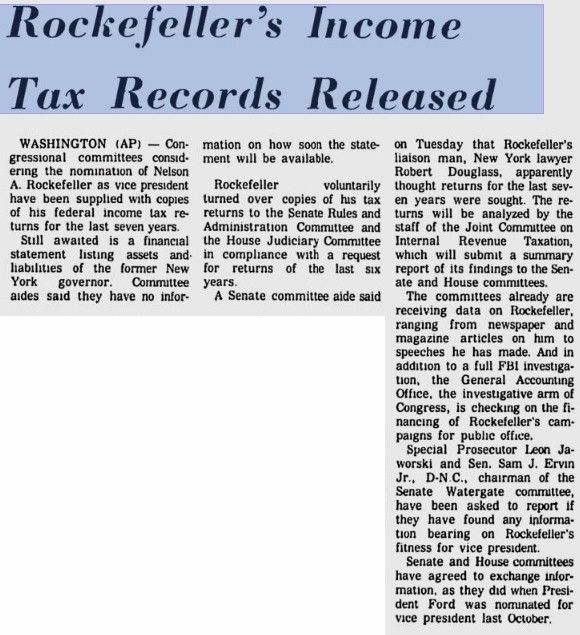 Precedent matters, right? I mean politically, right now, the most important thing about Mitt Romney not releasing his tax returns is that he hasn't been able to change the subject from people asking him to release his tax returns.
Wow! In order to be confirmed by the Senate to be Vice President, Nelson Rockefeller had to release seven years of his tax returns. And still, Romney refuses to release his. This made me wonder about whoever became vice president to Lyndon B. Johnson when he became President after the assassination of John F. Kennedy. I didn't know this, but it turns out that LBJ served without a vice president until he ran for the presidency in 1964 and selected Hubert Humphrey as his running mate.
But substantively, there's two things that I think are under appreciated and very relevant to this whole discussion. One of them is precedent. The other, of course, is what light his tax returns would shed on his plans. How much money he would make under the policies he's proposing for the country? What his policies would do for his own tax burden and the taxes paid by the middle class.

On the issue of precedent, though, again I think the national press for some reason is just blind to looking back at Mitt Romney's public record. I don't really understand it, but it seems that there's a willful resistance to looking back at what Mitt Romney has done in public life in the past.

When Jim Messina from the Obama campaign today tried to make a deal with the Romney campaign about the tax returns, Obama campaign narrowed the question. They asked for five years of returns. They asked Mr. Romney to release from 2007 to 2012, basically the years Mr. Romney has been running for President. In doing that, they tried to address the Romney campaigns main objection to releasing more tax returns. They keep saying that they're worried that if they reveal anything, the Obama campaign will only demand that they release more. Well today, the Obama campaign manager acknowledged that concern, he said quote, if the Governor will release five years of returns, I commit in turn that we will not criticize him for not releasing more–neither in ads nor in other public communications or commentary for the rest of the campaign See Obama campaign to Romney campaign: Release five years of taxes, and we'll stop asking, The Washington Post, August 17, 2012].

Despite the question being narrowed and their objection being met, the Romney campaign still said no. No deal. Mr. Romney said he had looked over the last decade of his returns and found that he had never paid less than 13%. And we all have to trust him on that.

But Back when he was running for Governor in Massachusetts, in 2002 Mr. Romney set a precedent for what he is doing now, and it was a bad precedent. He was refusing to release his tax returns, he was insisting instead you just have to trust me.
At this point Rachel goes into a rehash of what happened in 2002 when Mitt Romney lied to the public for months about his income taxes before finally having to admit he had been lying. She has covered this topic twice before on her show. First on August 1. You can find the transcript and video in this diary:
Rachel Maddow Helps President Obama Expose Romney's Achilles' Heel
. She reported about it again on August 3. You can find the transcript and video in this diary:
Rachel Maddow: "Mitt Romney has a tell."
where Rachel told Mitt Romney flat out on why the people of the United State of America should not just trust him on this issue:
Therefore, you either need to be very trustworthy in your assertions about these things or you need to let us check for ourselves as the American people and the press. And not only are you not letting us check for ourselves, but you have proven yourself in public life to be the opposite of trustworthy on this particular issue. Ten years ago, you lost the benefit of the doubt on this issue.
This is something that every reporter in the MSM should be saying to Mitt Romney. We do not trust you when you say that there is nothing to see in your taxes. In addition to the fact that Mitt Romney was caught lying about this issue in 2002, there is also the issue of how any plans he has as president would affect his own finances, there's also the issue that was raised in this diary yesterday:
Mitt's Taxes: Its about National Security, not how much he paid
. It would also be the honorable thing to do, considering Mitt Romney's own father, George Romney when running for president in 1968 released 12 years of taxes, saying "One year could be a fluke, perhaps done for show, and what mattered in personal finance was how a man conducted himself over the long haul."
Mr. Romney, a majority of American people want you to release more years of your taxes. You're asking for a majority of the American people to vote for you for president. How do you expect them to vote for you, when you will not honor their request? We can not vote to somebody who has proven himself to be a liar on this issue in the past.

A CNN/ORC Poll taken August 7-8 showed 63% of voters thought Romney should release additional years of tax returns. Among independents, 67% said the Republican candidate should release more years of returns.