When we get a new political kid on the block, the media just stumbles all over themselves--grasping at every word like he or she is the second coming. It's Ryan's turn now so I watched his lies and spin at The Villages.
I couldn't help but notice that his crowd seemd significantly smaller than Palin's just four years ago. So I engaged in a couple moments of citizen-journalism because we know it will take at least two more weeks before TV newsers can criticize him.
I've read several accounts and he didn't come nowhere close to the crowd Sarah created. Here's a taste:

"A plane flew overhead with a sign: "Paul Ryan keep your hands off our Medicare."

The Villages is a massive retirement community about 50 miles northwest of Orlando, and one of the biggest Republican strongholds in Florida. A fire marshal estimated 10,000 people attended the event, though the crowd appeared smaller than that. Four years ago, newly minted vice presidential candidate Sarah Palin came to The Villages after the Republican national convention, drawing a crowd estimated at 25,000 to 60,000."
So even with the most generous speculation, Sarah Palin drew up to 6-times more people in the same community. That should cause serious alarm because even in the heart of republican country, seniors are not feeling Ryan's destruction of Medicare.
Checkout the pictures below to see the difference:
Attendance picture from Palin four years ago from: http://www.postonpolitics.com/...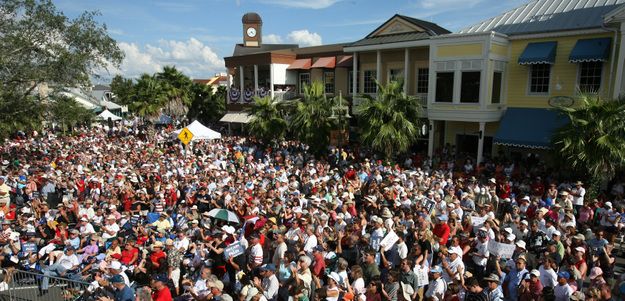 Attendance today of Ryan from: http://politicalticker.blogs.cnn.com/...