Mitt Romney is scheduled to reveal a bold, new energy policy today in a major speech in New Mexico.
You'll never guess what it is.
Well, okay, sure. Of course it's "Drill, baby, drill." No points for guessing that one. But Mitt's put a new hook to the old song:

Mitt Romney will unveil an energy plan Thursday that would give states the power to determine whether drilling and mining should occur on federal lands within their borders as part of a larger effort to increase domestic oil, coal and natural gas production and achieve energy independence.

Under current law, the federal government controls oil, coal and gas permits for federal lands. But in a speech at an oilfield services company in Hobbs. N.M., Romney will argue that determination should be up to state officials, insisting individual states are in a better position to "develop, adopt and enforce regulations" on local basis than the federal government--which his campaign says has been unduly influenced by Washington politics.
And, honestly, who better decide on energy production policies for federal land than, say, non-federal actors? State leges are, of course, a much cheaper buy for large energy interests, but that can't be Mr. Romney's
public
reason for this new policy. No, you see, the real reason we need offshore rigs sludging the ponies at Assateague and re-striping the Hatteras lighthouse is, um, Obama?
A policy paper released ahead of the candidate's speech by the Romney campaign argues President Barack Obama "has intentionally sought to shut down oil, gas and coal production in pursuit of his own alternative energy agenda."
Alright, I know we're talking Republicans here, so facts aren't going to go a long way in any argument, so I'll try a couple of pictures.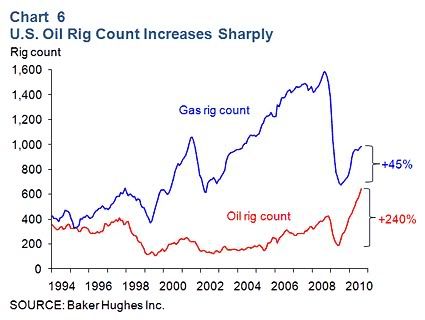 >
Here's a chart showing the total number of oil and gas rigs working in the US from 1993 'til the present (Source: Baker Hughes). Notice anything about the years since Barack Obama took office? After a drastic decline in oil drilling caused by the Second Great Depression, the sector has been screaming upward, getting more rigs online than ever.
This sector growth has led to a development few could have foreseen: we are less dependent on oil from often volatile foreign countries than we've been in years. Oops, sorry. Probably too complicated. Have another picture: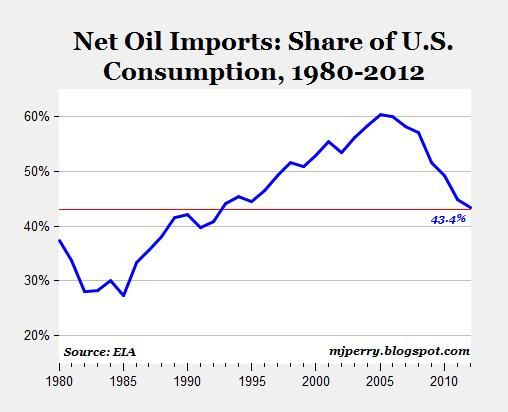 That's right, 'Pubs. Our Kenyan Socialist Dear Leader's policies have drastically increased domestic energy production, making us more independent and creating American jobs.
I know this is hard to accept, so much so that the newspapers and television won't even allow mention of the word, but. . .
. . . have you considered the possibility that your party and candidates are lying?
In all fairness, Mitt is correct in one particular. Our country does have a great, untapped source of oil available which pesky federal policies prevent us from exploiting: that damned perfect hair of his.