I write a lot of diaries. Some are on topics that fade and which I then don't think to revisit. Today I thought I would revisit them. I know that's kind of a paradox, but sometimes you can have it both ways.
So let's begin. (You can click on the headline link to go to the original diary.)
There had been no mention of the case in the press for months, and no word of how the police investigation (if any) of the murder was progressing. But I just checked and this article about the Martell case recently appeared in SFWeekly.

... everyone ((agreed)) that this crime was a horrible and senseless one. Oakland P.D. has made it a "Priority One" investigation. The problem with solving Martell's murder is not lack of interest, but the amount of homicides that have occurred this year in Oakland. Martell was the 47th murder in Oakland this year, and four months later, that number has gone up to 70.
A week ago I stumbled across some of the beautiful posters shown in the article, and now have one in my possession.
They submitted almost 800,000 signatures, but it wasn't quite enough. The statistical sampling technique used to determine if enough signatures were valid came up just a bit short.
That meant that every signature had to be checked for validity, and that could not be accomplished in time to get on the November, 2012 ballot. The validation process was completed just days ago, and enough signatures were indeed found worthy, which means that the measure will appear on the ballot in November, 2014.
Which sucks. Just not quite as badly as having it fail.
Occupiers have repeatedly 'invaded' the Gill Tract over the last few months to harvest the crops they planted. Police have not attempted to prevent them from doing so and no arrests have been made. The lawsuit by the University of California against some of the OTF people who were part of the original Occupation was dropped long ago. OTF lost a battle at the Albany City Council to defeat a zoning regulation giving UC Berkeley permission to further develop part of the Gill Tract. BUT they won a huge victory when, just last week, they and others collected enough signatures to put the new zoning regulations up for a vote in November at some point in the future and nulllify the new regulations until the vote is taken, or force the City Council to rescind the regulations.
They faded for the summer, but on August 22nd

Tens of thousands of students and their supporters flooded the streets of downtown Montreal Wednesday to protest university tuition fee hikes (the Liberal Party plans to drastically increase tuition fees to $1,794 over a seven-year period, a hike of 82 percent). The action follows a vote last week in which six junior colleges, called CEGEPs in Quebec, voted in favor of ending the strike and returning to class.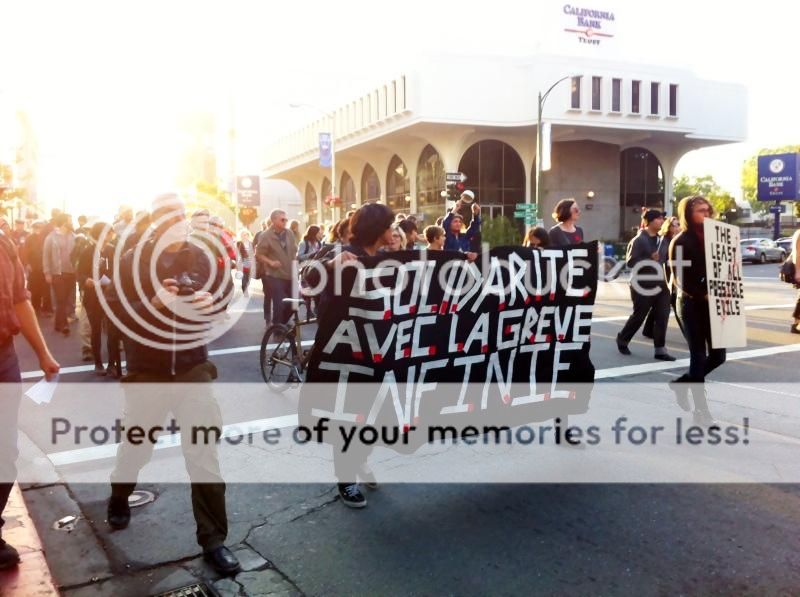 Occupy Oakland solidarity march for the student strikers

The Quebec provincial elections are to be held September 4th, 2012. What will happen next with CLASSE (the student union) and the strike is likely somewhat dependent on which party wins the election and if a coalition between two parties would be needed to form a government.



His family is still battling the Oakland Police to learn the truth, battling the Alameda District Attorney to have her investigate and charge the officer who killed Alan, and battling the Oakland City Council which, in June, had had various members promise to help but has since ignored the family. The Blueford's are being aided by the Justice 4 Alan Blueford committee, which has and is planning rallies, marches, and other actions to keep Alan's memory alive and to press for changes that would make what happened to Alan less likely to occur again.
There is a Google reference to a headline saying that a lawsuit was filed on June 29th, but the article no longer exists and there is nothing I could find about the case dated later.
The bill was passed out of committee, and according to someone at Common Cause I have corresponded with, is expected to be passed by the California Senate and Assembly before they adjourn at the end of August. No one seems to know if Governor Jerry Brown will in fact sign it.
Oops, I missed that it was passed by the CA Senate yesterday!

Election Day Registration (EDR), which allows citizens to register up to and on Election Day, passed the California State Senate today by a party-line vote of 23-13. AB 1436 had passed the State Assembly in May 47-26.

The bill now returns to the Assembly for a concurrence vote — which is all but assured of passage — due to a small change in the Senate version before reaching Gov. Jerry Brown's (D) desk. Brown has not commented publicly on the bill, but has been very supportive of election reform efforts in the past and advocates expect he will sign the legislation.
He was the Marine veteran taken in a week ago for psychiatric evaluation because of some disturbing Facebook postings and then ordered released yesterday by a judge. The judge ruled there was no plausible reason to have taken him in. Yesterday, at 5:00 PM, he was indeed released, according to the Richmond Times-Dispatch.
===
We (as in royal) hope you liked this revisiting of recent jpmassar diary topics.