Now U.S. Senator Mary Landrieu (D-LA) is not particularly popular around here. I find she's gotten a lot of flack, even if she's never at the top of the leftist activist's shit-list as I call it. Still her lifetime Progressive Punch score for crucial votes is 64.84, 19 points higher than Ben Nelson's and 35 points higher than Olympia Snowe, and 60 points higher than her colleague David Vitter. As seen here. Yet in Louisiana for the most part, Senator Landrieu is now practically an institution, in the Democratic party at least, as the last statewide elected Democrat and the only white Democrat in the entire delegation.
Mary Landrieu is the daughter of former New Orleans Mayor Moon Landrieu, who many folks here probably don't know, but was one of the major civil rights figures in Louisiana. As the last white Mayor of New Orleans (until his son Mitch was elected mayor in 2010), Moon Landrieu tore down segregated institutions and was the first mayor to appoint African-Americans to high level positions, putting together a diverse city Government. Before that as a City Councilor Moon Landrieu spearheaded a Council initiative to remove the Confederate flag, and an ordinance outlawing segregation. And before that he was a state legislator and was one of the only white Democrats in the early 1960s to vote against the hate bills and segregationist bills circulating in the legislature around that time. After his tenure as Mayor he served two years as Jimmy Carter's HUD Secretary. So he himself is a fascinating person to read about. Moon Landrieu was one of Louisiana's first progressive Democratic leaders, fighting racism and working hard to pursue growth initiatives for NOLA (like the Superdome), and still preserve the French Quarter and other historic parts of the city that were, in 1970, under very real threat from big developers.
It's due in part to Moon Landrieu's legacy that Mary and Mitch have both always had a very close relationship to the black establishment section of the state's Democratic party, and they have generally been able to get strong turnout and strong support from these groups. More on Mitch Landrieu a little later.
Mary Landrieu was first elected to political office in 1980 (at age 25) when she was elected to the State House of Representatives, where she served two terms before running for State Treasurer in 1988. She won two terms, before running for Senate in 1996 to succeed J. Bennett Johnson, winning against a far-right, very socially conservative, State Representative from Livingston Parish, which is pretty similar to St. Tammany Parish, (suburban Baton Rouge and New Orleans, think David Duke country), in a real nail-biter of a runoff, one that wasn't ultimately decided without several recount and bits of litigation (pretty frivolous, Jenkins rampaged that there had been thousands of illegal votes in New Orleans, a Landrieu stronghold). The first round saw her edge out Democratic Attorney General Richard Ieyoub (who was Lebanese, not Cajun, just an interesting factoid). Speaking of David Duke, he was also in that race, but placed 4th with 12% of the vote.
In 2002 National Republicans, as part of Rove's initiative to finish Lee Atwater's "Southern Strategy", heavily targeted Senator Landrieu, and state Republicans thought they had the candidate to do it; State Elections Commissioner Suzanne Haik Terrell (who is probably one of the few politicians to successfully lobby to have their own positions eliminated; which she did, getting the Elections Commissioner merged with the Secretary of State's office following her term's completion in 2004). Here was a woman (hurray for ovaries! was the thought), and she was even from New Orleans, so she might stop Landrieu from utterly dominating the city with over 90% of the vote.
Tony Perkins, aka the current Family Research Council leader but then a Louisiana State Representative, was also on that ballot but placed 4th, winning 10% (crazy LA-05 Congressman John Cooksey came third with 12%, after making comments about Arabs wearing diapers on their hands when he was talking about Turbans). At the same time as the first round of elections took place in Louisiana, Democrats got smashed in the mouth in most of the Deep South. While Mark Pryor unseated Tim Hutchinson in Arkansas, (a rare bright spot), Democrats had lost gubernatorial races in Alabama, Georgia, and South Carolina, Max Cleland had lost, and a high profile North Carolina Senatorial race had swung against them, with Elizabeth Dole defeating Erskine Bowles comfortably.
Republicans were salivating. They had won the first round 51-46 between their three top candidates!! Landrieu was finished. Alas it was not to be; Senator Landrieu, having saved most of her firepower for the run-off, unloaded on Terrell, particularly on CAFTA, which had earned the ire of Big Sugar, and in a black eye for Karl Rove, she won the runoff 52-48, or 42,000 votes, based mainly on her nearly 80,000 vote margin out of New Orleans Parish.
Then came 2008, and we all know what happened in between then. Republicans and Democrats alike had written Landrieu off early on. Her base was shattered and scattered; how would she still manage to win? Louisiana was getting more and more Republican. Later it became obvious Obama would lose huge. Republicans brought out State Treasurer John Neely Kennedy to finally finish the job. Even if he had flip-flopped across the political spectrum since his 2004 Senatorial campaign as a Democrat to the left of establishment Democrat Chris John, Kennedy was well-known and pretty popular, and had a reputation for being a good campaigner. Now it was time to finally finish off the Landslide Mary.
Again it was not to be. Buoyed by her response to Katrina and efforts to bring in money for local reconstruction and infrastructure projects, Landrieu was suddenly more popular than she'd ever been before. Her base was expanded, and half the elected Parish officials in blood-red St. Tammany Parish endorsed her, she brought together all the big power players, ran ads attacking Kennedy's political inconsistency (sound familiar) and highlighted her incumbency and ability to deliver for the state. And so the person who underperformed Bill Clinton in 1996, overperformed Barack Obama by 13%, winning 52-46, and getting a 120,000 vote margin.
Now we get to see the process continuing. Let me brief you on her next race and what the whispers have been over the fold.

A few months ago, Landrieu finally confirmed she was running for reelection, after a lot of folks had even written that off, given the state of the Louisiana Democratic Party. Our Senior U.S. Senator did it in a firm and proud way, standing up for the ACA she helped pass:

Three weeks ago, as the second anniversary of the President's Health Care Reform passed, and the Supreme Court waxed upon its constitutionality, U.S. Senate Mary Landrieu sent out an aggressive press release condemning the "misinformation and political rhetoric surrounding the issue."

She declared that prior to her, and her Democratic allies, passing the measure, "the private insurance market was broken and unsustainable," "middle class families were losing coverage at an alarming rate," and the state of Massa­chusetts, "where the framework of this law has been in place for six years," has seen drops in uninsured.

In a state where the law ranks with nearly two-thirds unpopularity, Landrieu reminded her constituents that 50,000 Louisiana Medicare recipients have been awarded a 50 percent discount on prescription drugs, bans on insurance companies have been put stopping women from paying higher premiums, 45,000 young adults have been able to stay on their parents' insurance plans, and 60,000 small businesses are now eligible for tax credits to make employee coverage more affordable.

It was a particularly partisanly edging press release for Landrieu, who has typically kept a low profile over the last four years, as Republicans have surged in Louisiana. It was proof positive that the Senior U.S. Senator has kicked off her bid for a fourth term in 2014.
http://www.louisianaweekly.com/...
(This is another article talking up a potential run by U.S. Rep Bill Cassidy. I'm just not sure I see him giving up his safe seat in Congress where he is making a name for himself in the GOP caucus).

"I will be a candidate," in 2014, she told the assembled media, many of whom had speculated that since the New Orleans Democrat had not engaged in extensive fundraising over the past year, Landrieu planned to go the way of many of her colleagues—into a million dollar a year lobbying job on K Street, simply moving across the street from her current perch on Capitol Hill.

"For a long time she didn't seem like she was running," talk show host and Louisiana political expert Jim Brown told The Louisiana Weekly. "Mary wasn't raising money. She didn't seem to be focusing on politics."

That attitude changed earlier this year, as President Obama's approval ratings began to climb, and winning seemed a less daunting task for a Democrat in increasingly GOP Louisiana.

[Snip; I snipped out the raw vote numbers from Landrieu's past races in this article, which were just plain wrong]

Progressively, Landrieu has increased her support in the New Orleans suburbs, Jefferson, St. Bernard, even GOP St. Tammany, offsetting the increasingly Republican trends in Acadiana. (The old joke of Pelican State politics argued that Louisiana is three states, the Conservative North, Progressive New Orleans, and Cajun Country. Acadians were fiscal liberals and social conservatives; therefore, swing voters in most every election. Post-2008, trends have put them solidly in the Republican camp, however.)
After some initial fears that Bobby Jindal might take up the race, that now appears extremely unlikely:
Having eschewed a Presidential bid, Louisiana Governor Bobby Jindal, the former 1st District Congressman seemed a likely challenger in 2014. Should Romney win, he could opt for a cabinet post, but such a position seemed little more than a consolation for a man so focused on sitting in the Oval Office one day.

With Mitt Romney increasingly falling behind the President in key swing states, and even a majority of Republicans nationally (according to Gallup) believing that Obama will win in November, Jindal, according to insiders, has begun to back away from a Senate bid in favor of running himself for president in 2016 (one year after his term of governor ends).
The end of that article is quite hackneyed, and I believe that pollster is a guy who works with Republicans, as the pollster, Bernie Pinsonat, gets into a partisan rant about Landrieu's voting record that brings a grin to my face (oh how Landrieu maddens Louisiana Republicans).
It isn't that simple of course. I've wrote of how each time Republicans have made a show out of licking their chops and talking up how incredibly hard it would be for Landrieu to win reelection only for her to do just that. This article makes good note of that:
http://neworleanscitybusiness.com/...

Some political commentators wrote Sen. Mary Landrieu's political obituary when she supported the health care legislation that was very unpopular in the state. She was deemed a political goner after her approval rating dipped to 42 percent.

In politics, fortunes can change quickly.

Once that bill was passed, voters turned their focus to other issues, especially the Gulf of Mexico oil spill. From the beginning, Landrieu opposed the moratorium on deepwater drilling and the current de-facto moratorium, which struck a chord with Louisiana voters who support the state's oil and gas industry. Her approval rating rebounded to 54 percent in a November Southern Media and Opinion Research poll, which is about the same level as Gov. Bobby Jindal.
Even more potently, here's polling info taken right as voters went to the polls in 2010, to reelect David Vitter over conservative, highly respect U.S. Representative Charlie Melancon (and by a landslide too):
 The WWL-TV poll by Clarus Research Group of Washington, D.C., contained a lot more information than the station had time to put on the air. Among the nuggets we dug up is an anomaly between the Democrats' overall bad fortunes this year and U.S. Sen. Mary Landrieu's approval rating, which remains more positive than negative.

Although most voters interviewed for the survey rated Congressional Democrats poorly (39 percent approval versus 48 percent disapproval), Landrieu's numbers were almost the opposite: 52 percent approved of the job she's doing compared to 40 percent disapproving. At a time when many are saying Louisiana is finally falling into line with the rest of the country in terms of political trends, those numbers offer evidence that, at least as far as Sen. Landrieu is concerned, the state retains its counter-cyclical identity.
http://www.bestofneworleans.com/...
Defeating Landrieu will not be easy, especially if the Republican vote is split. Which I see as quite likely. I still believe Bill Cassidy is not likely to run, especailly since U.S. Rep Jeff Landry, who is a big underdog in his incumbent-on-incumbent fight with neighboring U.S. Rep Charles Boustany due to Louisiana losing a seat in redistricting, is likely to run for Senate, I think (Landry is a true-believer type and very ambitious).
This conservative website (from my experience): tries to make a case that Landrieu can be beaten but really just highlights how hard it will be: Can Mary Landrieu be defeated in 2014 ?

(2) In the five parishes in Metro New Orleans that saw significant hurricane damage (Jefferson, Orleans, St Bernard, Plaquemines, and St Tammany), Mary Landrieu's share of the vote increased from 56-44% in 2002 to 59-39% in 2008. This despite the fact that the black voter percentage in these five parishes remained at 31% in both 2002 and 2008. This is the "Katrina bump" that we believe helped Senator Landrieu. In fact, had Mary Landrieu not received this "Katrina bump", we calculate that her 52-46% re-election percentage would have instead been 51-47%;

(3) In the remaining 20 parishes, Senator Landrieu saw her share of the vote increase from 49.8-50.2% to 53-45%. This was due to a heavier black turnout; thanks to Barack Obama's candidacy, the black percentage of the vote in those parishes increased from 30 to 35% of the electorate. Clearly, Barack Obama's candidacy helped, because had Senator Landrieu received her 2002 percentages in those parishes (and had she not received a bump from Hurricane Katrina), her 52-46% re-election victory in 2008 would have instead been 49-49% – a 14,000 vote victory margin, in other words.
It's actually hilariously whiny. "But, but, had Obama not been only ballot, getting destroyed 59-39 by McCain, in a situation that normally has big coattails for the Republican challenger, and had she not gotten any bump from her work dealing with Katrina, Landrieu would have won by only 14,000 votes, according to our vague and undefined metric. So, she would have still won but it would have been closer." What's more, the site simply makes incorrect assumptions about the black population in Louisiana. The black population is simply growing much faster than the white population is, and so Obama or no Obama one would expect to see a significantly higher percentage of the electorate as black in 2014 than they would in 2002. Their second assertion is equally ridiculous, because it's essentially that good politicians shouldn't expect a bump for being good politicians, and let me tell you, Mary Landrieu still has good will in the normally more conservative New Orleans suburbs from Katrina. What's more she's ensured that the oil industry will remain behind her (unpleasant yes, and it entails a lot of grandstanding and anti-environmentalism I don't like, but I understand it's necessary and I can live with it, especially when I think about being represented in the Senate by two David Vitters).
Now I return to Mitch Landrieu, the former Lieutenant Governor who resigned in order to become Mayor New Orleans following his landslide 2010 victory. Mitch Landrieu has overseen a truly amazing second burst of revitalization of the New Orleans, which has risen to become the fastest growing city in the United States, and, according to census data, 1 in 9 current residents did not live there pre-Katrina. As I mentioned elsewhere, the creative industry is absolutely booming in New Orleans, and there is a big influx of young, highly educated people moving into the city (I noted another time that New Orleans is now the top destination in the nation, for college educated people, as a percentage of growth at least). The current economic boom in a once poor, stagnant and deeply divided city has even been written up in Forbes Magazine:
As a result, entrepreneurial activity in New Orleans is now 40% above the national average, after having lagged behind the rest of the country for nearly ten years. According to the Brookings Institute Report, an average of 450 out of every 100,000 adults started businesses in the New Orleans metro area each year, which is well above the national average, and almost double the pre-Katrina rate.

Temptation into the state first started with the motion picture tax credit. It was implemented a decade ago to give production companies the opportunity to receive up to 35% in transferable tax credits, provided that all vendor and crew expenditures are made in the state. While the incentive has been vital in luring in big budget productions, small media startups have been able to quickly garner access into the film industry by capitalizing on the increasing demand for services.

In the years following Hurricane Katrina, annual film production has increased by 175%, attributing half of those productions to new media startups such as Moonbot Studios. The Shreveport-based hybrid animation/digital interactive media company has recently garnered industry recognition at the Academy Awards for their animated short film, The Fantastic Flying Books of Mr. Morris Lessmore. However, that is only a small piece of what this talented group can accomplish. Today, Moonbot studios has released their new app called IMAG-N-OTRON, which turns the images from their New York Times Best Selling picture book into 3D animation using an iPhone or iPad's camera.
Mitch Landrieu's success has lifted his popularity up, and makes him a favorite for the 2015 gubernatorial race, especially if someone other than Jay Dardenne (like John Kennedy), emerges in the runoff. This 2015 gubernatorial race though, is another one of the lucky breaks for Mary Landrieu, as most of the big name Republicans are going to be battling it out for that race, (especially since Louisiana governors have an absurd amount of authority and control, down to appointing and firing Committee Chairman and leadership in the legislature at will). And the success of Mitch Landrieu along with Mary's work on Deepwater and Katrina have continued to make the Landrieu name pretty golden in the New Orleans metropolitan area and the rest of Cajun-Creole south Louisiana (where I am originally from).
Jefferson Parish, the most populous parish in the state, is one of the places Democrats can and should start pursuing. Mary Landrieu won it in 2008, equal to her statewide margin of 7%. In her previous 2002 race, which she won 52-48 statewide, she lost Jefferson 55-45. It's a diversifying place and one area that could see change as the the new New Orleans becomes what the guys in the Emerging Democratic Majority book designated an ideopolis. A city that isn't just Democratic for racial reasons, but is diverse and economically vibrant and starts spreading out in terms, of industrial connections and political ideology, into it's suburbs. Jefferson Parish is definitely diversifying, especially the city of Kenner. The whole parish used to be uniformly white, wealthy and conservative. It's still mostly white and conservative, but it's getting more blue collar and really has a fast growing minority population, especially Asian and Hispanic, and looks to gain many younger, more educated and liberal white voters. Jefferson Parish is where the Democratic party of Louisiana will have to build any future in statewide races.
Elsewhere, Democratic Mayor Kip Holden has overseen enormous growth in Baton Rouge, making it Louisiana's biggest city. A lot of New Orleans folks ended up resettling there, and of course, there's also been some steady growth due to LSU and the film industry and the oil industry. The black population is growing very fast and the Parish in general is both a major target of Landrieu and the state Democratic Party, and trending our way. The same is true for Caddo Parish, where Shreveport, the state's 3rd largest city is located.
So it is definitely wrong to think the conditions that helped Landrieu win an easier than expected reelection in 2008 won't be present again in some fashion. With New Orleans growing, and the growth making it even more liberal and politically engaged, not less, it means Landrieu can expect her big cushion from that parish. And the trends in the neighboring Parishes of Jefferson and to a lesser extent St. Bernard (and perhaps a little bit of lingering strength in St. Tammany; which in St. Tammany's case that means losing by only 24 percentage points instead of 40). Indeed Landrieu's coalition is remarkably consistent (both maps come from Dave's Election Atlas, which uses traditional European colors of red for the leftist party and blue for he conservative party):
2002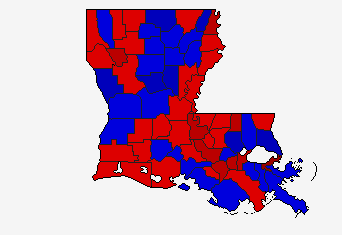 2008
A Few Little Notes and Side-Thoughts:
First off see that little Parish in the bottom of the left hand corner of the state, on the edge of the Atchafalaya Basin? That's Cameron Parish, where the first language of nearly 40% of the population is still Cajun French. Yeah. Mary Landrieu won it in both elections; the Cajun desire to vote for their own is strong, as Obama got 16% of the vote in that Parish.
I posted the two maps to show that Mary Landrieu has had a pretty consistent and stable coalition, and a strong, well-organized state political machine that she is now whipping back into year as she runs for a 4th term. Her approval ratings are strong and it is definitely an uphill challenge for any Republican, barring another 2010 type wave cycle. The biggest thing that can be said for her is that she is, simply, not Blanche Lincoln. She's not an incompetent and she has a much more secure and well-established base of support for statewide elections than Lincoln did, and Landrieu is used to running tooth-and-claw campaigns like Harry Reid and can handle heat, which Blanche Lincoln couldn't, as she ended up panicking and alienating all her allies and getting herself nearly primaried and softened up for the general in the process.
To reiterate my beginning, I know many here share no love for Mary Landrieu. But I still appreciate her. I appreciate it when, far more often than not, she backs the important pieces of legislation and votes Harry Reid for Majority Leader as well as supports Obama's nominees. She's the rare successful Pro-Choice politician in Louisiana too, a very charming, friendly New Orleans lady. More than anything I guess, I just love seeing the frothing at the mouth hatred Republicans in this state have for her. I mean there is a special place reserved just for Mary Landrieu and Barack Obama in their tiers of political hatred, and anyone who inspires so much frustration and animosity from the Tea Party people and the racists that make up much of the base of the Republican party in Louisiana, can't be that bad.
P.S. While Dkos does have reader guages, these aren't entirely accurate. I always appreciate users who vote in my poll as that gives a more accurate count of readership. Which is always nice to know for something you worked hard on; sucks to feel like you are talking to a wall.